According to The New York Times, 81% of Americans (more than 280 million people) want to write a book.
The Bureau of Labor Statistics counts less than 1% of Americans as "writers and authors."
Those are staggering statistics.
However, having taken almost two years to finish a 62 paged book, Concision: A no-grammar guide to good writing, I can empathize with the 80% of the American population.
Since I had two years' writing experience back then, I believed I'll easily start and finish my book. But I was quite wrong.
Writing a book is quite different from other forms of writings.
In this article, I wish to summarize some of the issues you will confront while writing your first e-book and how to resolve them.
Formatting 
Many newbie writers mistakenly think once they've formatted the file properly in Word, they just have to upload it on Amazon and it will appear as it is. And with so many What You See Is What You Get (WYSIWYG) type tools available in the market, I don't blame them.
However, Kindle is not a WYSIWYG software program. And neither is Nook or iBook or any other book publishing tool for that matter.
No matter how prim and proper your book looks in Word, it will look all cluttered and distorted if you upload it as is.
You will have to format your Word file so that the software you are uploading to may "understand" your settings. And the bad news is every book publishing tool will require a different set of formatting.
So if you have formatted and uploaded your book to Kindle and it looks very nice in there, you still will have to format it all again for iBooks. Yeah, that sucks but that's the way it is.
For formatting for Kindle check this out if you wish to do it yourself, as I did. Or you can use a professional conversion service by paying a fee.
You can find similar resources for other formats too with a little bit of Googling.
Cover designing 
Question: What makes an e-book different from a bunch of related articles?
Answer: Book cover.
You can design the cover yourself or you can hire a professional.
If you wish to do it yourself, you'll need to have a working knowledge of Photoshop and some appreciation of art. I have both so I created my book cover myself and I still receive compliments on it. Ya, let me blow my own trumpet. 🙂
You need to follow these three steps in order to create a professional book cover.
Search for an image:

There are hundreds of websites selling cheap images for commercial use. Examples include Fotolia and Dreamstime. Register on any one you like, purchase a suitable plan, and then download the image you want to be your book cover.
Or if you want a free image, check out this list of 21 Amazing Sites With Breathtaking Free Stock Photos on Bootstrap Bay.
I got mine from Wikimedia Commons.
Choose a font: 

Your font selection can make or break your book cover. See the image below which illustrates what I mean.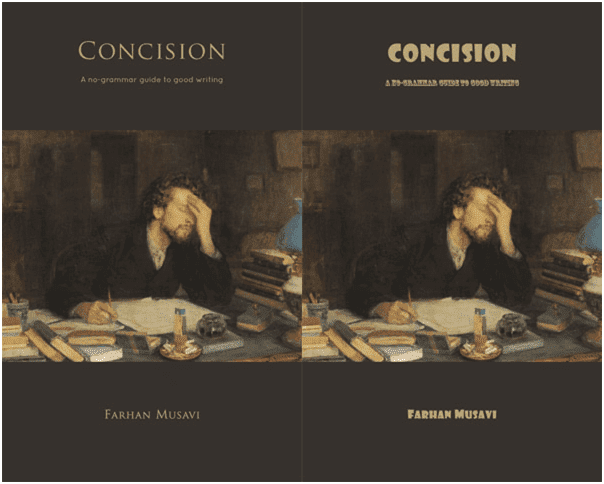 Doesn't the left hand side cover look far more professional than the right?
Now I'm not a designer but I read tons of material before choosing the font for my book cover. And I'm afraid I can't link to any one source which will give you sufficient information on the topic and it won't be practical to list a dozen links. (However, The Book Designer has you covered as far as the basics are concerned.)
So I will condense the important information here.
Stick to classic fonts. Out of the hundreds of fonts available in Word or Photoshop, less than 20 are suitable for professional design.
It's best to use a single font. Use two if necessary. Never three or more or else you risk the cover looking too cluttered.
Try to keep the text within two invisible margins. I mean, take a look at my book cover. The words "CONCISION" and "A no-grammar guide to good writing" occupy exactly equal widths. That's not a coincidence. That's deliberate design.
It's better to match the color of the text to any element of the image on your cover.
All the above "rules" can be bent or broken for children's books, though caution is still advised.
Download and use a Photoshop script:

See the image below. How would you go from left to right?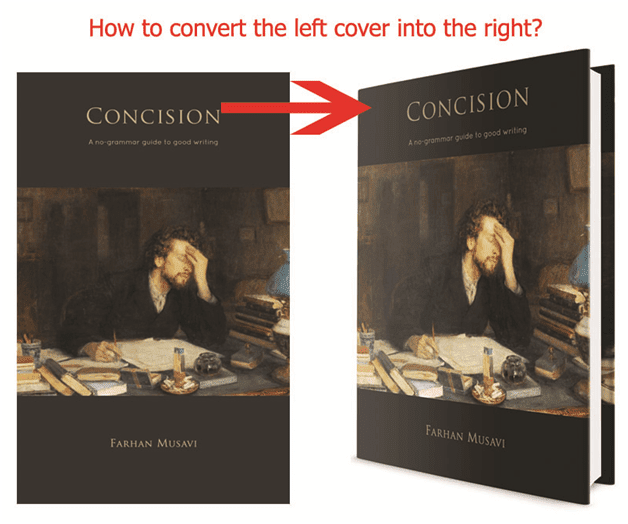 By using a Photoshop script.
There are many websites which let you download scripts that you can install in Photoshop and run them to get your desired output.
See this tutorial for details.
I downloaded this script from PSD Covers and used it to create my book cover. All the color mixing, shadows, three-dimensionality, and polishing were done by the software while I sat back and relaxed and watched the magic unfold.
See, I'm disclosing all my secrets!
If this seems too technical and you have any questions, drop in a comment below and I'll reply.
Using a style guide
Using a style guide for any kind of writing — particularly for writing a book — is a mark of editorial sophistication.
I find it surprising that despite its tremendous importance, a style guide is something that is rarely discussed in the blogosphere.
There are many instances in the English language where several different ways of writing are acceptable. The classic example is of a period and closing quotation mark. Which should precede the other?
Actually either one can. Both are acceptable English but that doesn't mean you can use them at your whim.
These kinds of matters are dictated by a style guide.
Some popular style guides are The Chicago Manual of Style, MLA Style Manual, AP Stylebook, and The Oxford Guide to Style.
It doesn't matter which one you choose.
In fact you can even create your own style guide. The Guardian and Observer Style Guide and The New York Times Manual of Style and Usage are two great examples of this.
I created my own style by mixing the rules of Chicago with The Yahoo! Style Guide and inventing some of my own rules whenever I couldn't find a specific answer in them.
The only condition is you must stick to one style and apply it consistently throughout your book. As long as you do that, you cannot go wrong.
 ***
Of course these were not the only three problems I faced while writing my first e-book but one can only cover so much in an article.
Don't write a book for money. There are other, better, quicker ways to earn cash.
Don't do it to become rich and famous. A very very tiny minority of authors become celebrities.
But do it for the joy of it. Do it because you cannot not do it.
The world needs more stories.
Write a good one.
Image courtesy of Evan Clark at Unsplash