Introduction
Relevance is proud to announce our new Events section where you can stay on top of the latest industry trends through webinars, conferences and other virtual events.
Conferences are a great way to learn the latest insights, network with other professionals and discover new resources to boost your digital marketing prowess.
[bctt tweet="Conference planning? Check out our updated list of 2018's MUST-ATTEND #DigitalMarketing conferences and start registering today. " username="relevance"]
Here are 10 must-attend digital marketing conferences for 2018:
When : May 7-9, 2018
Where : Atlanta, GA
Who : Marketing Professionals, IT Professionals, Social Media Strategists, Public Relations Professionals, SEO/SEM Professionals
Why : This is not your average conference. If you're looking for unorthodox, unconventional and unapologetic strategies to grow your social media presence, this is the conference for you. Each speaker busts the tried-and-true methods with examples of outside-the-box strategies that led to social media success. Speakers include Keynote Brian Fanzo, CEO, iSocialFanz, LLC; Nina Mishkin, Brand & Content Strategy Lead at Twitter; André Moraes, Principal Analytic Lead at Google; and Kate Harman, Group Director, Brand PR at The Coca-Cola Company.
Cost: $1695-$2390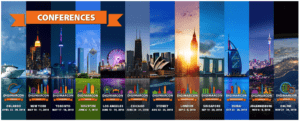 When: Dates vary (April – November)
Where: Locations vary
Who: Marketing Professionals, Web & Mobile Strategists, Designers, Web Project Managers
Why: This is one of the largest digital marketing conferences in the world. With 12 locations from New York to LA, London to Sydney and everywhere in between, including a cruise and online option, you really can't go wrong. Learn from the best and brightest in the industry while exploring the local culture of the top cities in the world. Speakers vary at each venue and include
Rebecca Corliss of HubSpot, Rand Fishkin of Moz, Loni Stark of Adobe and Yoli Chrisholm of Microsoft.
Cost: $597-$1297 (virtual conference $295)
When: September 4-7, 2018
Where: Boston, MA
Who: Marketing Professionals, Inbound Marketing Experts, Growth Hackers
Why: If the 200+ educational breakout sessions aren't enough to entice you, the A-list keynote speakers and entertainers and insanely fun networking events will have you begging your boss to attend. Speakers include Chimamanda Ngozi Adichie, Award-Winning Novelist & Writer; Brian Halligan and Dharmesh Shah, Co-Founders of HubSpot; Ava DuVernay, Writer, Producer & Director; and Mo Gawdat, Chief Business Officer at Google X.
Cost: $299-$1799
When: July 9-11, 2018
Where: Seattle, WA
Who: SEO/SEM Professionals, Brand Strategists, Marketing Professionals
Why: With a laser focus on SEO, MozCon provides actionable tactics you can immediately apply to your daily work and creates key connections among the speakers and community. Speaking at MozCon is by invitation only, with the exception of six slots for community speakers, which anyone can apply for on the conference website. Speakers include Alexis Sanders, Neil Crist, Stephanie Briggs, Michael King, Oli Gardner and Emily Grossman.
Cost: $1049-$1549 (group discounts available)
When: September 4-7, 2018
Where: Cleveland, OH
Who: Content Managers, Marketing Professionals, PR/Brand Strategists, Business Leaders
Why: This is the largest content marketing conference in the world – and for good reason. You can choose from over 120 sessions and workshops presented by leading brand marketers and experts from around the world covering strategy, storytelling, ROI, demand generation, AI, and more.
You'll build personal networks and walk away with actionable strategies to level the playing field with content marketing. Keynote Speakers include Tina Fey, Award-Winning Writer, Producer & Actor; Andrew Davis, Author of Brandscaping and CEO of Monumental Shift; Joe Polizzi, Founder of Content Marketing Institute and Co-Author of Killing Marketing; and Robert Rose, Chief Content Advisor of Content Marketing Institute and Co-Author of Killing Marketing.
Cost: $1199-$2499
6. MarTech
When: April 23-25, 2018 (West) or October 1-3, 2018 (East)
Where: San Jose, CA (West) or Boston, MA (East)
Who: Marketing Professionals, IT Professionals, Product Managers, Project Managers
Why: MarTech integrates marketing, technology and management into a forward-thinking strategy designed to position your organization at the forefront of innovation. It's also the only conference with this unique perspective designed to help you succeed in a software-powered marketing world.
Speakers vary by location and include Tracy Cioffi, CMO of MOD Pizza; Madeline Delianides, Former Executive Director Marketing Technology, Creative Production & Operations at The New York Times; Nick Drake, Executive Vice President, Marketing & Experience at T-Mobile; Elissa Fink, CMO of Tableau; and Wade Foster, CEO of Zapier.
Cost: $689-$1895
When: July 10, 2018
Where: London, UK
Who: Marketing Professionals, B2B Experts, IT Professionals, CX Professionals
Why: At this event you'll find more than 50 sessions tailored to your specific needs, a unique networking experience, and an awards ceremony that celebrates the best in B2B marketing. Plus, you'll have access to the Tech Playground, a dedicated area where you can meet with tech vendors and get demos of some of the most exciting cutting-edge marketing technology. Speakers include Mika Yamamoto, Chief Digital Marketing Officer of SAP; Scott Allen, CMO of Microsoft; Mike Bainbridge, Digital Transformation & Innovation at Amazon Web Services; and Antonia Wade, CMO of Thomson Reuters.
Cost: €399-€499
When: June 11-13, 2018
Where: Seattle, WA
Who: SEO/SEM Professionals, Marketing Professionals
Why: The Search Marketing Expo (SMX) has been the leading conference for search marketing professionals for over 10 years! Programmed by Search Engine Land, you know you'll have access to the latest and greatest insights from industry leaders around the world. Speakers include Surojit Chatterjee, Head of Product for Google Shopping at Google; Pete Dainty, Global Head of SEO at eBay; Maria Corcoran, Search Marketing Program Manager at Adobe; and Marcela DeVivo, Corporate Speaker at SEMrush.
Cost: $995-$1895
When: November 5-8, 2018
Where: Lisbon, Portugal
Who: Marketing Professionals, Brand/PR Strategists, Business Leaders, Web Professionals
Why: Web Summit prides themselves in being the "largest and best technology conference in the world." You'll have access to 23 conferences all hosted under one roof, where you can learn about every major industry touched by technology. You'll hear from world-class speakers, attend workshops tailored to your specific niche, and join insiders at roundtables to discuss the most pressing issues facing tech, business and society today. Speakers include Bono; Al Gore, Chairman of Generation Investment Management; Reed Hastings, Founder of Netflix; Eva Longoria; Linda Boff, CMO of General Electric; and Ariana Huffington of the Huffington Post.
Cost: €850
When: October 9-10, 2018
Where: Chicago, IL
Who: Marketing Professionals, Business Leaders
Why: Experts in content strategy, analytics, promotion, conversion optimization and measurement will share their most actionable insights, tools and techniques. Learn how to win better results through content for yourself, your company and your clients. Speakers for 2018 have yet to be announced, but last year's keynote speakers included Gini Dietrich, Founder and CEO of Arment Dietrich and Michael Aagaard, Senior Conversion Optimizer at Unbounce.
Cost: $549-$849
International Content Marketing Awards
When: 27 November 2018
Where: Camden, London
Who: Top brand marketers and agencies from all over the world.
Why: The International Content Marketing Awards ranks among the biggest events in the content marketing industry. The top agencies from all over the world present their best work created over a period of 12 months to be judged by the best brains in the industry. Awards are given out for content marketing various business categories.
The award show will be hosted by Rob Beckett, the hilarious compere.
Content Marketing for Life Sciences Conference

When: December 4 – 5, 2018
Where: Philadelphia, PA, United States
Who: Content marketing professionals from leading pharmaceutical and medical device companies
Why: The conference provides the ideal platform for networking with best content marketing professionals from companies in the medical industry. You can get information about the best practices and marketing tools for developing great content and distributing it effectively.
Leading content marketing experts associated with Life Science and related industries will speak at the event.
Cost: $2095. Early bird discount of $200 for those who book and pay before 26 October, 2018.
Content Marketing Summit
When: December 6, 7, 2018
Where: New York, USA
Who: Content marketing professionals across various industries looking forward to learn more about brand engagement and creating marketing strategies.
Why: The Summit is a great place to know more about top brands, creative startups and leading marketers and their innovative approach to content marketing. The event promises to be an educational playground where one can network, find input for actionable insights for creating top strategies and to get inspired.
Some of the biggest names in content marketing such as Michael Eisenreich, Adam Kornblum, Jodie Osborne, Megan Golden, Reena Jana and Thom Allcock will speak at the event.
Cost: $995 to $1695
The Takeaway
No matter your niche or area of expertise, this list of conferences promises to inspire, educate and inform your digital marketing strategy to serve your clients and grow your business.
At Relevance, we pride ourselves on providing a comprehensive list of highly-rated events and will continue to update the Events page as new conferences, webinars and other virtual events are announced.
To add your event to our list, simply click on the blue button on the top right of the page. Enter your information to register, then follow the prompts to add your event details. Your event will be reviewed by our team within two business days.
Events are free to create, but you can choose to upgrade to a sponsorship package to move your event to the top of the list with guaranteed placement.