'Can machines think?' The  question first asked by Alan Turing in 1950 is mainstream today.  Artificial Intelligence (AI) has come a long way since the middle of the 20th century, when it was conceived, and is poised to play a major role in marketing. How much have the computers evolved? A lot. They have defeated a Russian chess grandmaster, written a complete sci-fi screenplay and they provide suggestions when we use search engines.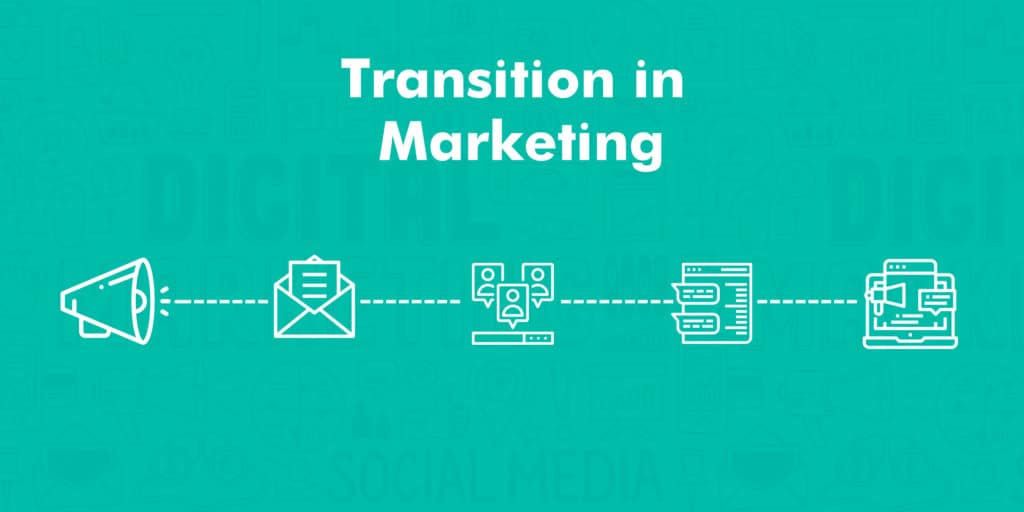 Why are we experiencing a paradigm shift?
Machine learning algorithms have allowed marketers to analyze and evaluate data and provide a superior customer experience. With the emergence and development of AI, content marketing is experiencing a paradigm shift.
How do we define machine learning?
Machine learning is a continuous process in which a computer is programmed to analyze and learn from user input. The data and information the users share allow machines to predict market trends.
How does Artificial Intelligence work?
AI refers to machines that have the capability to mimic learning processes. They are notable for learning novel concepts and providing solutions to the problems previously not encountered. It is already playing an important role in content marketing and has helped scores of marketers streamline their processes.
When do content marketing processes change?
Content marketing processes evolve. Today, we can find hyper-focused pages and long blog posts aimed at personalized advertising. Google has launched an array of machine learning updates that must be taken into consideration. Nearly 31% of organizations are expected to implement AI in their processes by the end of 2018, according to Adobe.
Why should marketers embrace Artificial Intelligence?
According to Cisco, the virtual and augmented reality sector is expected to experience a growth of 82% between 2018 and 2021. Artificial intelligence is helping marketers decipher the ever-changing world of content marketing. It analyzes user data and provides assistance in making sense of user intent. Artificial intelligence is affecting the mechanics of content marketing in different ways. Let us try to understand the reasons behind this disruption.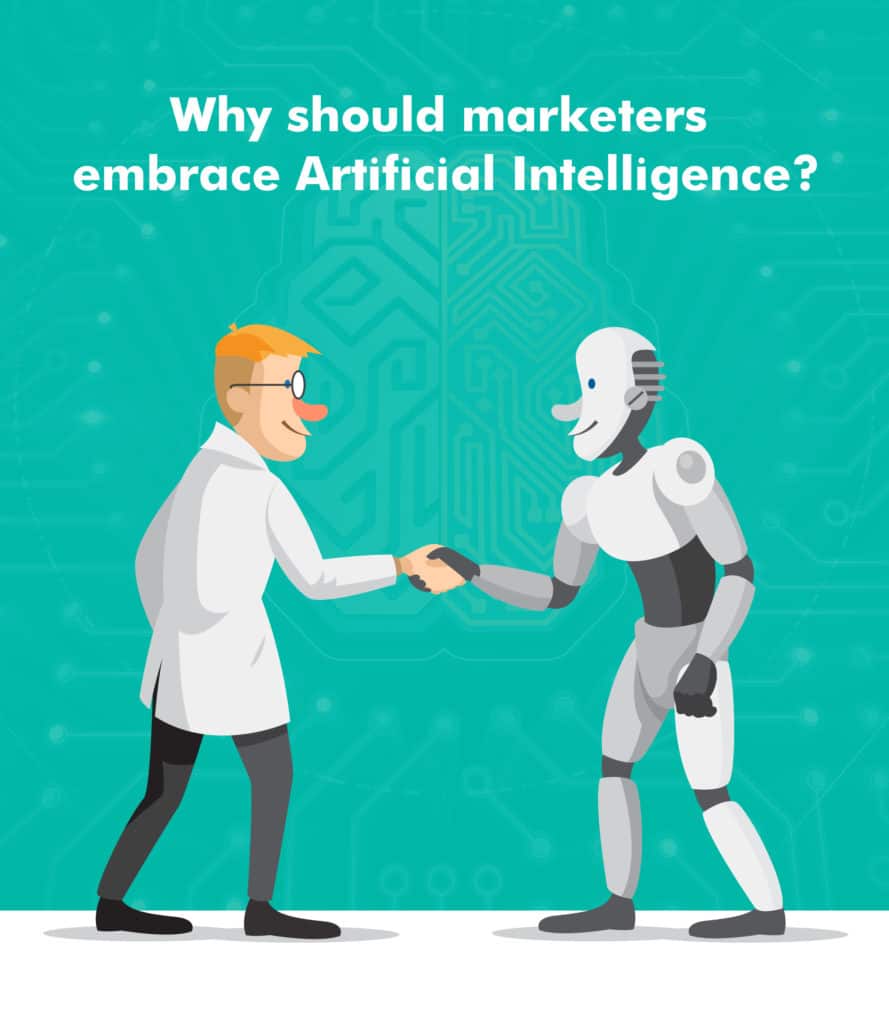 The demand for content is high: The demand for content is ever-increasing and there are no signs of it slowing down. To meet this demand, thousands of writers are required across the globe. They have to be on their toes 24/7 in order to create content that can provide future-ready, unique experiences to readers.
There is too much content to manage: With the astronomical amount of information on the web, the use of AI won't remain restricted to content creation. It will be used by organizations to summarize, curate and facilitate results across different content management systems, thus optimizing SEO, improving metadata, and facilitating the discovery of existing content.
Content is becoming a successful sales representative: A large chunk of brands are focusing on content creation to sell their products. Content eliminates the need for sales representatives and provides in-depth information about a product or service. Machines are learning through user interaction and this has to lead to technical content creation. A whopping 53% of users are comfortable consulting manuals over salespeople.
The age of secure content is coming: With Europe's General Data Protection Regulation (GDPR) coming into force on 25 May 2018, businesses will be liable to be transparent in data collection practices. Proactive organizations will be a part of the seismic shift and embrace content automation to thrive.
Mechanics behind content marketing in 2018
According to the International Data Corporation (IDC), AI growth rate will rise to a whopping 50.1%, reaching an estimated value of $57.6 billion by 2021. AI and machine learning are allowing marketers to decipher the world of content marketing like never before. In the future, we can expect the following mechanics to dominate: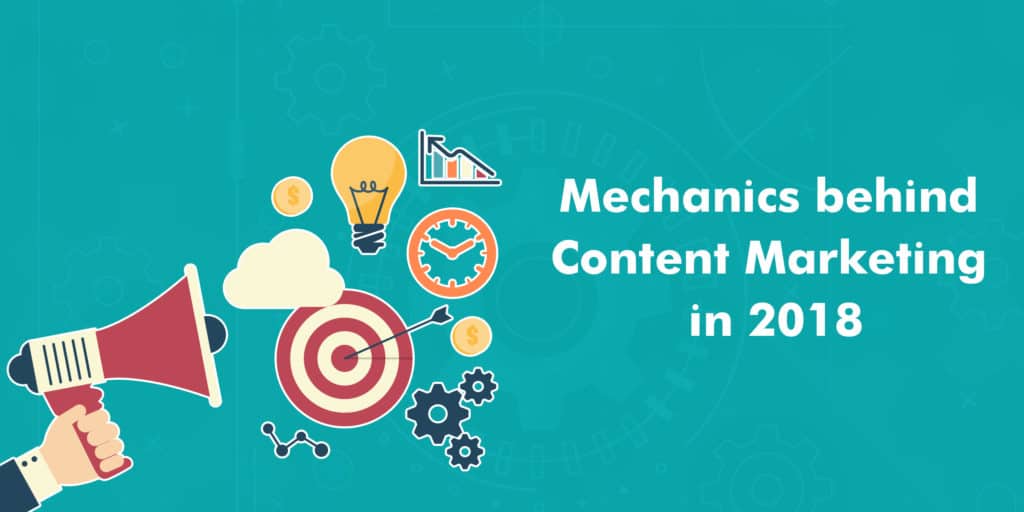 Content Automation:
AI will allow marketers to generate content automatically, especially short and simple stories. After deciphering user responses, an AI will generate updates and report seamlessly and accurately. Machines have been generating automated content for years and some of the prominent players in this segment include Yahoo and Fox.
Content Curation:
Curating content is as important as automating content. It is a daunting task and consumes a significant amount of time and energy. One of the goals of generating content is to move a prospect through different stages and influence them to buy your product. AI helps generate relevant content for the different stages of your marketing funnel. With higher engagement, you increase the chances of conversion.
The Rise of Chatbots:
Chatbots are AI-driven computer programs that mimic conversations with end-users. Many organizations are using chatbots in their messaging apps. Some prominent players using chatbots include Facebook Messenger and Uber. You can send promotional content using Facebook Messenger if the users give their consent and you can request a ride without opening the app. Chatbots are the key to streamlining customer support processes and allow users to get answers while they are still entering their queries.
Predictive Analysis:
Predictive intelligence allows companies to understand their customers individually and personalize content. It makes for a fast-track sales mechanism and improves the conversion rate by analyzing past behavior. It also helps them understand the buyer's journey and market the right content to specific customers.
Customized Content Marketing:
Social networks like Facebook, Instagram, and Twitter use AI to determine your interests and display content. They analyze multiple variables and try to provide users with relevant content. Marketers can use this analysis to showcase related advertisements and achieve higher customer engagement. According to BrightEdge, consumer personalization is the next big trend at 29%, with AI catching up at 26%.
Enhanced User Experience:
Having an intelligent computer to resolve user queries without the need of filling out a form is a dream. Chatbots inside messaging apps can provide users with an enhanced experience. They analyze the preferences using small series of questions and suggest recommendations accordingly. This allows marketers to create a world of possibilities for personalized marketing.
Conclusion:
Overall spending on AI will rise from $2 billion a year in 2018 to $7.3 billion annually in 2022. Artificial intelligence will allow marketers to focus their attention on customer needs in real-time. Implementing algorithms in content marketing will help them create the right strategies across different platforms. This AI-driven scenario will boost the chances of improving sales manifold and right now it certainly seems to be the future of marketing.