Website Design Hacks to Turn Your Visitors into Paying Customers
Web design is the most crucial element of marketing campaigns especially if you are marketing online. The way you market your brand is how you get people's attention and make them take action. Businesses often oversee the importance of web design in the overall marketing performance; however, marketers have been trying an array of strategies to design the website to get more leads and turn them into sales.
When things do not work right, it is better to take a step off and revise your strategies. Here are few compiled tactics and simplest tools to implement on a custom website design to start turning visitors into customers.
Must Have a Quality Landing Page:
The online visitors land on your landing page as a result of their searched keywords. One of the finest things you can do to improve the experience of your landing page is to make sure that the keywords you use in your Ad campaigns are present on your landing page, preferably in a noticeable place like the headline so when the visitors land on your page, they can quickly get their search item.
Tip:
The headline or sub-headline can include the user's search keywords.
Page Speed Matters:
Research shows that 80% of the users use mobile devices for online search and over half of them will abandon a page if it takes more than two seconds to load. Not only this, those customers will no longer interact with your site and make you lose much revenue. Therefore, improve your website's speed by removing unnecessary media and plugins.
Google Analytics Puts You Well:
No matter, how good you do, if you do not track your efforts, you are not suitable to go ahead. Be smart and start monitoring your website's performance with Google Analytics. Google Analytics will let you know extensive information about your online customers on your site you probably never knew before. It is an essential digital marketing tool, and you have to use the tool during a search engine optimization campaign to track the performance of your keywords. In this way, you will be able to know how much traffic each of the keywords brings to your website.
What does it tell you?
Traffic Acquisition
Sources of incoming traffic
New Vs. Returning Visitor
Interactions per visit
Bounce rate
Lead conversion cost
Page views
Average page sessions
Not only this, but it also identifies the lacks in your website and helps you fix them.
 Get Call To Action Buttons: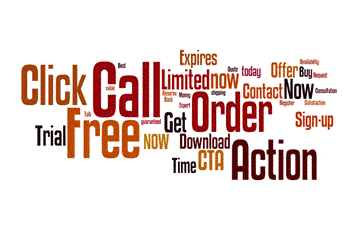 The entire purpose of a website design is to make it convenient for users to look for their desired information without a hassle. An easy way of encouraging conversions is by incorporating CTA (or Call-To-Action) on the website. The way how buttons, images, and links go along with an actionable text explains to the visitors the outcome of their actions.
CTAs can be,
Social Buttons
Footer Buttons
Subscribe Call-to-Actions
Find Out The Questions Your Customers Have:
Customer feedback is essential, and you should always be asking questions of your customers to get their feedback either by a survey form or feedback calls. Understanding the pain points of your customers and looking for ways to fix them make your web design better and increase conversions.
Test Your Headlines:
The visitors on your site attract more towards the headlines and least in the overall descriptive content. The first impression is formed quickly, so it is essential to test and see what resonates most to your visitors.
Simplify Your Checkout Process:
A detailed checkout process can turn your potential customers away from your site because they are mostly impatient and wary of giving too much personal information. Improving the checkout process is essential to improve conversion rates and get an increase in revenues. It also gives the users a better user experience of your site. Therefore, make it easy, straightforward and avoid unnecessary elements.
A checkout process must have,
Delivery details
Payment details
Confirmation
Do Not Forget To Test And Optimize Your Site:
You must always strive to give your users a seamless and smooth user experience. For every change you make in the design process, perform an A/B split test to find out which one converts the best in your favor.
Closing Thoughts
All of the above elements constitute towards good web design, and a website designer must not overlook it. It is not just the look or the content of the website; there are many more factors that affect the efficiency of your site.
A smart website design comes after thoughtful research and technicalities that together strive for optimal results. Increase your website conversions by applying the above principles one tweak at a time and make sure to have an A/B testing and heat maps after you have made the changes. Converting customers isn't a single approach, there are many more factors that implies towards conversions. The methods mentioned above are just a few changes that you can make in your website whereas you must be creative and focus on endless possibilities that are around. The good thing is that you don't need to entirely redesign your site, as making these important changes to your key pages will suffice.