Why Dominating the Media Will Drive Business Goals
From the dawn of modern media relations, most PR pros held onto a gut feeling that earned media drove business goals. But is that really true? Yes. It is unequivocally true, and here's proof. But they didn't know how much earned media did the job. The question these case studies answer is that volume does count. For a successful media campaign to impact business goals, the effort must be sustained and long-term.
In this article, you will learn about how volume, tone, and message moved the business needle for three organizations.
Earning media has matured from its early days of manipulating public opinion to a $5.4 billion worldwide industry that can be measured and tied to business outcomes. To read about how to measure media, read "Three Ways to Measure Earned Media ROI ."
Writing for The Institute for Public Relations, Jeffrey, Michaelson, and Stacks ask, "is a company successful because it builds a terrific product or behaves as a good corporate citizen, or because people know about these things through the communicated word?" This, of course, leaves us with a very important question.
What good is the most provocative message if no one hears it?
As I mentioned in my last post, proof that earned media impacts sales is hard to measure because of the multitude of marketing variables in play. However, finding a "preponderance of evidence," as Jeffrey, Michaelson and Stacks define it is much easier, and sometimes more telling.
To illustrate, let's look at three case studies:
Case Study: Sheer Volume
A health care organization invested in women's health conducted and earned media campaign around the importance of scheduling regular mammograms. The leaders of the organization didn't know whether earned media alone would drive an increase in patient visits.
Over 18 months, the health care organization evaluated 47,000 pieces of earned media, which carried clear messaging about the importance of scheduling regular mammography appointments. In this study, the message was neutral and factual and there were no dissenting messages.
From the graph provided, the researchers found a direct correlation between editorial coverage and mammogram appoints. In other words, the relationship between women setting examination appointments increased with the amount of earned media coverage and declined as media tapered off.
What we have learned from this case study is fairly simple. If a message is neutral and is repeated enough times, it drives behavior. In this case, the health organization wanted to boost the number of women scheduling regular mammogram appointments.
Is tone, or how a message is presented a big deal?
Case study: Does How It's Said Matter?
This case study proves that negative news drives down sales. The American College of Chest Physicians reported that over-the-counter cough medicines were useless. Here's what the doctors said: There is no clinical evidence that over-the-counter cough expectorants or suppressants relieve cough. According to Jeffrey, Michaelson, and Stacks, the article purported allergy medications worked better because of their "drying effect."
Once the story hit major television broadcast news and most daily newspapers, the sales of cough medication tanked.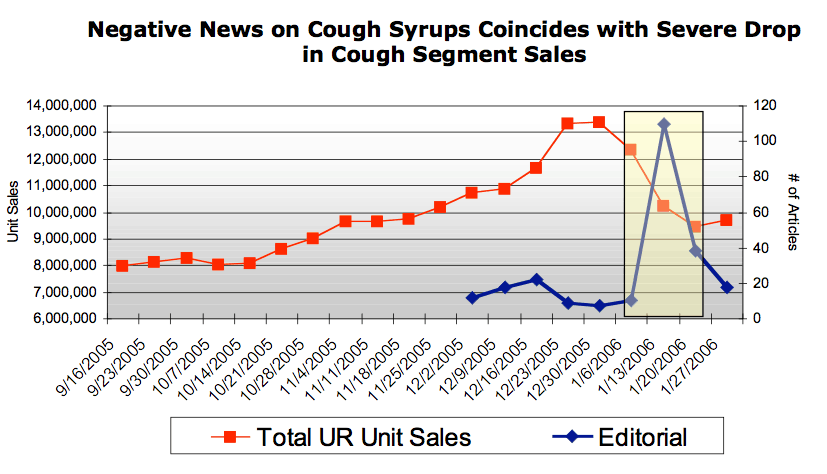 The impact on sales was immediate. Cough syrup sales dropped and began a slow rebound after the negative flurry of media attention subsided. In this study both tone and volume were measured.
From this example, you can see that the tone and volume of media have direct and immediate impact on sales. On the other hand, it is reasonable to conclude that continuous, positive or neutral earned media can hedge against such deeps.
What Have We Learned
The above studies taught us that volume matters, as does tone. In other words, how you say it and how many times you repeat it are important to earned media success. Additionally, I would add the following:
Establish clear and measurable business goals for your campaign.
Use formative research to create a targeted message that resonates.
Earn as much media coverage through as many media channels as possible.
Pay attention to and leverage earned media online through blogs and influencers.
Amplify earned media through social networks in communities where you audience congregates.
Finally, a few words on measurement: Counting links, clips and other impressions is important to determining the correlation of campaign activity to business outcomes. For more complex measurement, tonality and volume can be measured in tandem to understand exactly how a message resonates and drives traffic to website conversation, and ultimately sales.
When earned media appears online, the effects can improve your companies ranking in search as well. This is important because how people find information online is important. If your company is top of mind, and top of search then it's more likely going to be a trusted source, which I cover in "How Priming Works in Digital PR to Strengthen Your Brand."