In my last article, "The New Schools of Thought in SEO: Algorithm Chasers vs. Audience Pleasers," I introduced the concept of Search Experience Optimization as an alternative to the classic search engine optimization. However, there was a subtle point that I glossed over that I feel I should discuss a little more because it can be vital for online success – democratizing SEO.
Many companies think that if they just hire enough SEO experts for their online marketing team, they'll be assured of success. There is a nasty, pervasive belief in many companies that SEO is an activity that resides with one team or one department, and that all organic search success is derived exclusively from that team. Many companies that follow that philosophy still measure their online success with the classic three metrics: keyword ranking, organic traffic, and revenue.
It makes sense in the classical model of SEO. Better keyword rankings lead to more traffic, which leads to revenue. The problem with this classic model is that it assumes online users are merely automatons that do what they're expected to do. It's just a matter of percentages. Keyword A receives an average of X searches per month. Position 1 in organic ranking receives N% click-through rate, which results in Z visits. From that, we can expect C conversions with an average order value of $P, resulting in $R revenue per month for Keyword A.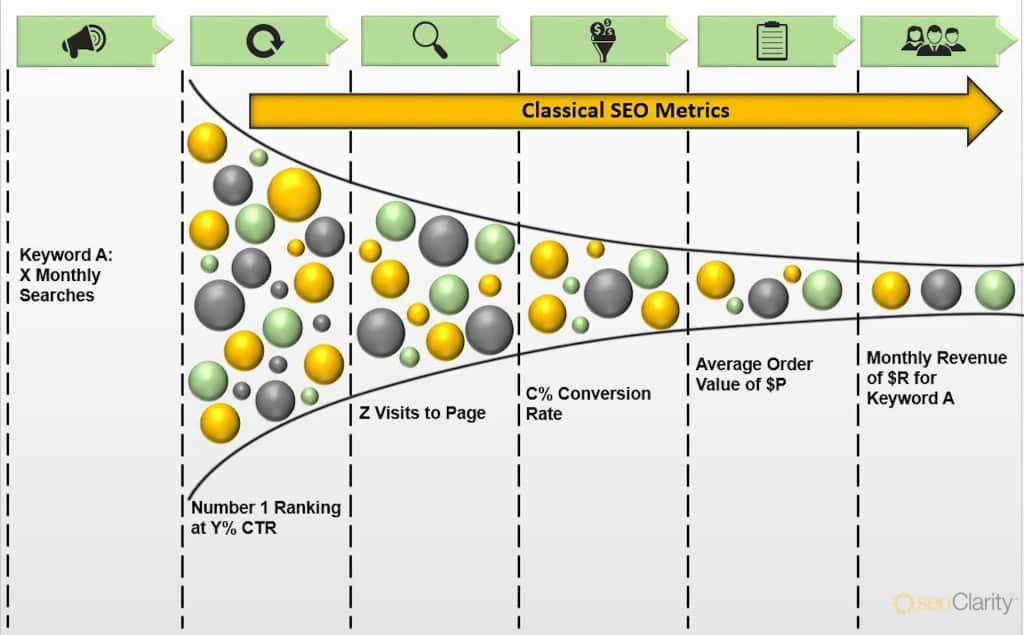 The human element is removed from the equation. It assumes that the only controllable variable is keyword ranking and this isn't the only flaw with this model.
Here are just a few problems with the Classical Model of SEO Metrics:
Google has been obfuscating actual keyword traffic since late 2013 with the much-hated "(Not Provided)"
The monthly search volumes provided by tools like Google's Keyword Planner are directional estimates at best
Monthly search volume is prone to seasonal variations
Actual Click-Through Rates (CTR) for keywords depends on:

Actual position on the page, which can be affected by instant answers, news results, local 3-pack results, image results, etc., which can all push the organic results down the page (and sometimes below the fold).
Whether or not the search phrase is a branded term or not. It should go without saying that someone looking for a specific company is more likely to click on that company's result than another result.
How compelling the search snippet appearing for a site is. Nonsensical or irrelevant text in the Page Title and meta-description can affect how compelling the result is.
Whether or not a rich snippet appears as a result. Results with star ratings, images, prices, etc. may be more compelling than those without rich snippets.
Company or brand reputation
Whether or not Google provides an instant answer to the query in the search results.

Conversion rates across a site can vary depending on:

User experience
Site speed and responsiveness to various devices
Price point of the products
User reviews on the product pages
On-page content
Whether not there are product images or videos
[xyz-ihs snippet="Agency-Link"]
Understanding How Each Team in an Organization Affects Online Success
When you understand how the classic model of SEO metrics is broken, you begin to realize that online success is affected by more than just one team or department in an organization. As a result, you may realize that SEO isn't the siloed practice that we thought it was.
Let's take apart the classic model and show how different teams within an organization, outside of the SEO team, affect the search experience.
Search Volume
You may be thinking, "There's no way we can affect the search volume for our keywords." You may be right when it comes to generic head terms. However, you'd also be forgetting about brand-related terms as well as terms for which your company has cornered the market.
I imagine that the search volume for "Twitter" was close to nil prior to that company's launch in 2006 or their official announcement at the 2007 South-by-Southwest Interactive (SXSWi) event. I would also guess that the terms "tweet" and "microblogging" had a much lower search volume prior to that as well. Since they created a compelling brand and cornered the market on micro-blogging, they affected the total search volume of those related keywords.
So, who affects search volume?
C-Suite: These can be the faces of your company. Think how Bill Gates and Steve Jobs affected the power of their companies' brands. Think how closely Elon Musk's personal brand affects the brands of his companies Tesla and Space X.
Marketing: Developing a company's brand is no small task. Keeping that branding and the associated message aligned is a continuing challenge. However, doing so can create the consistency that consumers need and want.
PR: Reaching out to industry thought-leaders and writers is essential for promoting your product or service. This all adds up to third-party validation, which goes a long way in the minds of consumers.
Product and Quality Control: A good brand and promotion can only take you so far if you manufacture a crappy product. Create a great product or service, however, and you will win the hearts and minds of consumers for a long time.
Ranking
There's more to ranking well in the search engines than just the activities your SEO team can undertake. Rank can be affected by the overall domain strength of your site, which can channel valuable link equity down to your deepest pages. Content relevance and user engagement can also greatly affect and improve your rankings. Great page titles and meta-descriptions are not enough.
Who in your organization can affect rankings?
Merchandisers: Properly building out the content of a product detail page can greatly affect a page's relevance for search queries. However, good merchandising can also inspire user engagement metrics like links and social signals. It can also reduce the negative signals that Google pays attention to, including bounce rate, which is the rate at which people leave your page quickly and return to the search engine.
Content producers: Creating great content does a few things. It ensures relevance for a variety of related keywords, but it also improves the user experience once they land on your pages. They're more likely to convert because your content inspires, educates or entertains them. They're more likely to share your content with their friends and their overall dwell time increases.
PR and Marketing: If your PR and Marketing teams are promoting your products and services properly, the links will come naturally from industry bloggers, news organizations and others. These links can greatly impact your pages' perceived value in the search engines.
Click-through Rate (CTR)
As I mentioned before, there are several external factors involved with click-through rate percentages on organic listings, from user search intent, brand-vs.-non-brand terms, and search engine result page (SERP) configurations, and many of these factors are out of your control. However, there are ways you can try to improve CTR outside of the standard modifications to page titles and meta-descriptions.
Here are the teams that can help improve CTR:
C-Suite, PR, Marketing, Product, Technical Support, and Customer Service: Yes. I'm lumping these all together. Why? Well, all of these teams directly affect a company's reputation. It doesn't matter if you rank #1 for every single keyword you're targeting. If your company has a bad reputation, no one will click on your result. A great reputation, however, can vastly improve the CTR for your site's pages.
Coding and Development: Coders and developers may think that consumers aren't affected by their work until they land on the site. However, with the advent of new coding tools such as Schema, RDFa and microdata, developers are able to provide the search engines with a solid enough understanding of the data on the page. Then the SERPs can include rich snippets in their results. Below is an example of a rich snippet and an ordinary organic result.

Paid Search: There have been studies that show a synergistic effect when both a paid listing and an organic listing appear in a SERP. Creating consistent messaging across both paid and organic listings can be a boon to your online paid and earned exposure.
Conversion Rate
There are other metrics to consider before the conversion, such as dwell time and bounce rate, which show your pages' stickiness factor. However, conversion rates are a great reflection of the search experience. It answers the questions: did the user find what they were looking for? Did the content on the page answer the promise made at the search engine level to the user's query? But there are several other factors that add up to a solid conversion rate.
Here are how your non-SEO teams affect conversion rate:
User Interface (UI) and User Experience (UX): This one should be obvious. If the overall user interface and the corresponding user experience is effective, users can find their way around a page efficiently and effectively. If not, you can watch your conversion rates plummet.
Developers and Systems Administrators: Are your pages responsive? Do they work well on any device? Do they load quickly? The coding on your page can directly affect the responsiveness and speed of your pages. To get to these pages, your servers should also be available and responsive. If your servers or your pages are slow to respond, you can expect increasing abandonment.
Content producers and Merchandisers: Does the content on your page effectively answer the need of the user? Does it inspire the conversion? Ultimately, the content acts as the equivalent of a floor salesperson, answering the consumer's questions, providing information, and selling the product or service.
Designers: Is the page laid out in an effective way that makes the content readable and well-organized? The most successful sites in the world are constantly testing new designs and page layouts to find the perfect recipe for optimal conversion rates.
Democratizing SEO for Maximum Online Success
The touchpoints listed above are just a few of the areas in the search experience where you'll need the efforts of more than just a seasoned SEO team for solid online success. Some of the most successful companies are the ones that involve SEO methodologies and practices at all levels of their organizations.
Each team in a democratized organization can understand the impact they have on the search experience, leaving the SEO team free to focus on site audits, reporting, strategy, continuing education and disseminating any new information to the rest of the organization. This is shown in the diagram below.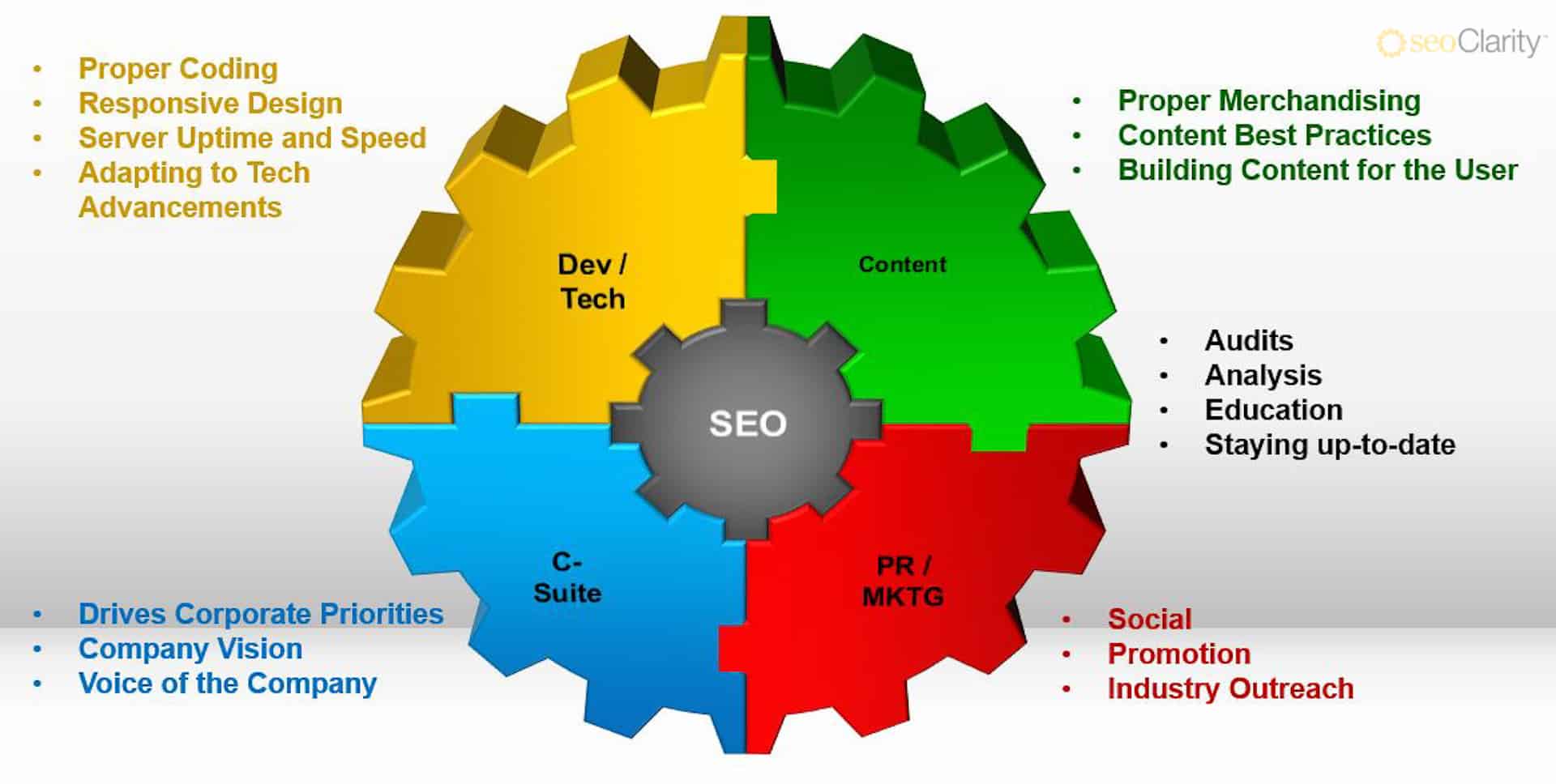 This approach is vital to the philosophy of Search Experience Optimization. SEO that isn't scalable can be doomed to failure. In order to scale, a company can keep hiring more and more SEO experts, or they can adopt the search experience optimization mindset organizationally. If you have unlimited funds, by all means, choose the former. SEOs are usually happy to have more opportunities. However, if you'd like to minimize operating expenditures while improving your success online, democratizing SEO can steadily move you in that direction.
[xyz-ihs snippet="Hubspot-CTA-Leaderboard"]