Remember when we used to get news from a newspaper or a local television broadcast? In case you hadn't guessed, new research has proved it: We're a long, long way away from the days of print or TV being the primary place people get their news.
Pew Research Center found that 62 percent of US adults get news on social media, and 18 percent do so often. That's a big bump from 2012, when 49 percent of adults said they received news from social media.
How we discover content—including news content—has increased the importance of content strategy to capture user attention and grow customers. Content marketing is typically thought of as how-to articles, listicles, or blog posts. But the rise of social media and mobile devices have shifted this somewhat. These days, top brands are creating diverse content units, from videos to thinkpieces and investigative journalism articles. Newsy content can go a long way on social media. Indeed, as the research shows, users expect to read news across social platforms. The trick for brands is finding the right voice to share content with a newsier edge.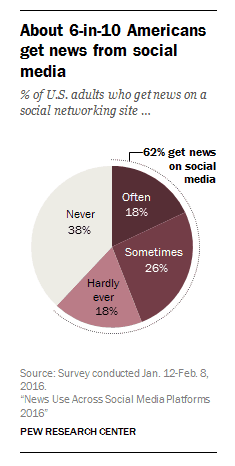 The Social Media News Engine
News discovery figures pretty heavily on multiple social networks, not just Facebook. Sixty-six percent of Facebook users get news on the social network, compared to 59 percent of Twitter users and 70 percent of Reddit users who get news on the respective platforms. About 31 percent get news on Tumblr.
Because Facebook is so huge, its reach is much larger. Facebook reaches 67 percent of US adults, Pew found, which means that 44 percent of the general US population gets its news there.
Since 2013, three of eight networks included in the Pew study have logged increases in the proportion of users who get news on those platforms: Facebook, Instagram, and LinkedIn.
Facebook is rapidly becoming a content (and news) sharing service versus a personal sharing service. Facebook wants users to stay on the platform as long as possible, and recent features have furthered that aim. Instant Articles offer mobile users content from top publishers that loads up to 10 times faster. Trending topics round up the news and issues people are talking about. Improved search functionality means you can search for just about any topic and find relevant and timely content from friends or publishers. Facebook also wants the news to reach users via video, and it's paying media publishers to use its live-streaming video service, Facebook Live, Recode reported.
These efforts have encouraged sharing on the platform, even if users aren't sharing as much personal information as they used to. Facebook users are sharing less about their daily lives but are still sharing news, articles, and other forms of content.
[xyz-ihs snippet="Agency-Link"]
Putting the News in Content Marketing
Given that news discovery is on the upswing on social media, how should marketers react? The easy answer is to become more like media publishers.
Going In-House
For several brands, the quest to create publisher-quality content has meant creating their own in-house media studios. Red Bull is an oft-cited example; its Red Bull Media House creates content including the Red Bulletin, a lifestyle magazine devoid of energy drink mentions. Instead, readers can peruse content including a list of hip-hop artists who have created cookbooks, a profile of one of the world's top fencers, and an article on the best road trip destinations on a budget. The content is engaging, creative, and the type of stuff you'd want to read and share.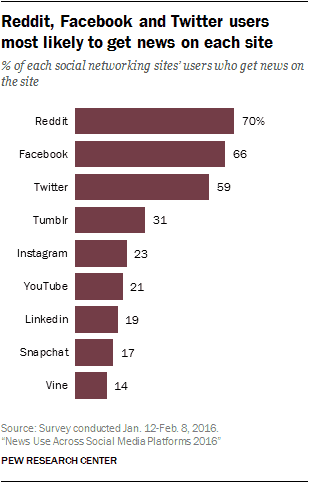 Marriott is another brand with its own global content studio. Its content team is responsible for a pair of "Two Bellmen" short films and a visually lush online magazine called Traveler, which abounds in travel-related articles. The only call-to-action on the Traveler portal site is a booking engine in the footer; the primary focus is articles on the best beaches of Barcelona or a cocktail recipe from a Canadian bartender.
"Our global content marketing strategy is built around what we call a '3C' strategy—the first one being content, the second one being community, and the third one is commerce," said David Beebe, VP, global creative and content marketing at Marriott International, in Skift. "So all of our content fits in sort of two categories, where it either informs people or entertains people. The idea is that as a brand, we provide entertainment and build a relationship first, and then we look at a sale afterward."
On the video side, GE offers a great content strategy example by essentially covering its own business and industry. On YouTube, GE explores the science behind its products with engaging video snippets. A typical publisher isn't going to cover how a gas engine works. By creating its own news-style content, GE can share about topics that ordinarily wouldn't see the light of day.
GE also does a nice job piggybacking off news and pop culture to inspire engaging and shareable. GE's discussion about the theoretical possibility of a "Mad Max" world, with scientists Neil deGrasse Tyson and Bill Nye, hit GE's sweet spot—science!—with an interesting and accessible spin.
Native Ads
Brands that don't have the resources to create a media studio in-house can get a taste of the action with native advertising. Native ads mimic the style and form of their platform, whether it's a cute quiz on Buzzfeed or a serious investigative story on The New York Times. The latter's story on female inmates, sponsored by Netflix to promote Orange is the New Black, is the quintessential example of brands sponsoring journalism to woo eyeballs. The publisher helps craft the story, and brands benefit from the clout of the publisher sharing the content.
Amazon's partnership with The Guardian offers another take on content-meets-news. The Guardian's true crime reporting series called How to Solve a Murder detailed efforts to crack a 35-year-old unsolved murder of a teenage girl in Los Angeles. While it looks like another interactive investigative journalism story, it was actually sponsored by Amazon to promote its original drama, Bosch. The Guardian didn't release specific numbers, but said the series surpassed expectations and was shared thousands of times across social media, EContent reported.
Thought Leadership
The Internet is awash in thought pieces because people love reading content with a point of view—content that enlightens and adds value. Expert content can also help brands establish thought leadership and become the go-to leader in their space (and distance themselves from competitors). Brands can find their voice by thinking about the issues and concerns facing their target consumer and their industry as a whole. Third-party publishers, like Forbes' BrandVoice platform, can help raise the profile of this kind of thought leadership content.
Above all, shaping content with a news angle in mind shouldn't equate to "boring." Top content is new, informative, and ultimately useful, just like top news content is new, informative, and useful. Users are primed and ready to interact with news content on social media, creating an opportunity for branded content with a newsy spin—as long as brands can keep the quality high.
This article originally appeared on Skyword.
[xyz-ihs snippet="Hubspot-CTA-Leaderboard"]