Brands have clung to social media as a way to spread their message in a mobile-oriented world. But if current trends continue, social media apps may become less relevant.
A report from SimilarWeb found that people worldwide are spending less time using social apps like Facebook, Instagram, Snapchat and Twitter. The report compared Android app usage data from Q1 2015 to Q1 2016.
The trend is especially true in the US, with Americans spending significantly less time on the major social apps in 2016 compared to 2015. Snapchat use dropped 19.21 percent, Instagram use fell 36.16 percent, Twitter use dropped 27.94 percent, and Facebook use declined 6.7 percent.
The declines translate to fewer minutes each day users spend on specific apps. In Q1 2015, Android users spent 49 minutes per day on Facebook; in Q1 2016, usage dropped to 45-and-a-half minutes. Snapchat usage went from 23 minutes to 19 minutes. And Instagram usage plummeted by 10 minutes day, from about 30 minutes in 2015 to 20 minutes in 2016.
Installs on the four social apps are also down year-over-year, SimilarWeb found. Among the nine countries examined, installs were down an average of 9 percent. However, in the US, installs of Instagram and Twitter were on the rise, even as Facebook and Snapchat were on the decline.
Social Media Fatigue—Or Not?
So how are smartphone users changing? Interestingly, SimilarWeb found that even though the big social media apps appear to be losing ground, YouTube, LinkedIn, and Quora have logged increases in usage time in almost every country examined, including in the US niche apps like Periscope and Whisper seem to be on the rise; messaging apps like WhatsApp and Facebook's own Messenger are also demanding user attention.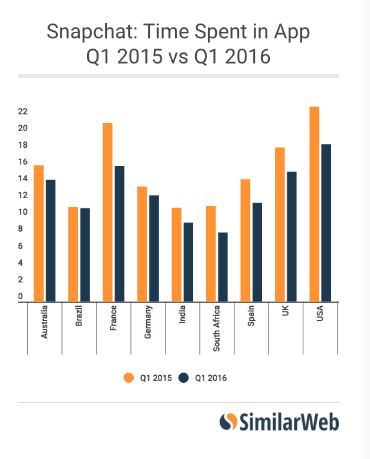 So-called context collapse is the likely culprit driving these changes. Context collapse, as discussed previously on the Content Standard, refers to the idea once audiences online become potentially infinite, the intimate context that defines our face-to-face encounters is lost. In other words, once our friends and followers become too numerous, sharing personal content becomes less meaningful. Facebook blames context collapse for the decline of personal sharing on the platform. Sharing was down 21 percent year-over-year as of mid-2015, according to technology media site.
Apps that boast smaller, private or even anonymous communities (think Whisper or Yik Yak) offer an alternative. Instead of broadcasting their personal lives to the world, users are migrating to closed or anonymous communities.
The big social media companies have attempted to mitigate the niche app explosion by simply buying them out. Facebook acquired WhatsApp (and before it, Instagram); Twitter acquired Periscope (and before it, Vine). The social media consolidation isn't likely to end anytime soon. The argument is simple: Instead of converting users to platforms like Twitter and Facebook—which may be suffering from context collapse—the big social companies are better off pulling in upstart apps to expand their user foothold. Ironically, even as people seek alternatives to the traditional social apps, those same "niche" apps will likely end up owned by the more established platforms.
Brand Challenges
The fracturing of audience across devices and channels has long presented challenges to digital marketers. In this fragmented landscape, it's difficult for brands to determine where to spend their resources. Here's what marketers need to know.
Big Social Still Matters
Although the big social apps are seeing less usage, it's important to note they still garner the lion's share of app usage overall. Facebook reports that users spend an average of 50-plus minutes a day using Facebook, Instagram and Messenger—more time than they spend socializing with others, MarketWatch notes. Considering that there are 24 hours in a day—about eight of which are spent sleeping—that amounts to one-sixteenth of an average user's waking time spent on the social media platform, The New York Times points out.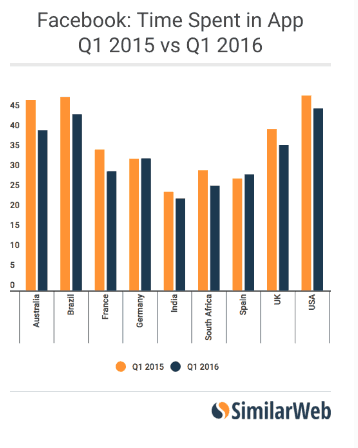 In other words, don't expect the importance of social apps like Facebook, Twitter, Instagram and Pinterest to change anytime soon—they still command big audiences that brands will want to reach.
However, with users spending less time in these apps, brands need better-than-ever content to rise above the noise. Increasingly, that content needs to be optimized with the specific platform in mind. A simplistic optimization tactic might be filming video content in vertical orientation (for apps like Snapchat) as well as horizontal orientation (for apps like YouTube). A more nuanced approach involves thinking deliberately about the features and opportunities on each network and exploiting them with made-to-platform content. Buzzfeed's Tasty videos, which are tailor-made for the Facebook audience, offer a nice example.
Niche Apps Matter, Too
The big social media apps don't own the social landscape. There will always be the next big social media app on the horizon, and you never know which social media app or digital marketing trend will gain traction.
One thing marketers can count on, however, is change. Facebook may be a social media juggernaut, but it's not the only game in town. The surge in niche apps is a powerful reminder that old apps will eventually make way for new (that is, until the more mature apps acquire the upstarts). Brands need to focus on ways to make their content nimble enough to move from channel to channel as popular apps wax and wane. National Geographic's latest digital adventure—promoting its photographers and projects with content "slices" to fit a variety of platforms—is one such example.
Mobile Web Is Key
Declining social media app usage could signal the key role mobile web still plays in content discovery. Couple that with the fact that smartphone users typically only use three apps frequently, according to comScore, and you have a strong argument in favor of creating an excellent mobile web experience versus, say, a branded app.
Airline apps are a great example of this. Sure, you can download Delta's app or American Airlines' app. But for users who don't want to bother with yet another app download, a stellar mobile web experience will do perfectly well—allowing users to do the key things they want to do, like check flight status. Your flight may be delayed, but at least it's easy to track changes without a cumbersome app install.
Touch Points Abound
If current trends are any indication, marketers are likely to see more touch points, not fewer, as new apps burst onto the scene and potentially destabilize the established social networks. Betting on Facebook alone for digital marketing isn't recommended; that said, it's impossible for brands to create content for every single social media app out there. Determining where your target audience (and their influencers) engages online can help narrow the apps to focus on. From there, companies need to optimize content for that specific platform, creating units of content than sing for that specific app and audience.
This article originally appeared on The Content Standard.