Youtube Takes Strike at Spotify
[bctt tweet="Youtube launches music streaming service and rebrands Youtube Red as Youtube Premium. Read on to find out what this means for marketers." username="relevance"]
Youtube is staking a claim in the ultra competitive music streaming landscape by introducing Youtube Music. The new platform will be a reinvented mobile app separate from Youtube complete with a desktop player and a personalized home screen where listeners can check out their favorite artists, albums, and Youtube made playlists.
Google will also be integrating their advanced AI into Youtube Music with expertly tailored music suggestions and custom playlists built around a user's listening history.
Youtube Music will have both free and paid streaming options, similar to competitor Spotify's latest app relaunch. The free version of Youtube Music will be ad supported and the paid version will carry a price tag of $9.99 a month.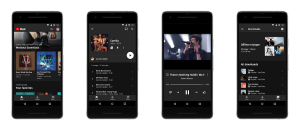 There will also be a premium membership option which includes access to both Youtube Music and exclusive video content on Youtube Premium, the rebranded name of Youtube Red (launched in 2015.) The Youtube Premium option will cost $11.99. According to the Google Blog, Google Play Music subscribers will get a Youtube Music Premium Membership as part of their monthly subscription.
Because Play Music isn't going away, it's difficult to see how Google will sustain two similar, overlapping subscription platforms. Based on initial glimpses at the new platform, it seems that Youtube Music will be more of a direct competitor to music streaming kings Spotify and Apple Music. Because of this, there's a chance that Google Play may eventually take a backseat to Youtube Music or even fade entirely.
Youtube Music will start rolling out on May 22nd.
Youtube Says Farewell to 'Red' and Hello to 'Premium'
In a bold move, Youtube has decided to abandon the name Youtube Red and rebrand it as Youtube Premium. Youtube Premium still includes access to Youtube Originals like Cobra Kai, Step Up: High Water, and Youth & Consequences, but new subscribers will have to pay an additional $2 to account for Youtube Music's price tag of $9.99. However, Youtube is throwing a bone to existing Youtube Red subscribers by allowing them to stay on their current price plan.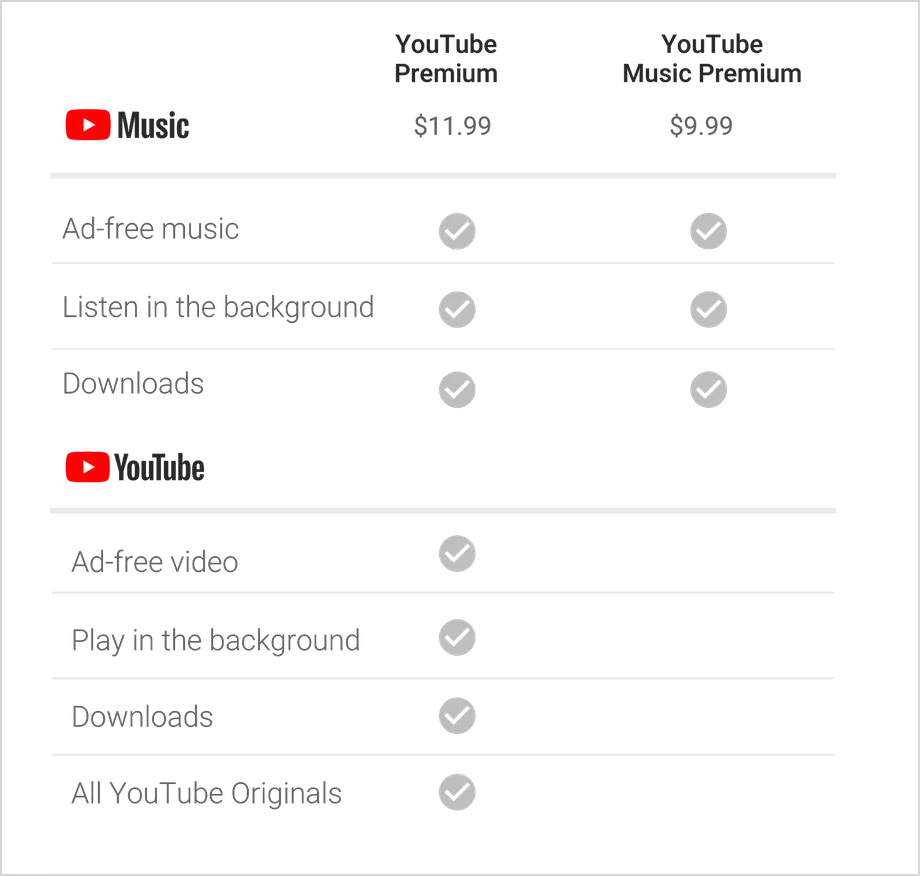 According to the Verge, Google is promising an expanded library of original shows and movies to make up for the price hike.
This news has caused some strife in Youtube's creator community, with many saying that Youtube is losing sight of the original video content that helped make it the media giant it is today.
Hundreds of content creators have turned Youtube into a full time gig so t's natural that any sort of change to the platform, especially one that suggests a prioritization of music over video, is worthy of concern.
Famed vlogger, author, and Vidcon co-creator Hank Green took to Twitter yesterday with criticisms that tie into Youtube's decision to 'cheapen' the video side of Youtube Premium. He states,
"It is very hard for me not to read this as Google thinking Youtube Music is worth $10 and THE ENTIRE REST OF YOUTUBE is worth $2. Someone put me in charge for a week so I can tell the record labels to get off the platform if they can't share with the rest of us."
Hank Green's criticisms are understandable. With Youtube's stronger focus on music, and the ad crisis that affected dozens of creators making a living off of ad revenue this year, creators have been wary of any changes to the platform they depend on.
Implications for Marketers
Youtube has been a viable platform for social promotion for years but it's also undergoing some major changes. From a content marketing standpoint, change can be both positive and negative, depending on how you look at it and depending on what you use Youtube for.
For smaller brands and influencers who use Youtube as a way to tell co-branded stories and share visually driven content, visibility may get harder to come by. Youtube Premium's introduction of Netflix-like shows and movies suggests that the company may start banking on large brands, celebrities, and influencers to produce and star in original content, putting the little guys at risk.
On the flipside, Youtube Music's free option will be ad supported, thereby opening up the floodgates for marketers looking to buy ad placements on the new app. It's unclear if Youtube's ad offerings will change or if ad placements will transfer to Youtube Music. It's likely that Youtube will provide more information for marketers as the rollout begins.
Final Thoughts
All predictions aside, Youtube as it currently stands is still a great platform to market on. Last month, Google launched Reach Planner for Youtube video campaigns as well as shorter, skippable ad units called 'TrueView for Reach.' These new ad solutions have given marketers more flexibility in their campaign strategies. Video in general is more popular than it's ever been and dozens of brands are making it a key part of their content strategies.
Youtube will, hopefully, always be a place for creators to tell stories (both branded and unbranded) through authentic, unfiltered voices. The future of the platform may be cloudy and storytelling will never fall out of favor, it's up to marketers and content creators to adapt to changes and continue connecting with audiences in creative and engaging ways.
What do you think of Youtube Music and Youtube Premium and how do you think the changes will impact Youtube for marketing? Share your thoughts in the comments.