Building an online presence with your original content won't just come overnight. Often times even well-written content is not able to rank strongly on Google – maybe the article was too long-winded, or it covers a topic that has already been tackled by a couple of larger websites.
[bctt tweet="There is no one-size-fits-all approach to writing great content. But often it takes a little direction to push good content into high-ranking territory." username="relevance"]
These five tips will set content writers on course to boost rankings and improve online presence.
Know Your Target Audience
Do Your Keyword Analysis
Keep The Reader Hooked In
Skyscraper Technique
Reach Out To The Right People
1. Know Your Target Audience
If you're writing about new video game consoles, you had better be sure to make sure you're writing content that a slightly younger, predominately male audience will want to read.
Thinking deeper, you should apply this same philosophy to your linking strategy – make sure you're including links that the reader would probably read anyways. Doing so will help with the consistency of your writing and will give you credibility.
This point is especially important for Business to Business (B2B) content. No business professional wants to be talked down to. Keep a mental image of your target audience in mind – it will help you maintain a consistent tone.
Check out the infographic below to see more on how you should approach writing for businesses differently.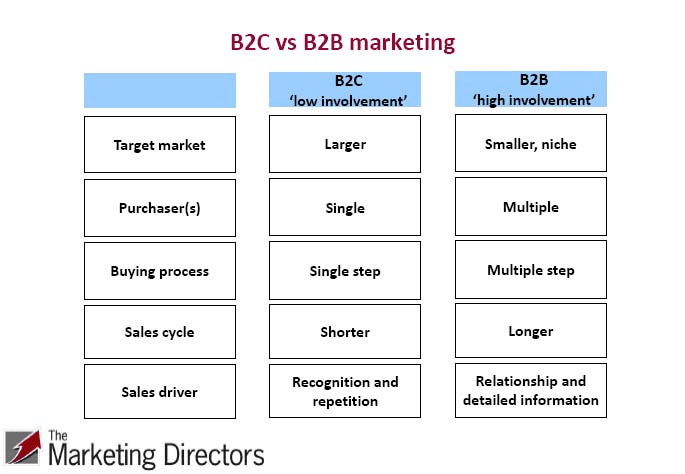 2. Do Your Keyword Analysis
Don't cut corners with your keyword analysis. Taking the time to research the right keywords will make your path to the top results page much clearer. You should know exactly what your keyword is before you begin to write.
It's very important to understand just how keywords will benefit your work.
[bctt tweet="Picking the right keyword and placing it strategically will direct search traffic your way." username="relevance"]
A good writer should be constantly studying keyword research because it changes so often!
Referencing multiple separate SEO tools will help bring you all the necessary information about a keyword. SEMRush, Moz, and LSIGraph are all great resources and they will help you gather more data on keyword performance.
3. Keep The Reader Hooked In
Getting readers to spend more time on your content page? Great. Inspiring readers to click on your links? Even better. You'll need to do both if you want your content to maintain a high rank.
Thanks to the mobile revolution, human attention spans are at an all-time low. Writers need to include all of the necessary information while avoiding long sentences and complex words. A general rule of thumb is to keep your paragraphs to three/four lines max.
Graphics and charts are also your friends. Even the most simply worded, user-friendly article can discourage some readers if it's just filled with text. Sometimes graphics are the best way to get your message across.
4. The Skyscraper Technique
The good about competing with other articles for search engine ranking positions is that you know exactly what you're up against. The Skyscraper Technique is built around that idea. What does this mean in practice?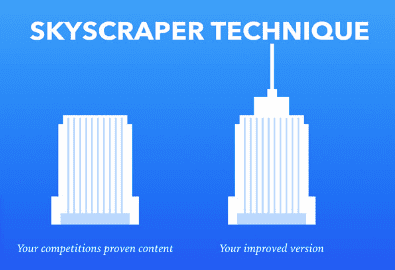 It's called the Skyscraper Technique because you're building content upon what has already proven to rank. If you're creating an article about the best study habits, you should already have researched the main points that everyone else focuses on. Your goal is to:
Gather all of the content that is proven to rank (study habits that you've gathered)
Personalize it (start your article with those building blocks)
Add your own personal touch (include your own unique research to stand out)
By the time your article is ready for publishing, it should be the most informative one out there. SEO strategies like the Skyscraper Technique and an economical writing style will be the foundation for high performing content.
5. Reach Out To The Right People
Now that you've written your guest post, it needs to be marketed. Whether you market through an email blast or through direct communications with editors or content managers, you'll need to pitch your work.
Stick to the basics. Describe who you are, what expertise you have, and what content you have to offer. Include a link to an example of your work – no editor will be able to tell how good your writing is just by reading your pitch (but a well-written pitch is a good indicator)! Reference a pitching guide to see if your pitch could use some work.
Bringing Everything Into Focus
Improving your content's online presence in 2019 means increased focus on readability, a diligent approach to keyword analysis, and the inclusion of Skyscraper Technique practices.
Don't get too bogged down trying to stuff as much information as possible, and don't try to get off easy by blowing your work up with too many images and graphics. Remember, Google ranks high quality work – make 2019 the year that you hit the perfect balance and start climbing up the results page rankings.