First of all, I know that you are in all probability a one-man team with a deadline that expired yesterday but having a written content marketing plan is not only important but non-negotiable for the following 5 reasons.
A written plan with personas, themes, and strategies is a part of a formal process that allows you to request a budget and support without which even the best content will remain unseen.
A document allows you to get inputs from people smarter but busier than you (including the future you) and helps you map trackable goals of what you expect to achieve and when.
Writing down all the good ideas reduces the organization's dependence on people (mostly you), plus it enables teamwork and is intuitively a smart idea in every way.
Also Read: But How Is Content Marketing Different From, Well, REGULAR Marketing?
Good campaigns are ongoing and a lot more work than a single person can handle. You will need approvals, often be asked to make modifications, and be required to work with subject matter experts, writers, and designers for the final output. At times like these, having a document that you can send over or use as a common discussion point helps immensely and is far more efficient than explaining the bald, depressed potbellied guy in your head who you know NEEDS a shower head with 5 pressure settings.
Now plans follow standard templates with predetermined sections, often standardized within companies or downloadable by the dozen from a standard online search. You may often choose to combine or break down sections to make it your own but all plans should ideally cover the 5 elements outlined below.
1. THE STORY:
This is the foundation stone and, if neglected, also the place where most plans come to die. It is the "why" behind everything else. Why are you the fairest of them all? Create desire, passion, and drama, and elevate it BEYOND the ordinary. Do a short video, include props when you finally present it but make sure your team understands and shares the vision. A lot of companies create story boards with real life characters and details that get more vivid with time.
Also Read: How To Upgrade Your Content Marketing Strategy For Voice Search?
If you are stuck, I would recommend the HubSpot Academy Content Marketing Certification Course  to get started. It covers basic concepts but does a really good job of explaining the storytelling bit.
2. USER PERSONAS: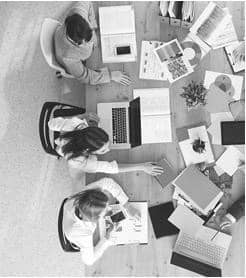 While tackled at the story level, this section is about their income, their lives, and their hopes and aspirations.
Where they shop, what they eat and how many children they wished they had. What they read, where they hang out and what other brands keep them company. This detail is important for 2 reasons.
A) It helps you visualize and therefore talk to them better.
B) It helps your media department advise you on how best to find them.
The niche you define needs to be large enough to be profitable but similar enough to have enough common features that make them a relevant sub group.
It is also extremely important to update these personas when necessary. A 60 year old grandma in 2018 looks and acts very different from a grandma in 1972.
A buyer persona is simply the most detailed, composite visual and textual sketch that you can create on the basis of hard evidence. I find the below 3 absolutely necessary before you can start writing.
Demographics along with a picture. (Age / Gender / Income Group… etc.)
Hobbies / Interests / Dreams in the context of how your brand fits.
Challenges / Difficulties / Problems in the context of how your brand can help.
But in case you have a mature understanding of your customer then you can refer to the nine that are discussed here:
60-75 year old grandmother who lives alone on a fixed but small school teacher pension.
Interested in keeping herself busy. Reads a lot. Always trying to learn a new recipe or skill in her free time.
Educated but still struggling to grasp new apps and smart gadgets which she wants to use to stay in touch with her family and friends.
3. DESIRED ACTION AND METRICS:
What do you want them to do? How will you know if they have done it? DO NOT write a word till you have a clear idea of your objectives. Now, setting quantitative goals is hard especially if this is the first campaign that you are doing with no benchmark data but it is essential to have a number to work towards.
The simple act of having a number brings you way closer to it that you can imagine.
While everything ultimately maps onto the customer journey cycle, I found this one article particularly useful, one way to visualize it is as below.
DO THEY KNOW YOU EXIST?
Depending on how competitive your niche is, this first step can be hard enough and the metric will depend on the channel used. The simplest measure for this is traffic, sessions, or views. Unfortunately, while the Rule of 7 is not cast in stone, getting noticed takes more than a casual bump in the hall. You will need to ensure that each prospect gets multiple opportunities to interact with your brand and story in order to truly understand it.
NOW THAT THEY KNOW YOU EXIST, DO THEY WANT TO HAVE ANYTHING TO DO WITH YOU?
Ok, so far you could blame your measly marketing budget or your ancient website's loading speed but now comes the BIG moment of truth when your story REALLY comes into play. It is truly wise to set as many micro goals like session time/comments on a blog post or the downloads for an e-book as you can. These help ease your prospects into a more definite engagement, whatever that may be.
WHAT DO THEY SAY ABOUT YOU WHEN YOU ARE NOT AROUND?
This is a clear bonus, an icing or sprinkles kind of an extra, but having people say nice things about you, refer your services, promote, and even defend you is every marketer's wet dream. Make sure you put in place processes, tools and even rewards that allow and incentivize people to put you on a pedestal.
4. PROMOTION STRATEGY AND BUDGET
Once you have a number of leads, views or shares in mind, you need to ensure that you have a promotion plan that supports it. You could write the greatest piece of content ever created but your customer is NOT going to see it till you invest in promoting it in the right channels be it a sponsored post, social advertisement or email. You will need a budget and point 3 is the only way you are going to get it sanctioned.
Now, I'm going to skim over this section but only because I plan to give you the link to the greatest book ever written on the subject. Please just read it cover to cover and become a content promotion GOD overnight.
5. TEAM AND THE OPERATIONAL SPECIFICS
Who will write, edit, QA, and promote it? In what quantity? Do you need subject matter experts, freelancers, or full time staff? What will be their respective roles and responsibilities? These are all questions you must ask yourself.
A content campaign is ideally not a one person job. You may feel
the need for subject matter experts, writers, editors, analytics pros, IT folks or marketing promotion support. You should work towards building efficiencies and scale through repurposing and recycling content that is successful. Modify and re-test the content that is not.
This article is an excerpt from the book "Content Marketing vs Marketing – A Traditional Marketer's Guide to Content Marketing in 2018". Get Your Free Copy Today!