There are few if any technological platforms that have captured the public imagination, and public adoption, more than social media. A study by Statista predicts that social media networks in total will capture a staggering 2.77 billion users by the end of 2019. That makes social media one of the largest and most promising drivers for product marketing, and the accessibility of these platforms greatly level the playing ground for smaller businesses.
But as with any marketing campaign, trying to launch your product on social media requires planning. Here are the steps you need to follow to stick the landing on your product launch.
Preparation is Important
When you start a social media campaign, you have to start by recognizing that your given demographics will likely be spread across a number of different social media platforms, and each of these platforms offers their own strengths and disadvantages in terms of how you can reach your customers. YouTube provides a way to engage directly with your customers through personalized videos that help calcify your pitch in more concrete terms, while Facebook's Story system is a great way to frame your product's messaging in the terms of a narrative. According to Block Party, Stories creation and engagement is up 842% since early 2016.
Memory is short in the social media sphere, and that means you have to continue plugging away at the process of providing unique content. While posting up some billboards and airing a perpetual TV or radio commercial campaign may work for more traditional campaigns, social media marketing is far more labor intensive.
You need to make media posts a daily habit and also devote significant time to researching popular trends among your prospective customers. As a general rule, CoSchedule recommends publishing 1 post per day on Facebook, Twitter and Instagram, and as many as 15 tweets per day on Twitter.
The most important thing to consider here is the consistency of your messaging. This will likely be your users' first exposure to your product, and maintaining a brand identity both in the tone of your messages and the styling of posts will help solidify what your product represents in the popular consciousness.
Always Start With a Teaser Campaign
Big brands like Apple understand that the best marketing inspires prospective customers to signal boost your message, and that's why building anticipation is so important. A meaningful teaser campaign, preferably utilizing unique hashtags for easier sharing, can create far greater engagement and let the very customers you're trying to pitch to do some of your outreach for you.
The trick here is finding a balance. If you provide too little information on your product, customers have little reason to be intrigued. Providing too much transforms your intended "teaser" into a de facto launch announcement.
This balance is largely affected by the public appeal of your brand. A fresh new company with little hype behind it likely won't be able to draw the imagination of a broad group of customers with vague teases, but a company like NVIDIA that has a built-in fanbase and a reputation for innovative products and extended release cycles can benefit from a whiff of a product alone. This company has recently successfully teased its followers with an image of a dinosaur to announce their latest product NVIDIA TITANRTX: the world's most powerful desktop GPU.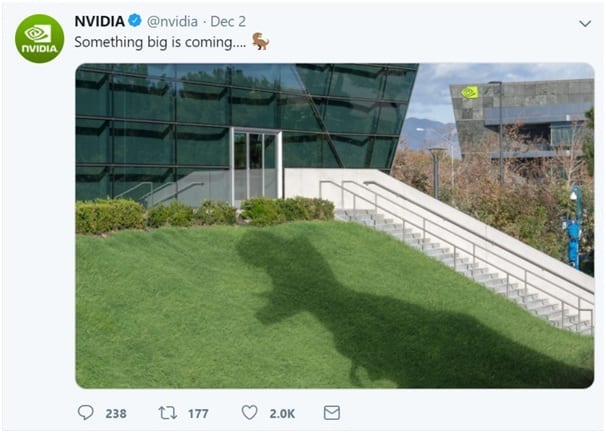 Establishing a countdown on your social media platforms can be a great option here, as it creates a sense of mystery around your product while creating concrete expectations for your followers.
Enlist Help From Influencers
The breadth and depth of the internet age has created a vast ecosystem of celebrities in practically every niche. From professional gaming to celebrity cooking, there are publicly known and publicly respected personalities in practically any field you can expect.
According to Digital Marketing Institute, 86% of marketers used influencer marketing since 2016.
And while the type of aficionados who pay attention to these niche celebrities might not constitute the majority of your prospective customer base, they're likely to be the first ones who engage with your product and the ones who broadcast the specialized message of your product to the larger market.
That's why it's so important to reach out to influencers in your specific field. Find the people who matter in your discipline, and enlist their services with access to free products, exposure, or access. But why stop at just one influencer? Nike has teamed up with both Neymar and Michael Jordan for their latest product promotion.
Of course, this practice is not cheap.
According to Rakuten Marketing, UK marketers are willing to pay influencers more than £75,000 (approximately $96,000) for a single Facebook post mentioning their brand. If this is well beyond your budget, you can enlist the help of micro-influencers to promote your new product. 84% of micro-influencers charge $250 or less for each sponsored post on Instagram, and 97% of them charge below $500 for an Instagram post.
Due to the unique public personalities and varying levels of popularity for influencers, you'll have to treat each attempt at outreach as its own negotiation and figure out the sort of disclosures they'll need to run. Don't forget to set aside the time you need to establish these sorts of relationships. To create a greater level of engagement with your followers, you can even poll them to see what sort of influencers they most respect.
Let Your Followers Be Your Heralds
That last piece of advice can get you a lot of mileage. The followers who are with you from the start are going to be the ones who most understand the industry and are the most likely to proselytize the message of your product.
Consider creating an exclusive and early insiders program. Whether it takes the form of an email newsletter or private social media groups (or preferably both), a steady drip feed of early information leaked out to your most loyal followers can create more hype than your company could alone. And while it may cost a little more in the short term and potentially undermine aspects of your directed marketing campaign, you may want to consider offering free trials or prototype products for these loyal customers. Hearing a company praise their own products is one thing. Hearing customers praise it before it's been released is quite another.
Promote Your Product With Contests
There's nothing that customers like more than getting something for free, and there's no way to get people to tag friends in a social media post than the chance to win something. Tailwind for Instagram study revealed that Instagram accounts that hold contests can achieve 70% faster follower growth compared to those that don't. You can also team up with influencers like Puma has recently done to make your contest even more appealing.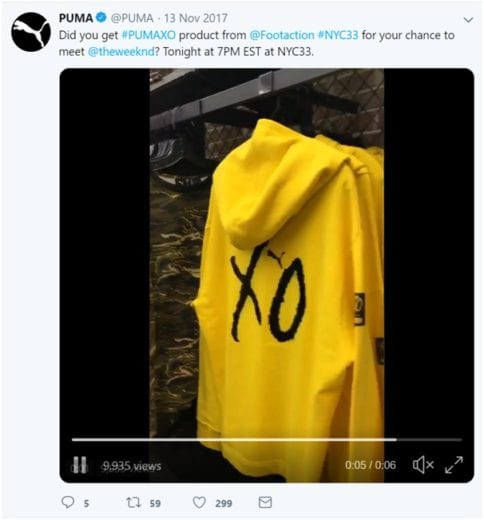 Contests can significantly bump up the visibility of your product, but it's important to approach them carefully to maximize your return. If you're running your contest on Facebook, for instance, using likes as contests as entries can be a good way to drive up your post's visibility, but increasing the odds for shared posts can increase your outreach in a far more meaningful way.
Caption contests and similarly creative competitions spur your users to boost your own visibility by improving the entertainment value of your posts.
A good product alone isn't enough to succeed in any marketplace, and that's why it's important to make the most of your social media channels when you're planning a new launch. Just remember to stay focused on your brand identity. The expectations you set with this product could define customer attitudes about your company for years to come.