Most people access the internet via their mobiles these days – over 60 percent, in fact. And the mobile-centric world of apps is exploding. In the (not so distant) future, clunky desktops, laptops, and even tablets may become a rarity, tightly related to specific context or experience such as working in the office or reading books.
If you want to get your content discovered, you can't ignore mobile. Here are five ways to make sure the mobile revolution doesn't leave your business behind.
1. Mobile-optimize your website
Take out your smartphone and look at your online presence. Is your website easy to use and perfectly optimized for the mobile phone?
Apps and websites are increasingly becoming very intuitive and easy to use on mobile. People simply don't have the patience to scroll up, down, left and right, trying to enlarge and work out what's going on.
Get your website simplified and optimized for the mobile experience both visually and in terms of usability, so your prospects instantly know what to do when they find you online – no matter how they arrive.
2. Create a smart phone app
Don't fight the tide; swim with it. Over 90 percent of users prefer an app experience to mobile web.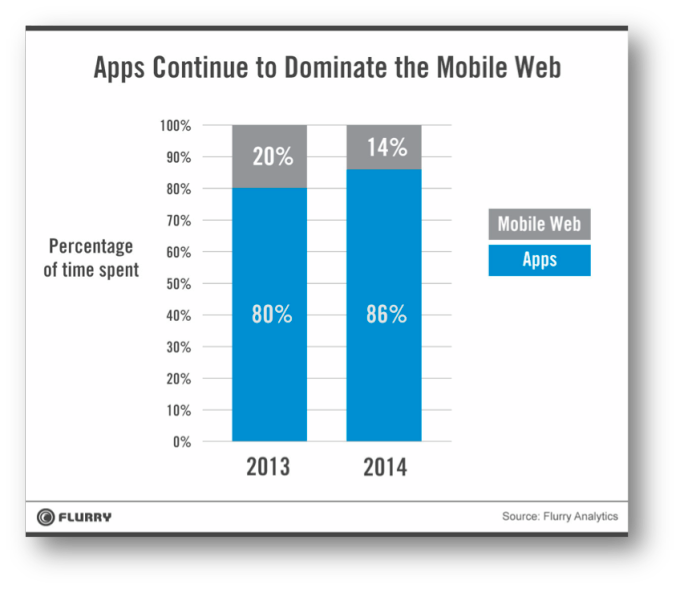 Create an app your prospects will love, which will bring them closer to your service. The two best ways to go about this is to either:
Create an app which extends the problem your business and content solves onto mobile – making it easier for your clients to get their solution instantly, and on the move, via an app. For example, La Quinta hotels has an app that lets their clients instantly reserve with just their phone number. It makes their core service more fluid and easier to use. Sometimes simply extending your service onto the mobile via an app is the easiest way to do this, like Evernote and countless other businesses.
Or you can create an app which solves a problem your ideal client has. This may not be your primary service, but whenever they use it, they will think of you. And because you control the app, you can easily offer discounts and subtly advertise through the app, drawing them into your core service. For example, Burton Snowboards has an app for snowboarders that helps them plan how much snow to expect on a given day.
Take a look at the apps on your phone, and see which ones fit into either of these categories. Start to think about how you could deliver one among them.
3. Engage through social networks
Of all the online access that has increased the most through mobile phones, social media stands head and shoulders above the rest. We live in a social media age where people are never disconnected. A powerful social media marketing presence and strategy will get you much further on mobiles than on desktops and tablets.
This is a long-term strategy that needs to be done the right way. Begin studying and planning how to go about it. Here are two posts that will introduce you to the key concepts:
4. Use native advertising
Get discovered on mobile using content discovery platforms such as Taboola and Outbrain. Increasingly popular on desktop, the content discovery widgets are integrated with the internet's top websites, delivering an even leaner mobile experience. Users access content in an organic way, choosing to read an article related to the one they just finished reading.
You can use this paid, CPC-based channel to create initial traction, striving to lead the incoming mobile users to perform a certain action – install your app, sign-up for updates, log in with their social accounts, etc. This allows you to increase your user base that you can further target with your inbound campaigns.
A word of caution: Should you decide to use a lead generation form, try to use the fewest number of fields possible. Also, understand that the prime real estate of a mobile content page is just below the article, so try to avoid placing the unit on the side margins.
5. Begin text message advertising
A strong caveat with this one – no spamming! A mobile phone number is far more personal than an email address, and there are stronger laws around it too.
But at the same time, text marketing is still in its infancy and if you go about it the right way – tastefully, with great tact, and giving huge value to your prospects – you can do very well, indeed.
An example of a high-quality tasteful text marketing strategy might be a restaurant collecting the phone numbers and birthdays of customers. Then, on their birthday, they receive a text offering them a free meal for them and four friends. You already know they love the food, so the advert comes across as a great personal gift giving a lot of value.
With a growing reliance on mobile phones by today's always-connected consumer, optimizing for mobile and developing apps are great starting points, but no longer enough to get your content discovered on mobile. Nurture your existing audience through social media and text message perks, while also growing that audience with native advertising, and you're well on your way to a successful mobile content strategy.