According to an article published at Inc.com, "88% of consumers rely on online reviews just as much as a personal recommendation". No wonder businesses strive for five-star feedback all of the time.
But does it mean that businesses should remove every negative review hurled at them? Not necessarily.
While there's no doubt that more positive reviews can help your brand earn more trust and increase sales, there's no reason to hide negative feedback either. In fact, it can be just as handy in increasing trust and brand awareness.
If your business recently got a negative review, don't panic! Here are the reasons why your brand actually needs more of them and how you can use them to your own advantage.
1. Negative Reviews Teach You About What Your Customers Need 
Not all customers are alike. One person may feel your product offers the solution they've long been searching for, while one may see yours as total garbage, but that's okay. While we all strive for perfection, we can't actually create a product that is perfect for everyone, although we can create one that is perfect for certain people. And that's where a negative review comes in.
A negative review, especially one that discusses in detail what the customer didn't like, could prove very useful in helping you realize what is missing in your product or service. Being able to look at your own product through a customer's point of view teaches you about what they need, what you're doing wrong, and how the competition do things differently.
There are people who may have been dissatisfied with your product or service but didn't bother to leave a negative review. While you might think this is a good thing, not hearing from your customers will only make you feel that your product or service is already perfect as it is. To be successful, you need to always look for areas where you can improve.
In this Amazon review, the buyer expressed their frustration about how difficult it is to open the diffuser they just bought. While the product does a great job most of the time, it just proves that nothing is perfect, even one labeled as Amazon's Choice.
2. Bad Reviews Make Your Business Look More Authentic 
Your brand can't have it all. There is no single product that makes everybody perfectly happy 100% of the time, and savvy shoppers know that.
This is why perfect feedback can raise suspicion. In fact, 95% of customers believe that reviews are either screened or fake if they are purely positive. Yes, there can be too much of a good thing, even with positive reviews!
By showing all of your reviews, it just proves to your customers that you've got nothing to hide. Most importantly, it shows them that your reviews are real.
3. Negative Customer Reviews Generate Attention
A single feedback from a customer, regardless of its nature, helps generate some buzz about your business. This is particularly useful if you've just got into the industry. As you gather mentions, good or bad, it increases your brand's visibility and engagement.
Customers rely on reviews from other people not just to compare products from brands that they know about, but also to discover other brands that they haven't heard of before.
Botto Bistro perfected the strategy of getting their business in the forefront through negative press. Oddly enough, they offered a 50% discount to customers who write one-star reviews about them on Yelp. Not only did they spark interest by being the worst reviewed pizzeria, but they are also able to fight back manipulative reviews through this tactic.
4. Negative Reviews Help Your Customers Make Informed Buying Decisions 
Most of the time, customers leave negative reviews not because your product is awful, but because it didn't meet their expectations. A negative feedback can address that, as other potential buyers who are scanning the reviews will get a clear picture of what to expect.
Let's say someone left a negative review because the item was smaller than they expected. Buyers who read that review will know that they should order a bigger variation.
The point is, negative reviews may provide insightful and more detailed info that may otherwise be unavailable in positive reviews.
Take for instance this one-star feedback from a customer who had an allergic reaction to a cosmetic product. It's one of a few unfortunate incidents, but it doesn't necessarily mean the brand uses inferior ingredients. The vast majority who need not worry about allergic reactions will not be swayed despite reading this review, but those with sensitive skin could find this review very useful.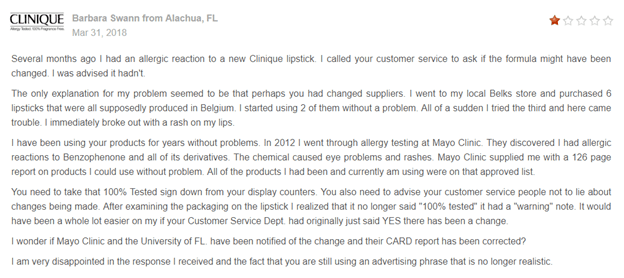 When customers know exactly what to expect, disappointments can be avoided.
5. Bad Reviews Make You Look Good 
A negative review allows you to shed light on what made the customer's experience unsatisfactory. It gives you an opportunity to correct issues before they escalate, allowing you to salvage your relationship with your customers.
The way you handle negative feedback tells more about your business than the review itself. Other customers who can read your responses are given the impression that you take every complaint seriously, and if something goes wrong with their purchase, you'll be there to support them.
In fact, research suggests that 78% of customers believe that the business cares about them whenever they see the management responding to reviews.
A negative review only stays negative if you don't act on it. See how the owner of this Cambodian restaurant explained the situation to a disappointed customer. By admitting to their mistake and by offering to return the over charges, he was able to turn this negative review into a positive one in the eyes of other customers.
6. Negative Reviews Help Increase Sales 
Consumers today are smart enough to compare the advantages and disadvantages of a product before they purchase. When you reveal the bad reviews to them, you also show them the reason behind those reviews, which isn't always that bad.
One way a negative review can help increase sales is by promoting customer engagement. According to research by Reevoo, "consumers tend to spend five times longer around your product or website as they interact with your negative reviews. In fact, they are 85% more likely to convert".
The perception is that most shoppers become more confident in their purchase decisions because they've seen the best and the worst of what others had to say about your brand or product. This results to happier customers, decreased rate of returns, and in turn, increased sales.
Conclusion 
Brands should acknowledge that reviews, good or bad, are key to the success of any business, and thus shouldn't be feared. By embracing negative reviews and taking them in constructively, they become a very useful tool in making your brand even more visible.