One-person social media "teams" take a lot of risks with time management. Many freelancers, myself included, manage their own social media accounts.
They're away from the office. They have deadlines. They have a number of projects in the pipeline that need to be completed on time. Thoughts go through their minds such as, "I have so many things to do! I don't have time to manage my social media profiles anymore!"
Faced with overbearing projects and a slew of unchecked emails, it's easy to put social media management on the back burner. When you're overwhelmed, managing your Twitter and Facebook accounts feels like a burden you could easily eliminate or outsource. Doing so will likely have little consequence since you're not looking for more customers at that point.
On the other hand, social media management is one of the easiest ways to build awareness and brand loyalty, especially for one-person social media teams. According to Oleg Donets, Real Estate Bees CMO, "Brand mentions and social media shares also contribute to how well your website ranks for specific keywords."
However, social media marketing doesn't have to be such a draining task. First, you need to understand that managing social media is not just about creating winsome posts. It's more about connecting and engaging with people — your audience. Listed below are some ideas to help you efficiently manage social media accounts as a one-person team.
How to Manage Social Media Efficiently as a 'Solopreneur'
1. Start with a social media audit.
If you're hearing crickets in terms of engagement right now, odds are something isn't working with your social media strategy. The best starting point is a social media audit. The goal of an audit is to determine how important a particular social media channel is to your business.
From there, you can determine how frequently you post on that channel, what content is most effective at promoting your company's products and services, and what content is most relevant to your fans' interests. An audit can help you figure out what content should go where and how to use social networks for maximum impact toward your business goals.
Digging a bit deeper, a social media audit will provide answers to these questions for each platform. How many followers do I have? Who are my most active users? What posts generate more engagement in certain demographics/demographics than others? And so on.
Hootsuite has a free template you can use for social media audits. Here's a quick breakdown of how to run a social media audit as a solopreneur/freelancer:
Identify your best-performing social networks by follower count, traffic, engagement metrics, and other relevant criteria.

Check if all your profiles on each platform are optimized, including platform-specific image sizes, bio with searchable keywords, consistent branding, etc.

Check if your social handles, profile images, and messaging tone are consistent across platforms.

Identify your best-performing posts by engagement.

Look for patterns in post messaging, type of visuals, and so forth.

Identify your most engaged audience by demographics and needs.

You can also check out competitor profiles for this kind of information.
2. Manage your time better.
I often find myself scrolling through feeds or pins for hours while trying to schedule social media posts. Creating social media content seems like something a one-person social media team should be able to do in an hour but, in reality, it can take an entire day.
Use these ideas when you want to manage social media tasks more efficiently:
Batch everything. You should schedule posts in one go, either for the week or for the month. You don't need to create four brilliant tweets per day, but you should at least create one tweet every day.
Have a solid strategy. Don't move too quickly past the importance of a social media calendar. Learn how to create one. I realized that the main reason I procrastinate on social media management is that I didn't have a solid plan.
3. Measure what you're doing and fine-tune as needed.
Knowing which channels are the most active for your target audience and which links attract the most traffic will give you an idea of which content ideas to focus on. You're likely to find that the 80-20 rule — 80% of your social media marketing results come from 20% of your posts — holds true in many cases. You should identify these high-performing posts.
How do you do this? You can either use platform-specific social media analytics tools — provided by every social media platform — or turn to a full-view analytics tool provided by social media tools such as Hootsuite. Before checking your analytics, you should have clearly defined goals.
As a freelancer, right now, reach is more important to me than engagement. I would place more focus on posts that have the most reach when checking my analytics and then replicate these types of posts.
Keep an eye out for trends as well. As an example, if you are primarily targeting Gen Xers or Millennials, then use GIFs to foster engagement.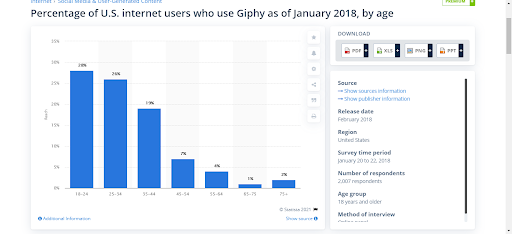 4. Focus on your clients…but don't overwhelm yourself.
There are countless social media platforms. It's tempting to overextend yourself as being on more platforms means an opportunity to expand your online presence. On the other hand, as a one-person social media team, it also creates a drain on resources, both in terms of time and money.
Your ideal customer typically uses one platform over others. Therefore, you should establish your base camp on networks that are popular with your audience. Continually create platform-specific content that speaks directly to your customer. Being on the right platform(s) also gives you the opportunity to proactively resolve customer complaints before they escalate.
Ideally, start with one main platform where you can interact with and engage your primary audience. If you're not sure which social media platform you should focus on, ask your current customers. All it takes is a free survey.
Once you get the hang of your primary platform — and aren't getting overwhelmed with social media to-dos — add another platform into the mix.
At the same time, prioritize content that adds value for your customers over all other types of content. But by all means, add some jokes, food, or lifestyle content into the mix. No one likes a drab and stolid timeline.
5. Spend time monitoring and replying to pertinent conversations.
Engaging people on social media is one of the things that takes a lot of willpower for me to keep up with as a one-person content team. But it is one of the best things you can do if you want to grow your business.
You'll have the chance to build and nurture relationships with past, present, and future customers and partners. Although it is difficult at times to keep up, make an effort every day to monitor and respond to interesting conversations. Examples include Twitter chat conversations, Facebook groups, LinkedIn groups, DMs, etc.
Also, it pays to remember the Golden Rule: "Do for others what you want done for you." If you want likes, you should give likes. Want replies? Give good replies.
6. Have a social media calendar.
Social media marketing is more than just creating a sequence of posts. It's also about the frequency, type, and timing of the content you produce.
For example, when trying to launch a new product, a company may start with a survey, post previews, show images and reviews of this new product in action, and then make the big reveal with a special offer. This takes planning and is why most brands work with social media calendars.
While you probably already have a content calendar, you should have a separate social content calendar. Use tools such as Google Spreadsheets, Asana, or Airtable. You can also use a paper calendar planner to plan your social media content. Here, for example, is a good social media calendar for small businesses on Twitter. For a more comprehensive social media calendar, use this template from Hubspot.
7. Manage everything from one place.
Want to be efficient at managing your Facebook, Twitter, Instagram, and Pinterest accounts? (Saying it like that doesn't even sound efficient.)
The best way to manage all of these would probably just be using one app instead of four. Luckily for those of us who are overwhelmed by too many apps on our phones — or just want simplicity in life — there are apps that can help you manage all your social media accounts from one interface.
When do you need to hire a social media marketing manager?
You may find yourself spending more time on social media than actually creating content for your blog or for clients. If you find yourself putting off key work and getting at loggerheads with customers and team members, it may be time to consider outsourcing some (or all) of your social media management to someone else.
You may choose to outsource to a virtual assistant, a social media marketing manager, or even a marketing agency.
Want to manage your one-person social media gig more effectively? Use this hack: Start listening more. Replicate or repeat past successful content, monitor and respond to interesting conversations, and be ready to take a break or outsource whenever a feeling of being overwhelmed sets in.