Why should you bother about Premium SEO tools?
Isn't it insane; that every time Google comes up with an update in its Search Engine Algorithm and you have to put time and effort to modify the website accordingly. It's a very complex task for anyone to optimize the site in such a short span of time and on top of that, doing it manually.
Also, you might be having the worst nightmare when you are handling hundreds or thousands of web pages without any assistance. Even if you are on the verge of optimizing a newly built website; in terms of SEO, it can be a boon when someone's assistance delivers all the insights about competitive industry, recent trends, growth opportunities, etc. Here the 'someone' is an SEO tool.
Apart from the above-mentioned points, the biggest factor that can drive you to use an SEO tool is 'time'. This may sound a bit cliche but "Time is money".
To win the race against time, the SEO tool is the nitro-boost you need..
Free SEO Tools: A Delusion
Before exploring SEO tools, here's one more phrase that may sound cliche: "there's no such thing as a free lunch".
The clear interpretation is that you won't get access to all the features in the free version of the tool.
Even if you are trying with one such free tool, there is no guarantee about it solving your SEO related queries. You have to find a perfect match based on your SEO goals and for that, you need full access to the tool.
The Solution
The dilemma is whether we will get desired returns after spending on the SEO tool or not.
It's quite natural and real to have such concern over it. There are certain handy solutions as well. The easiest one is to go for a TRIAL version. You can subscribe for a free trial of the tool as mostly all the tools provide this feature.
To say, I have a question. Wouldn't trying 50+ SEO tools to find the best that serves your agenda hinder your routine work and be nerve-wracking?
Makes sense, right?
Alternatively, you can take the help of review tutorials from SEO influencers or take-up a digital marketing course that provides training to clearly understand the benefits of the tools for the specific nature of the business.
Even for going after tutorials or subscribing to courses, you need money!
It's like, for paying installments of car loan, you are taking another loan.
To solve this complexity, here are the 10 handpicked premium tools that can power up your SEO strategy. Also, here I have listed the tools based upon nature and needs that they best fit for, to speed up the process of selection.
1. Moz PRO | Technical SEO
Moz is a one of a kind tool which you can use for innumerable purposes, some of which are mentioned below:
Rank tracking
Link building
Technical SEO
Content optimization
Keyword research
On-page Optimization
SEO audit etc..
Now, out of these use cases, I can personally recommend you to use it for "Technical SEO". In simpler terms, Moz is the best when you are focussing on the "On-page Optimization" of your online portal.
You can audit your site regularly and in return, it will provide suggestions on what and where to implement changes. Moz uncovers hidden opportunities like:
Optimal title
Broken link
Highlights content duplication issue
Site crawling and indexing issue
Apart from fixing things, Moz will also recommend newer additions to SEO strategy.
Pricing
Standard plan: The pricing starts at $99/month
Medium plan: The pricing starts at $179/month
Large plan: The pricing starts at $249/month
Premium plan: The pricing starts at $599/month
*Moz also offers 30 days free trial
2. Ahrefs | Backlink Analysis
Off-page SEO is a term that you won't take seriously until and unless your on-page optimizations have stopped after generating enough growth. When you are thinking overall SEO strategy, there is a need to give equal importance to the 'Off-Page Strategies' as well.
When I talk about off-page SEO, backlinks are the most important traffic source for enhancing domain authority (DA) and sending positive signals to the crawler. There are prominent SEO tools that you can use to perform off-page SEO but above all the available SEO tools, one that I recommend is, Ahrefs. It has a set of features that work complementary to each other for boosting traffic. It can be the most ideal tool for exploring new backlink opportunities.
Some of the most important features include:
Content Explorer: With content explorer, you can find out recent trending content with metrics (organic traffic, traffic value, social shares, etc.) about a particular topic. This data may help you to write your next LinkedIn article, answer to Quora's question and deciding on which platform for posting.
Working of the feature?
You just have to enter the topic in the 'textbox' and it delivers infinite results of related online articles with just one click as shown below in the image.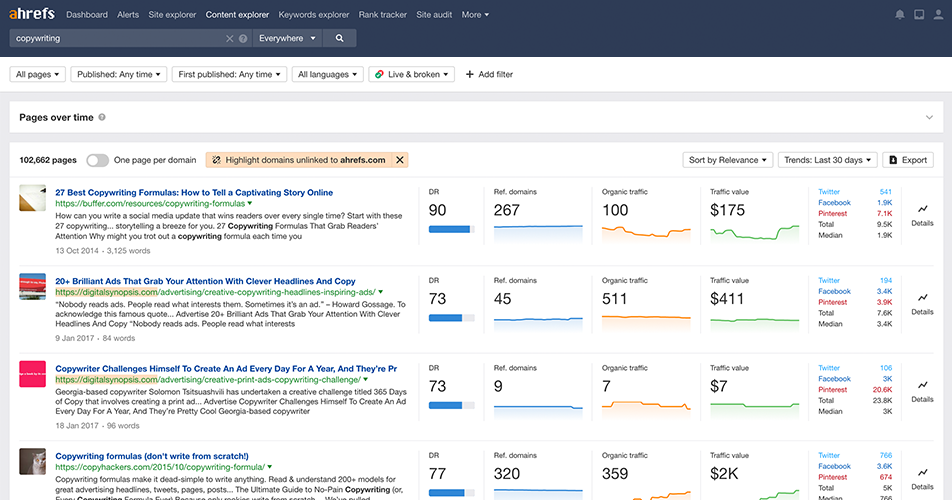 Image Source
Backlink Checker – This feature is ideal for the start of your website and to check the market and network of your competitors. You can just type your competitor's domain name and fetch their backlink profile. Through this data, you can kick start your strategy by approaching these sites to get a backlink..
Pricing
Lite plan: It will cost you around $99/month
Standard plan: It will cost you around $179/month
Advanced plan: It will cost you around $399/month
Agency plan: It will cost you around $999/month
*It also offers 7 days trial for $7
3. Keywords Everywhere | (Keyword Research)
Keywords Everywhere is a tool for your keywords research requirement.
The most unique feature is the interface of it. You just have to install a chrome plugin and search relevant terms based on your requirements. The tool will automatically fetch related keywords data on the search results page itself.
So, compared to the keyword planner or any other tool, you don't have to go through the tool and check the dashboard for all the data.
Here's the catch, to get keyword search volume and CPC (Cost per click) data along with keywords data they've just started a paid subscription.
Pricing
The pricing is based on considering keywords limit as credit where 1 credit = 1 keyword
100,000 credits = $10
500,000 credits = $50
1 million credits = $100
2 million credits = $200
5 million credits = $500
10 million credits = $1000
4. SEOmonitor | Rank Tracking
SEOmonitor has all the features from identifying lead to conversion tracking. The most important and underrated feature is "Rank tracking".
Here, rank tracking just not meant to track search engine rank but more than that it can track the following metrics:
Search reputation tracking
For PR agencies, this small tool can work like magic and it manages the online reputation of a brand.
Keyword Tracking
We often ignore this feature and tend to focus on the research part. This feature will tell you the historical data about a particular keyword from CPC to past search volume.
Featured Snippet Tracking
By enabling this feature, it can track changes in your "position zero" (featured snippet position) and provide results over search impressions.
Pricing
Pricing will vary depending upon a quantity of website and keywords requirements.
For 1 website and 300 keywords, pricing is €49/month
With further increase in website and keywords to track, the pricing will increase accordingly.
*Free trial is available for limited features.
5. BuzzStream | Link Building
When we are talking about off-page SEO, link building is one of the most complex tasks which require patience. Link building process involves diverse tactics like outreach, interaction, follow-ups and a win-win proposal for the exchange of resources.
It requires internal team collaboration and proper follow up cycle relating to managing external publications. Manually, this task can take months of your time while a tool can reduce it to a minimal level.
Buzzstream has 4 stages of link building with a great level of customisation.
1. Research: In this stage, you can find new outreach contacts with minimum time and create your contact list in a single click.
2. Email: You can manage conversation threads based on the segmentation of database and personalised messages.
3. Manage: You can manage your internal team by assigning tasks and follow-ups.
4. Report: You can generate reports on email effectiveness and team performance.
Pricing
Starter plan: Pricing starts at $24/month
Group plan: Pricing starts at $99/month
Professional plan: Pricing starts at $299/month
Custom plan: Pricing starts at $999/month
*Free trial is available for 14 days, after that $24/month
6. Buzzsumo | Content Research
You need ideas from drafting your next blog post to a new social media post.
Buzzsumo is providing you with a solution in this context. It offers features and small tools which can generate tons of ideas on your behalf by just specifying business requirements.
The feature you can't miss:
Content Discovery: This feature works as an alternative to "google trends" with micro-level analysis. When you enter the topic, it can deliver related ideas with current trends. Apart from this, you can get details on trending topics from forums, social media and communities as well.
The "extra" features:
Find Influencers: Just finding ideas and writing a nice article won't be enough when it comes to content promotion. This feature is ideal when you want to share your content on social media platforms and across communities. It can help you to identify, shortlist and approach ideal influencers based on your requirements. Depending on their power to reach, you can suggest to them what to share with their loyal fans.
Monitoring: This feature tracks all the social media platforms and website to keep you informed regarding new brand mentions, competitor updates, product news, etc. You can go through the notifications and plan the actions accordingly.
Pricing
Pro plan: Pricing starts at $99/month
Plus plan: Pricing starts at $179/month
Large plan: Pricing starts at $299/month
Enterprise plan: Pricing starts at $499+/month
*It also offers 7 days FREE trial.
7. Copywritely | Content Optimisation
If you passed through the research and writing phase means you won half of the battle.
Now, you need to sink your teeth into content optimization procedures. It involves technical checks on the SEO side and grammar on the other one. There is a common tendency between us about using one tool for grammar check and a separate one for SEO based optimisation. With Copywritely, you can perform both the tasks with ease.
Tools For Grammar Check:
Plagiarism Checker
Grammar Checker
Readability Checker
Word Counter
Tools For SEO Optimisation:
Keyword Density Checker
Keyword SERP Checker
Article Rewriter
Pricing
Personal plan: Pricing starts at $18/month
Startup plan: Pricing starts at $45 (One time purchase)
Company plan: Pricing starts at $35/month
Enterprise plan: Pricing starts at $67/month
8. vidIQ | Video SEO
Video as a channel will contribute 82% of internet traffic by 2020.
If I can go more in-depth regarding the video platform, then YouTube accounts for one-third of all internet users.
These stats can direct easily towards the importance of youtube in your video marketing strategy. For getting maximum out of youtube videos, you need to implement SEO strategies.
Even though YouTube SEO is not a buzzword, you must take it seriously when working on brand-related video optimization.
"YouTube SEO" is not a popular buzzword but need to take it seriously when working on brand-related video optimisation.
VidIQ tool has all the features which can enhance your youtube rankings leveraging SEO optimization.
Here is a glimpse of VidIQ features/tools that you can explore to reach #1 on YouTube SERP.
Keyword Tools: Get targeted keywords for maximum reach
Channel Audit Tool: Use this tool to optimise videos which started getting views
Competitors Tool: Explore this tool to step ahead of competitors
Trend Alerts: See what's trending around your targeted region
Facebook Syndication: It allows smooth integration with Facebook to share videos there for maximum views.
Pricing
Basic plan: You can use it for FREE
Pro plan: Pricing starts at $7.50/month
Boost plan: Pricing starts at $39/month
Enterprise plan: You have to request for a demo to check pricing details.
9. Bright Local | Local SEO
The bright local tool can be your ultimate automation support in local listing optimisation.
It offers below tools which can bring your local business profile to every user's first preference:
1. Local SEO tools: By leveraging features such as tracking local SERP ranking, monitoring reviews & integrating Google My Business Insights, your local SEO profile improves gradually.
2. Google My Business Audit: With such an audit, you can track all the recent activities to boost local listing.
3. Citation Tracker: Identify new local directories, monitor and optimise existing citations to outrank competitors.
Pricing
Single business plan: Pricing starts at $29/month
Multi business plan: Pricing starts at $49/month
SEO Pro plan: Pricing starts at $79/month
Enterprise plan: Contact them for pricing
*14 days free trial possible.
Bonus Tool
10. StoryBase
StoryBase is a tool for the generation of content ideas.
It works on collecting user search queries and imparting that knowledge to you for better insights. You can use this real-time data in terms of user questions, ideas, queries, etc. and identify new content opportunities.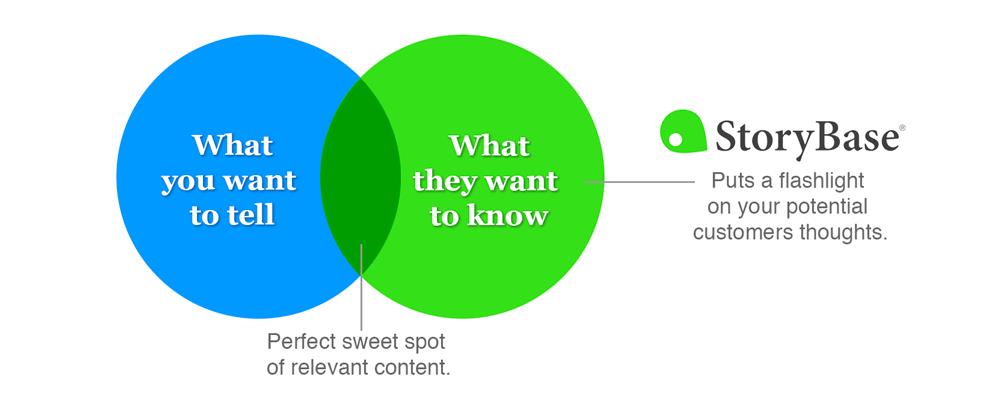 Image Source
Major Features Include:
Content Ideas Generation: With having access to google search data of users, you can explore infinite ideas in terms of content generation. The content can be from blog post to podcast.
Search Performance Measurement: There is a facility to integrate the tool with google search console and the possibility to track variation in clicks, impressions and rankings for all your web pages.
Pricing
Personal Plan: Pricing starts at $49/month
Premium Plan: Pricing starts at $129/month
Enterprise Plan: Pricing starts at $299/month
*14-day FREE trial is available with each plan
Conclusion
I have listed the tools based on your SEO specific requirement.
Now, it's not possible to list down every single tool for all the tasks. Similarly, it's not possible to list down every SEO related task for which you will need the tool or maybe using it right now.
It will be great if you can comment on those "underrated" and never heard tools to make this list an ideal resource for the community.