Invisibility is poison for a brand struggling to grow and earn market share. If your target audience doesn't see you at critical moments in their buyer's journey, it's like you don't even exist. Without online credibility, authority, and visibility earned through SEO strategy, it's difficult to convert or close a deal. Everything you do in marketing is more complicated and exhausting.
SEO strategy remedies invisibility, and it's critical for brands investing in growth marketing.
What is an SEO strategy?
A search engine optimization strategy is the practice of improving your website's ranking and appearance on the search engine results page. It's all about aligning the content you create with your ideal customers.
An SEO strategy will help you clarify and act on the following information:
What are your target customers searching for online?

How do they use that info to make decisions?

At what point in their journey do they search for it?

What experience do they expect when they enter your site?
Search engine optimization techniques
SEO revolves around user experience. It's about creating people-first content. But it still requires research, testing, technical optimizations, and content marketing expertise.
No matter what you may have heard, keywords still matter. You can't create people-first content without knowing what people search for and how they use the info. Keyword research answers these questions.
On top of that, your website must deliver an amazing user experience that people remember and want to come back for. When your SEO strategies keep that focus, everyone wins.
What's the role of SEO in marketing?
SEO strategy helps you meet the marketing goals that impact your company's bottom line, like:
More organic traffic

More leads

Higher quality leads

Increased customer retention

Lower customer acquisition cost

Increased customer lifetime value
The benefits of SEO strategy start with more website traffic. In today's digital world, no marketer will say no to more traffic.
But all traffic isn't created equal. The source of your website traffic impacts its quality. And when higher quality traffic comes in, that quality cascades down your whole funnel to increase conversion rates and retention.
When you do SEO right, the organic traffic it brings in is higher quality than, say, advertising traffic. Why? Think of it this way. Every time someone clicks an ad, you're trying to build credibility from scratch. When was the last time you built a meaningful relationship with someone in a few minutes?
Advertising is also an expensive way to get traffic. And when you stop your campaign, the traffic stops flowing in. By contrast, using SEO as an evergreen marketing tactic is a gift that keeps giving long-term.
Here's how to design an SEO marketing strategy.
SEO marketing strategy
Nearly 70% of online experiences begin with search. And as technologies like voice search become more ubiquitous, that will increase.
What's more, 91% of websites get no search traffic because they're not ranking for any relevant keywords. As a marketer, you must have a strategy to insert yourself into your audience's online experiences. Because it's not going to happen on its own.
That's where your SEO plan comes in. Having a solid plan in place will improve three crucial areas for your brand:
Visibility

. That should be obvious. But this isn't about being everywhere at once. You're visible in the places ideal customers are.

Credibility

. People know that Google goes to great lengths to show the most credible sites first. Search result visibility communicates that your brand has staying power and is likely to deliver on its promises. Relevant content boosts brand credibility.

Authority

. Potential customers can see that customers and influencers care what you have to say. You are a thought leader rather than a follower, and an expert in your industry.
These three together make you hyper-relevant in the eyes of your potential customers. They generate the benefits of SEO.
What are the types of SEO in digital marketing?
There are four categories of SEO strategy in digital marketing. 
1. Technical SEO
When launching a new SEO strategy or auditing previous efforts, we often start with technical optimization. That's because a solid technical foundation is table stakes to play the SEO game.
Moz co-founder Rand Fishkin said, "Technical SEO is like the plumbing of a website… it's crucial to ensuring everything runs smoothly and efficiently." Creating content and building backlinks are essential strategies, but they're only as strong as the tech they run on.
If your website has technical issues, it's a big red flag to search engine algorithms. And that means the content you worked so hard on has a slim chance of ranking.
Here are the most important technical SEO aspects to include in your strategy.
Crawling and indexing

. You must ensure search engines can crawl and interpret your website content. To find out if you have any hangups in this area, check the Index Coverage report in Google Search Console.

Website speed

. It goes without saying that speed should be a top priority. If your content takes too long to load, no one will read it – insightful or not. For a report on your core web vitals, use Google's PageSpeed Insights tool. Some common issues are large media files and unnecessary code.

Structure and navigation

. A simple, clear site structure helps both human users and search engine crawlers. Use short, descriptive URLs and breadcrumbs so users always know where they are.

Mobile-friendliness

. More than half of online traffic is mobile. If your site is somehow still stuck in non-responsive 2012, it's time for an overhaul. Many content management systems let you customize elements for different devices.

Accessibility

. Speaking of device diversity, users today are searching on a wide array – from voice-enabled smart devices to assistive devices like screen readers. Make sure your content is accessible to all by being intentional with your use of meta data fields and alt tags.
Technical SEO is important because user experience is important. It's one of Google's top priorities when deciding which content to show searchers.
2. On-page SEO
Content is the backbone of on-page SEO. But by itself, great content isn't enough to get you all the benefits of a comprehensive SEO strategy. You need a keyword-driven content strategy focused on quality.
Which, of course, starts with research.
The key to keyword research
There are many keyword research tools out there. Google's free keyword planner is a great place to start. Competitor research is another way to contextualize your own content strategy. What kinds of keywords are in your competitors' ad copy and SERP headlines?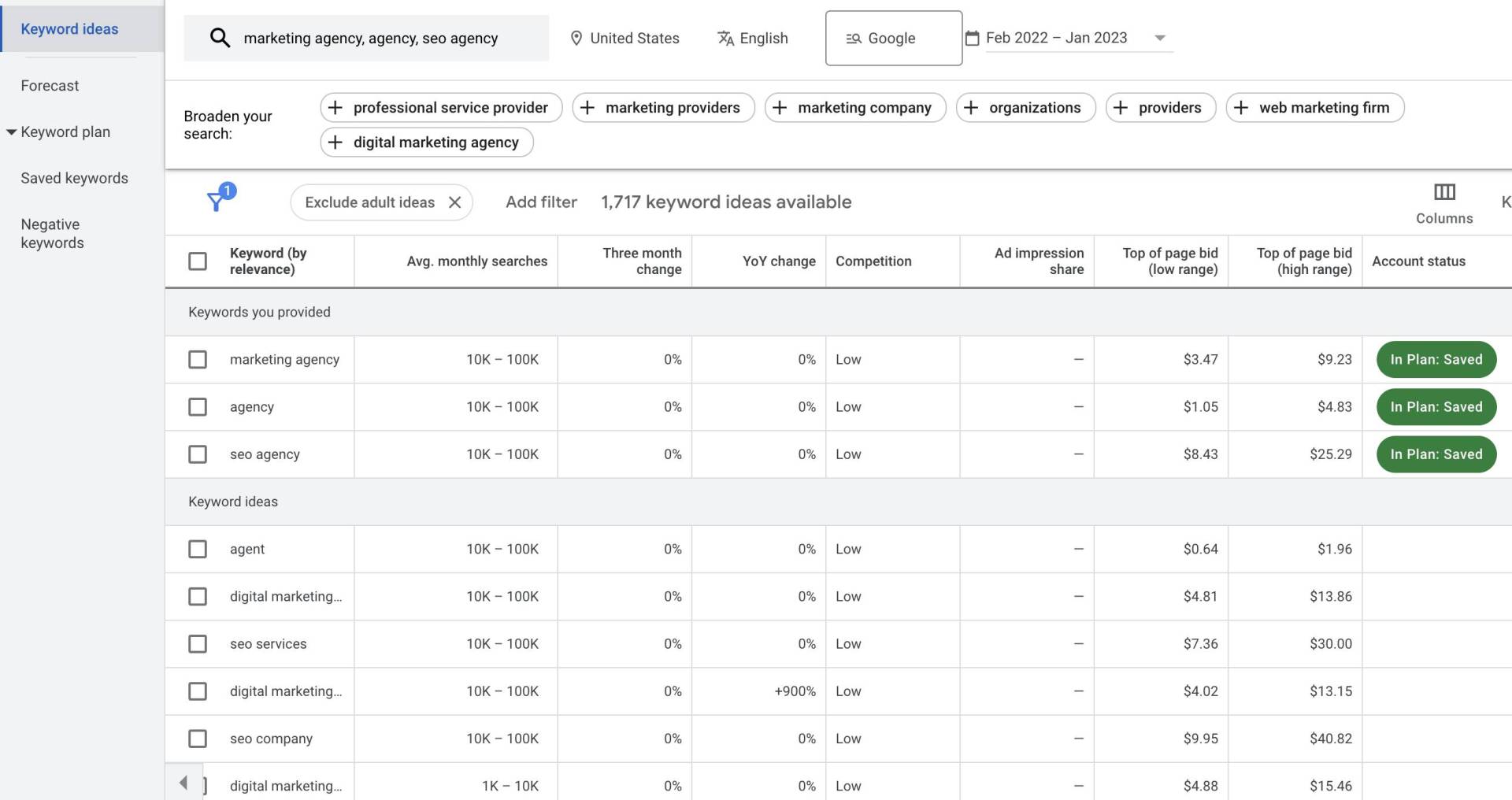 Use your keyword tool of choice to answer these three key questions:
What looks achievable based on keyword difficulty?

Often, the highest volume keyword or most relevant to your business isn't the best place to start. The competition for it may be through the roof. You won't rank well for very difficult keywords if your website has a lower domain authority. Instead, start gaining traction with long-tail, niche keywords that have lower difficulty and lower volume. Then, leverage your newfound authority to pursue the tougher keywords.

What has a decent search volume?

With the above in mind, you don't want to target keywords that have no volume at all. No one would see it! You're looking for a sweet spot for your keyword strategy – achievable keyword difficulty with at least some volume.

What aligns with your content strategy? Finally, look for keywords that align with the topics you want to be an authority on. You should never target a keyword if it doesn't relate to your brand. This would lead to the creation of irrelevant content that doesn't align with the search intent. And SEO strategy is all about aligning your goals with your target audience's goals to maximize your visibility and relevance.
Once you have enough info to select some target keywords, it's time to get down to business and start creating high-quality content.
Pulling off high-quality, helpful content
What, exactly, is high-quality content? This isn't a nebulous concept that marketers have to guess at and hope for the best. As the world's largest search engine, Google has put out extensive information on what it considers when judging content quality.
In late 2022, Google's "helpful content update" confirmed its intention to focus on people-first content. It's becoming impossible to trick search engines with the black hat SEO techniques of yesteryear as the algorithms learn what's truly helpful for users.
In the helpful content update, Google suggests creating content for people, not search engines. It also reminds marketers to rely on the E-E-A-T framework to ensure their content shows:
Expertise

: The person who created the content is an expert on the topic.

Experience

: The creator has some degree of experience with the topic.

Authoritativeness

: The creator and the website hosting the content demonstrate authority.

Trustworthiness

: The creator and the website are reliable and credible.
One effective content strategy is the pillar (or cornerstone) method. To start, create one substantial post for a keyword you'd really like to rank. Then create several related sub-topic posts. Link these other posts to your pillar.
This method maximizes your ROI because the supporting posts are faster and easier. But they increase the authority of the pillar they link to.
Of course, your content will be the most "helpful" if it shows up to the people who will benefit from it most: your ideal customers. And since you know exactly what keywords they're using, you're ready to optimize.
Be sure your focus keyword is naturally woven into these areas of your content:
Title

Slug

Headers

Meta description

Image tags when relevant
3. Off-page SEO
Now the fun part: off-page. What is off-page SEO? In a nutshell, backlinks.
You can spend all day talking about how great your own content is. But there's a reason why 82% of consumers trust reviews, and only 4% trust ads – credibility.
When ranking your content, search engines look for signs that other users have found it helpful. Lots of relevant links from high-authority websites are a big green flag.
To be clear: backlinks aren't just a ranking factor. They're critical. Inbound links show you're connected to a community. Your content has authority with the people who matter.
Links also show who you're associating with. Links from spammy, untrustworthy sites may hurt your ranking more than help. You want links from relevant web pages on mid- to high-authority websites.
How to get backlinks
Backlinks come from other websites you do not own.
Of course, Google wasn't born yesterday. Backlinks you can easily build yourself (social media, Quora, ads) don't carry the same weight as a link created by others because they appreciate your website. Still, they don't hurt.
Backlinks can be tough to get, but the payoff is worth it. You can earn them through link-building strategies like:
Creating linkable content people want to cite. This kind of SEO content includes data and actionable insights that are well-organized and engaging.

Performing link outreach in a targeted and mutually beneficial way. Think news sites, industry publications, educational sites, and guest posting opportunities.

Networking with publishers and influencers online.
The last one is a more invested strategy. But it's also the most effective. It's often employed by SEO agencies supporting many clients.
4. Local SEO
Any business operating locally can't afford to skip local SEO. By targeting users searching for location-specific keywords, you can lower your marketing expenses and make sure your brand shows up in the right place at the right time.
How? For starters, claim your Google Business Profile and complete the information. This will ensure your business listing shows up by the map when users search for local keywords.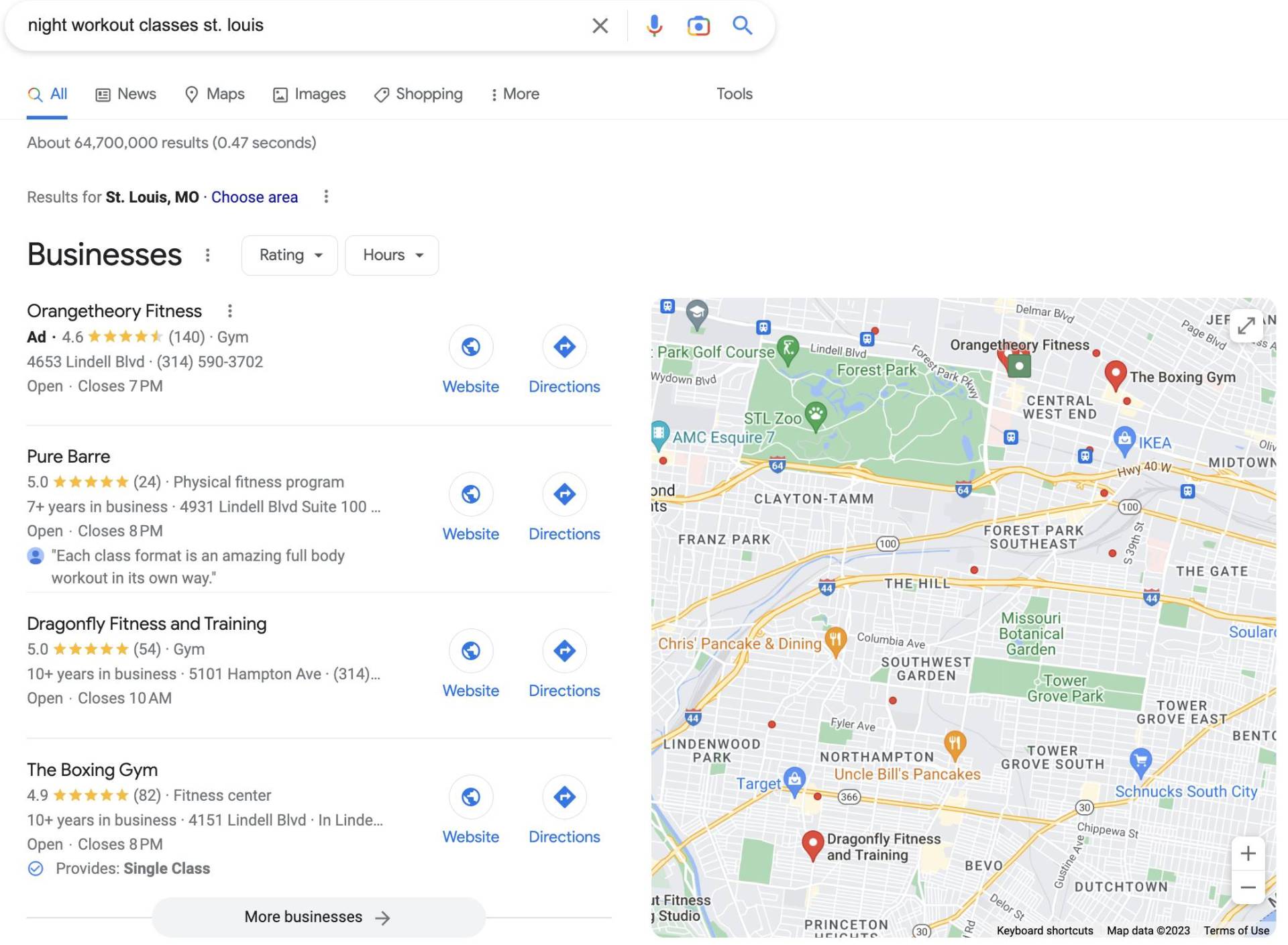 If there are particular keywords you know you want to rank for, be sure to include them in the services or description of your listing.
Focusing on these areas will also boost your rankings in local SEO results.
Creating high-quality content that includes local keywords

Having active social media accounts

Optimizing your website for mobile
How do I create an SEO strategy?
To create an SEO strategy, start by identifying your goals and ideal customer profile. Then, invest some resources into researching your ideal customer. This investment is either your own time, money on SEO tools, or outsourcing the work to an agency.
Your research will provide context to help you determine which elements of your SEO strategy are the most important. From there, you can prioritize the four types of SEO we've discussed.
How do beginners do SEO?
For SEO beginners, all the strategies and tactics can be a bit overwhelming. The good news is that you don't have to come up with your process from scratch. There are many checklists and frameworks out there for beginners.
Here are the basic steps to follow when you're starting out.
Set your goals

Audit your site for technical issues

Do keyword research

Build a content strategy

Develop a plan for backlinks

Track progress and optimize
What is an example of SEO strategy?
Researching keywords and creating a content plan is a fundamental example of SEO strategy. Let's say your gym offers exercise classes for night owls. Your approach might look something like this.
Through keyword research, you learn that your ideal customer is searching for "is it okay to work out at night?"

You develop a piece of content that answers this question. To optimize your content to the target keyword, you incorporate it in the post's title, URL, meta description, headers, and body.

As you create your content, you focus on linkability. It's not enough to simply answer the question – hundreds of pieces of content already answer it. Go the extra mile by citing original research, creating engaging assets like videos or infographics, and interviewing a credentialed expert.

Once you publish your content, you reach out to publishers and influencers in the exercise space to build backlinks.

Since your gym serves a specific geographic area, you claim your Google Business Profile and include keywords like "evening exercise class." This will help the right audience find out about your offering.

You plan to do a quarterly technical SEO audit to make sure there are no performance issues with your website.
What is the best SEO strategy in 2023?
The most effective SEO strategy in 2023 and beyond will focus on content quality. As search engines become more sophisticated and the digital world gets more flooded with content, the very best content will rise to the top.
The brands that win will be the ones that have an SEO strategy rooted in understanding their customer and content niche. Then, on that foundation, they're willing to test new tactics and keep up with trends.
Tracking progress is critical to meeting goals with SEO. You'll have trouble influencing a metric if you can't measure it. And you certainly won't be able to test or optimize.
There are advanced tools available, but for starters, you need to make sure these free analytics tools are set up on your website.
Google Analytics

. Measure and analyze traffic volume, sources, engagement, audience, and sales funnel conversions.

Google Search Console

. Track search ranking, backlinks, indexed pages, and other measures that influence your ability to meet SEO goals. Manage your backlinks, indexed pages, and other behind-the-scenes technical tasks.
Think about what KPIs you want to track. For SEO, track conversions, ranking, organic traffic, and new subscribers to your blog or email list.
SEO tools
Research is at the heart of a thoughtful SEO strategy. To some extent, you can do SEO research and optimizations on your own if you have the time to invest.
Eventually, you'll need SEO tools to boost your efforts. There are free and paid tools available. The cost and functionality vary, but most fall into one of these categories: 
Keyword research tools

Tools to audit your site

Content optimization tools

Tools for analyzing backlinks
Many of the household names in SEO offer all-in-one solutions to help with all these phases of the process. Should you invest in one of these platforms? Perhaps, if you have the budget and the internal resources to use it.
Alternatively, you can put together an efficient plan by paying for specialized tools where you need them most. If you have a larger budget but no internal SEO professional, you might choose to hire an agency.
What are common SEO mistakes?
Nobody's perfect. But when it comes to SEO strategy, mistakes can be costly. Here are some common SEO mistakes to avoid.
Targeting the wrong keywords

. Companies often target the keywords with the highest volume. Unfortunately, high-ranking results for these keywords can be almost impossible to topple. Instead, narrow down your target keywords to long-tail and zero volume keywords at first if you are starting from scratch. If you're already ranking for a decent amount, evaluate search volume and keyword difficulty to find the sweet spot for keywords to target.

Not Matching content to keyword intent

. Optimizing your content by inserting your target keyword in the right spots isn't good enough for today's sophisticated algorithms. Your content might get a user to click through, but if it doesn't meet expectations once they get there, Google will know.

Throwing resources at backlinks

without focusing on content quality too. The most costly mistakes happen when you start investing in promotion tactics but don't focus on quality onsite content to support it. Whether it's buying low-quality backlinks or churning out content that's just plain bad, this is a real waste of money. Focusing on quality first and foremost will make earning backlinks much smoother.
How SEO will change in 2023
The field of SEO moves fast. If you want your SEO strategy to keep performing and remain relevant, you must stay on top of changes and trends. Here are a few of our predictions for 2023 and beyond.
Algorithms will get even better at identifying and prioritizing helpful content.

Marketers will explore how to incorporate AI and automation into their content creation process while still putting people first.

A strong technical foundation will continue to be crucial.
SEO strategy is the heart of growth marketing
An effective growth strategy includes visibility, authority, and credibility. Growth-minded businesses focus on reducing customer acquisition costs to maximize ROI. They do this by investing in sustainable, long-term branding strategies – like SEO.
An effective SEO strategy emphasizes manageable growth through fantastic customer experience.
It builds your brand on a firm foundation and creates a brand that attracts trust and loyalty through your authentic desire to help customers. It focuses on creating a welcoming and relevant user experience for your target audience.
Without these features, it's just not SEO. And without SEO, your brand is invisible.