Made a mistake- No problem at all! All you have to do is admit it, learn from it and never repeat it again! The following post emphasizes on how to make sure that your copy is written in the perfect manner. Take a closer look. Are you guilty as charged of these copywriting mistakes?
What is copywriting?
When you talk to your potential customer over the phone or in person, chances are pretty much high for you to sound honest, genuine and helpful. But when you connect with the same audience via a copy or your website, things might not work the same. People can judge your copy as marketing drivel or a sleazy sales talk. Unfortunately, I have come across several copies featuring a dash of sleaziness or creepiness without anyone noticing. Eradicating the marketing prattle and coming up with an effective copy isn't easy but it is doable.
Typically, copywriting is a rare combination of words that compels both current and potential users to take adequate action; make a purchase or request a demo, subscribe to the newsletter and so forth. According to Michael Aagaard, In order to get a conversion, the process has to end with your potential customers agreeing that what they will get in return is worth more than they have to part with.
Now tell me something- Have I succeeded in capturing your attention yet? Yes, that's great! Now I'll reveal how to grab someone else's. Understand your reader can't have it all or pay attention to each and every aspect. Our brain is like that — in order to understand things in a proper manner, the brain requires to focus on specific information or else it won't be able to digest everything. So what are you sitting tight for? It's time to come up with compelling and representative of what your business stands for. But before that let's get acquainted with a few basic yet dangerous copywriting pitfalls one by one to step up your content game and keep readers eyes glued on your page.
Mistake #1: Writing for yourself
There are times when you get so self-obsessed that you don't even realize the fact that you are communicating something that feels appealing to you and not your target audience. No, never do that! Make sure that you copy speaks to the consumer of the content so they can easily relate to it. This will increase brand attachment. Other than this, writing to the wrong person can be considered as a silly yet costly mistake. Let's say for example you are selling a family car, make sure you don't do gender stereotyping by writing to all the dads because moms are the ones who have the final say in.
What can be done? Research thoroughly, make sure who are you pitching to and then write.
Mistake #2: Long sales copy
Long sales copy have become the thing of past! Gone are the days when people used to read copy longer than 1,000 words. Today, they simply skim as there is too much daily content out there to get through it all. But that doesn't mean you can't throw up 3000 random words and expect your end users to engage with it; all it requires is to be good; perhaps great.
What can be done? Be prudent with each word, but test long copy do you think it can increase your conversion rates? If not, keep things short and crisp. An idea or a concept is considered unique only when it successfully transcends its predecessor and serves its purpose in a better and more precise way. In addition to this, keep monitoring the analytics of your existing web pages especially those which have been published on a recent basis. High bounce rates and low conversions directly point to copy that needs further tweaks.
Mistake #3: Ignoring SEO
As we know that websites have become a necessity in 2019, more and more copies are going to end up online. Thus, you must keep this in consideration that even basic search engine optimization (SEO) while crafting words. Use the search term, observe how people look for your product and use those important phrases. Missing out these small points can decrease your sale and web visit to a great extent.
Mistake #4: Saying it all
Long-form content definitely leads to increased conversion rates but that doesn't mean it has to be a never-ending process. Creating a copy that has an overly long list of benefits has become a little passé. Of course, you have a lot to say, but it might lose its punch and become a bore to read. Moreover, the product begins to sound like everyone else's.
What can be done? Say more with less. Be concise within the content as people don't have long attention spans. Your copy should pack meaning in as few sentences as possible.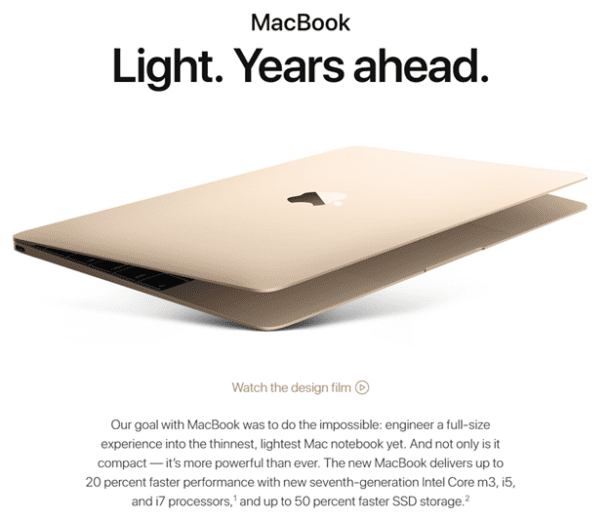 Image Source: Apple
One of the best examples I have ever come across. It uses a quick, snappy headline that basically condenses multiple sentences of information into just three words. In a nutshell, Get to the point ASAP!
Mistake #5: Assumptions is the mother of all goof-ups   
Have you ever thought of serving your customers a dish filled with everything in your company's technical language and style? I mean most of the businesses end up assuming the fact that their end readers understand their technical language pretty well. Even if you as a marketer think that they are getting it right by showcasing their technical know-how doesn't mean that your copy will turn out to be intimidating for your end users as well. Using too much jargon or writing a copy without a true understanding of what your end users want will leave you nowhere. But that doesn't mean you shouldn't use power words. Try using inspiring words, something that drives emotion, provoking, excitement and action. And how it feels when I say these power words can drive conversions too.
Mistake #6: Using structure that strangles
It is pretty easy to write and design multiple layouts but do you think they have the potential to convert well on landing pages? I mean if single-column layouts are like books, multi-column layouts are like newspapers, where you flick around and choose what to read and what to ignore.
In single-column layout, one idea flows into the next. This means you expect your audience to read every word left to right. When you use this method, you still should use subheads, graphics and text boxes to help pull the reader through the page. In addition to this, don't use text columns aligned side by side instead, pair them with pictures. Logic is pretty much simple here, with one column of text on each row will compel visitors to read everything.
Mistake #7: Believing every 'best practice.'
There are not hundreds but thousands of practices that might turn out useful to you. And considering the field of copywriting, it pays to be cautious with any advice you're given. For example, many times people are told that readers 'never read below the fold', or that a certain word count has to be maintained to get you X sales.
There is no one-size-fits-all answer when it comes to copywriting. In fact, it depends on a particular situation. Instead use best practices as guidance or starting points- not the be-all, end-all. Often, it's best to go with a gut instinct.
Mistake #8: Thinking you're like Twitter or Facebook
Do you know one of the biggest mistakes in marketing is failing to understand causality? Many of you assume that the secret behind Facebook's success is because its landing page is designed well. Writing landing pages for Twitter and Facebook is not a great idea as Twitter's copy cannot be considered as effective, and it relies on people being familiar with the brand when they visit.
Mistake #9: Being too formal, stiff or boring
It is not necessary at all to consult someone who has excelled in English Major to write a sales copy for you. Do you really think that creating a precise, literary quality copy featuring big words and strictly sticking to the rules of proper grammar will ensure you to sell your product or service? Probably not! As I said before, your copy has to be formal, strict to the point, short, simple, punchy and written in such a way that it feels like you're talking to your best friend. And if some rules of grammar are maimed in the process, so be it.
Mistake #10: Absence of Calls-to-Action
Last but certainly not the least, don't forget to tell people what they need to do next! Don't forget to add "Get a free quote today." A call-to-action (CTA) is the best way that prompts the reader to make an immediate response – whether it is about "contacting," "clicking," "downloading" or "buying." Experts recommend that every single page should have one CTA, no less and, typically, no more. And if there is a possibility where you can focus on the value to the customer, all the better. For example using instead of "Buy now," try using, "Get your savings."
A Few Copywriting Tips worth Taking into Account
Cut off all the crappy phrases
Use specific numbers to increase credibility
Are you pussyfooting around? Stop it!
Don't walk away/ face the situation
Stop being self-indulgent
Avoid exclamation marks
Don't commit superlative sins
Eradicate adjective mumbo jumbo
Always keep in mind that 'Anyone can write words on a site. Not everyone can write words that will actually impact sales on a site.'
Wrapping it up!
Don't fade out before you are done! Doing this is absolutely nuts- it makes no sense at all! So it's time to put on your devil's advocate hat, and ask yourself for each sentence: what does this mean? If you can't come up with a specific answer rephrase it right away. To limit your exposure to such errors, keep this post handy, and run through the list above whenever you're about to write some new words for your website.