How Relevance Helped the Gratitude Guru Change Gears During the Pandemic
For our clients who are looking to strengthen their brand credibility, we love to tell a great story. Chris Schembra, founder and Chief Question Asker at 7:47, came to us for help positioning himself and his company as committed to building community and strengthening relationships.
When 7:47 started with us in April 2019, Chris was hosting intimate dinner parties. He asked every attendee the same question: "If you could give credit or thanks to someone who you don't give enough credit or thanks, who would that be?"
What 7:47 discovered is that strangers could connect emotionally by answering this question because they were relating to something universal: gratitude.
The Power of a Great Story
Chris's passion for what he does is contagious. In the early months of his engagement, we were able to get him interviews and mentions on top-tier publications discussing his gratitude and empathy initiative including:
The Importance of Client Engagement
Like few other clients have, Chris has taken our constant advice to leverage his placements to heart. He's shared the content we developed together not just on 7:47's website, but on his personal LinkedIn and Instagram.
No doubt, Chris netted new followers by promoting his content. Beyond vanity, however, Chris achieved a key business objective: He positioned himself as a thought leader and built brand credibility on new channels. In Chris's own words:
Relevance has helped 7:47 develop the authority needed to land clients such as Google, Microsoft, Dell, CitiBank and dozens more since the start of our time together.
The Weight of the Pandemic
When the pandemic hit New York, Chris's dinners had to come to halt. He had to rethink his entire business model, ultimately relying on Zoom to deliver his dinners. 
7:47 took to the online video communication platform and started hosting virtual dinners, connecting more than 10,000 people over 100 "dinners" in just the first few months of the pandemic. Word began to spread and business started to grow. 
To accommodate that growth, Chris hired four full-time employees and two interns. He returned to us, this time to help share his successful business pivot. We placed an entire feature on Chris's amazing story on Forbes and helped him get his own byline on Entrepreneur to share the story himself.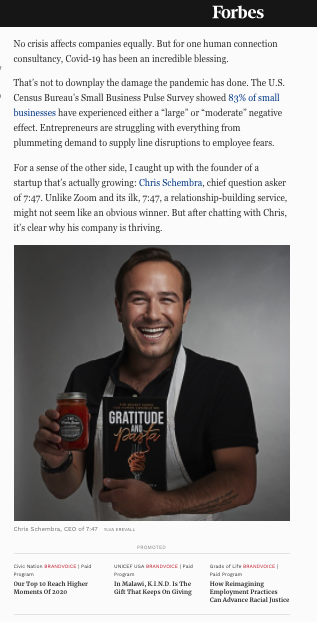 Chris's attitude and signature pasta sauce was the true key to his success. Once Chris had his dinners down pat, we simply got the word out. We helped him share lessons from 7:47's pivot, connect with company culture experts, and secure his own Entrepreneur column. And most importantly, we helped tens of thousands of readers hear Chris's message of gratitude.