The obsession with content marketing and sponsored ad content has been closely examined and touted as the number one trend for marketers this year. The trend will continue to drive the surge in digital ad revenues and put the pressure on digital publishers to deliver.
While more business is always a good thing, these pressures have translated into real challenges for many who struggle to understand how to accurately package and present their audience demographics outside of general website traffic metrics. This is, of course, necessary to attract and land deals with major advertisers in today's competitive content marketing landscape.
To win accounts and beat the competition, publishers must follow a three-part strategy: get the data, analyze the data and present the data. In other words, the major challenge for today's publisher is data.
What Data?
Never before has data been so important.
Digital publishers need to start taking targeting seriously. The age of mass blast, one-size-fits-all traditional advertising and editorial is over. Top B2B advertisers need to know what publishers can offer other than the basic traffic statistics. CPMs are taking a back seat to audience demographics.
Starting with the basics, you must have traffic trends (sessions, time on site, new versus repeat, etc.). Next, to attract high-paying B2B advertisers, the professional attributes of your audience play a major role.
In a B2B marketing predictions article, Abby Perkins predicted growth in micro-targeting for 2015. She posited that "Micro-targeting uses data to help companies better understand – and market to – groups of specifically targeted audiences [which] allows businesses to modify content and messaging more accurately to customers' actual preferences and needs."
Industry, job area, job level, company size and geographic location are the new norm for audience demographics. A media kit is wasted without the inclusion of these professional profiles of your audience.
Get the Data
Developing data-driven professional profiles of your audience is critical. Publishers that choose to assume the demographic makeup of their audience, rather than using real first party data, will quickly realize what happens when you make assumptions.
To acquire data, you first need to capture it. If you're just getting started, you could survey your audience. Survey Monkey provides excellent free and paid tools to solicit feedback directly from your readers. Beware that this can be costly and time-consuming.
A second way to capture demographic data is to ask for it via a form in exchange for premium content. This format requires a more advanced platform to capture, store, and analyze the data than simple surveys, but is well worth the investment if you're in it for the long haul.
Google Analytics is an excellent tool for standard traffic trends and basic demographic information. Bonus: Their new "Interests" statistics report affinity categories and in-market segment data.
Analyze and Report the Data:
Depending upon your data acquisition tool, gathering and analyzing the data may or may not be challenging.
To effectively report audience profiles, publishers need to surface the key insights from the acquired data sets. For example, audience insights might look like this:
40 percent are engineering professionals
25 percent are in IT
5 percent are C-level executives (decision makers)
10 percent work for large businesses with +10,000 employees
This quick hitting data set provides direct insight into your audience for B2B advertisers.
Presenting the data is the final step in landing a big ad campaign. An official media kit is the best method for delivering your insights. Publishers can choose to publically display a media kit on an "Advertise" page or more privately on a per request basis delivered as a PDF.
Search Engine Journal is an excellent example of a well-designed, all-encompassing media kit. The Advertise page is effectively designed to segment the wide attributes of their audience, calling specific attention to the largest categories.
Audience Intelligence Reports Break the Mold
Just this month, the B2B Publisher Network RevResponse released a new audience analytics tool for all publishers. Available directly in the publisher's dashboard, Audience Intelligence Reports provide an on-demand profile of their audience with data points such as industry, job area, job level, company size and geographic location—never before seen in the space and typically only available through a paid third-party service. Audience Intelligence Reports are designed and optimized for direct inclusion in media kits for publishers.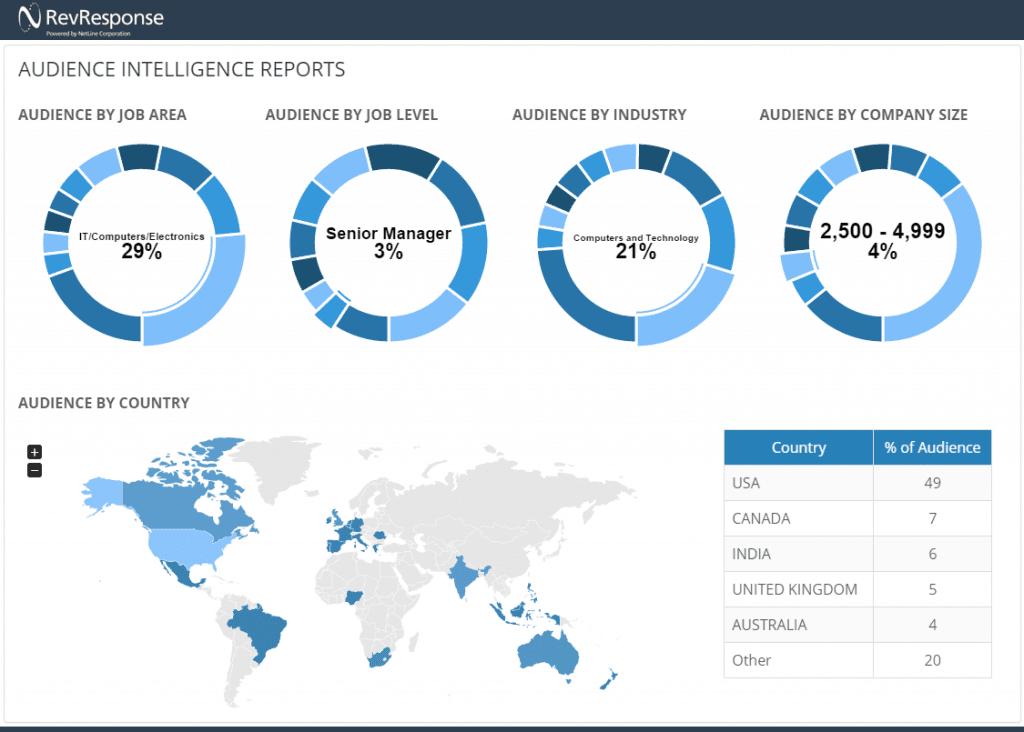 "Audience analytics and visualizations based on first party-sourced data will provide our publishers with a solution that keeps them informed of their user's attributes, interests, and needs at any given time," said Vice President of Audience Development for NetLine, David Fortino. "Audience loyalty and engagement is difficult, at best, these days. Offering our publishers direct access to the composite profile of who their audience really is will be invaluable to them."
We're not done with 2015 yet; don't let the pressure crush you. Instead, arm yourself with data-driven audience insights to crush the competition.