LinkedIn has quickly grown into a content publishing powerhouse, sending four times more people to other websites than both Twitter and Facebook.
Between company pages, showcase pages, groups and individual profiles, conversations are happening at scale on LinkedIn.
This extensive traffic often makes it more difficult to get your content seen on LinkedIn by your existing audience and new relevant users on the network.
Using sponsored updates is one of the most effective ways of increasing the reach of your content on LinkedIn to targeted users interested in the conversations your business is having.
A sponsored update is when your business boosts an existing update from your company or showcase page to a larger, targeted audience on the network to increase its visibility, drive more interactions, boost the amount of leads received and generate more traffic driven from a particular update.
Choose the Right Update to Sponsor
Before setting up your own sponsored update, take a look at some examples of successful sponsored updates from industry leaders like Dell, AIG, IBM, Citibank, Xerox, HubSpot and others.
To set up your own sponsored updates, visit LinkedIn's campaign manager and select the "Sponsor an update" option. Title your campaign to help differentiate it from other ad campaigns you may decide to run in the future. Choose the company or showcase page this campaign is for and then select an update or updates you've shared in the past to sponsor from the list.
One mistake businesses often make is not choosing the right update to sponsor. This decision should not be taken lightly because you're paying for this update to help market your business, while also providing a first impression of your business to particular LinkedIn users.
When spending your budget on LinkedIn advertising, choose to sponsor updates that include links to your original content that lives on your web properties.
This content should be snackable, helpful, engaging and require limited context about your business to understand its value and use when someone first sees it in their feed on LinkedIn.
Your content marketing has many goals, one of which is driving leads to convert into customers. Sponsored updates can help support this effort as long as you are choosing to sponsor updates that include links to resources like blog posts, articles, eBooks, infographics, videos, white papers and so on.
Sponsoring an update that features the content of others won't help you reap the full benefits of your advertising budget.
Choose an update to sponsor that is properly optimized for all devices, which your team can check from the preview window at the bottom of the ad setup page on the LinkedIn campaign manager.
Check to see if the image, link and text used in your update is properly optimized for web, mobile devices and tablets to gain the most traction.
Visuals are an extremely important element to your updates, which is why it's important to ensure they are rendering properly no matter where the update is viewed.
Target Your Ad to the Right Audience
From here, decide on the audience for your sponsored updates by targeting various demographics.
Your sponsored updates can target LinkedIn users by their location, companies, job title, school, skills, group, gender and age. By targeting a specific audience, you will limit the number of people who see your ad and thus, ensure that users who do it see it are relevant.
It's recommended that your sponsored updates be targeted broadly in the beginning of your campaigns and then adjusted to be more specific as they continue to perform with your LinkedIn audience.
Be strategic about location. Limit the reach of your ads to the continent where your customers are located to avoid sharing ads in places without a thriving, active LinkedIn customer base.
Next, think about industry. Target your update to the industry you want to reach to ensure relevant professionals are seeing your content in their feeds.
But, don't go overboard. If you ad is too targeted with many different specifications than your audience may not be big enough to drive any results from your sponsored updates.
Start small with your targeting on LinkedIn by focusing on just location and industry and then scale your targeting to become more specific as your ads begin to gain traction and for future campaigns.
Experiment with the content you've sponsored and the targeting features to learn what works and what doesn't with your audience on LinkedIn.
Properly Budget for Your Campaign
Your company can choose to pay for your campaign based on when someone clicks on your update or pay every time your update is shown (cost per 1,000 impressions).
While there are certainly valid reasons to run your campaigns on a cost per impression or CPM basis (to increase brand awareness for example), the majority of your sponsored updates should be measured on a cost per click or CPC basis.
It's important that your sponsored updates drive interactions with your content, not simply a view of your ad and no action.
Measuring the success of your campaign on a CPC basis ensures that you're paying for users who are actually visiting your LinkedIn page, viewing your content, interacting with your updates and taking action with your business.
These interactions on your sponsored updates are what actually drive results for your business, which is why they are worthwhile to pay for over impressions.
Choose the Appropriate Length of a Campaign
The length of your campaign with sponsored updates will vary depending on your goals and budget, but as a general rule, run a campaign for at least two weeks to see tangible results.
Running a campaign for less than two weeks doesn't allow your ads to garner the visibility they deserve with your audience.
Depending on the lifespan of the content featured in an update, it can be promoted for as long as your team sees fit, but it's important to vary your ads on LinkedIn. Ads tend to be ignored and no longer interesting to your audience if they are repeated over a long period of time.
When planning to run a sponsored update for a long period of time, ensure the content featured in the update is evergreen and not time sensitive.
It's recommended that the same ads run no longer than a month before focusing on sponsoring different updates from your pages.
Measure Your Results
Pay attention to what's working and consistently try to duplicate your most successful sponsored updates campaigns.
The campaign manager offers an analytics dashboard to inform your company about how your campaigns are performing, illustrating the ROI of your content efforts on LinkedIn.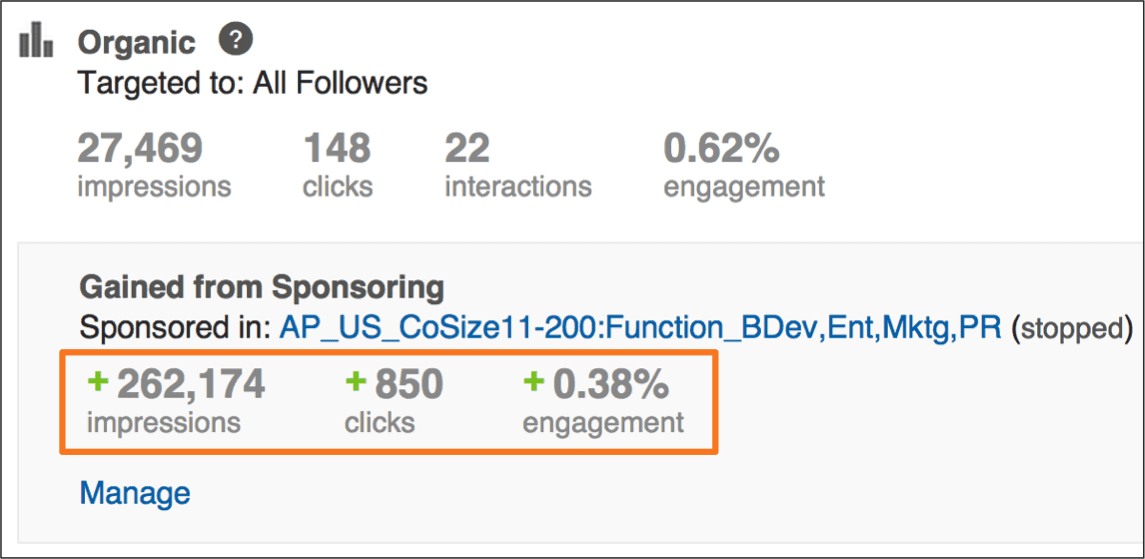 Each of your LinkedIn updates shared from your page also feature metrics at the very bottom to highlight the impressions, clicks, interactions and overall engagement acquired organically and through sponsoring to give quick oversight into the success of your campaigns.
What tactics has your organization found successful with sponsored updates? How has your organization grown your audience on LinkedIn?
This article originally appeared on iAcquire.