Social media is one of the best outreach tools available to help spread the word about your eBook. Here, you will find out some actionable tips and tricks for promoting your eBooks on social media sites.
Create a Social Media Outreach Strategy
When preparing to promote your new eBook, setting an easy-to-follow plan is the best way to go about it.  The plan creation should start with market research, include when you will use which means to promote your eBook on what platforms, and end with a section for follow-up analysis and adjustments.
Use a calendar to schedule your posts based on the best times and platforms for your target audience. Brief everyone who is helping with promotions on the details of your initial strategy, and each time a change is set.
Share Viral-Ready Images with Quotes From the Book
One of the best ways to promote an eBook on social media is to use quote images. Take the best quotes from the book, set them to a nice background, one at a time, and share. Here's an example of a quote that was used to promote Steven Aitchison's eBook, "Release the Magic." This particular image got nearly 600,000 shares on Facebook in just over a month.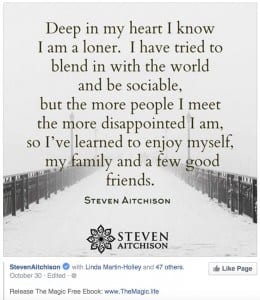 When sharing posts like this, be sure to include a link that, when clicked, will take viewers to the page where they can access the download. This can be a website homepage where they subscribe to a newsletter in order to be taken to the download page, an Amazon product page, or any other landing page that helps you reach your promotional goals.
Link to Articles and Directories That Mention the eBook
If the website where the eBook is listed has a blog with a link to the book in the sidebar, include those blog posts in your promotional strategy. If your book is listed in an eBook directory, come up with creative ways to share that directory. On Pinterest, there are many popular pins with titles like, "Where to Find Thousands of eBooks," and, "Where to Find Free eBooks." These are examples of linking to directories, and are very important to a social media promotion strategy for eBooks.

Link to the eBook From Your Profiles
During your campaign, you want to include links to your eBook and landing pages on the social media profiles. If your eBook is available from the homepage of your website, that will suffice. Just make sure that anyone who finds you or your company on social media platforms can find the book whether or not they see any ads prior, and think to search for it. Linking to it from your profiles contributes to optimal visibility.
Keep Your Social Media Profiles Public
Any of the social media profiles being used in your plan should be set to public. This way, you ensure that anyone can share your posts and they will be seen. It is an easily overlooked detail that can stifle the project if not done.
Use Different Promotion Messages on Personal and Professional Profiles
Use both personal and professional profiles to share and promote your eBook. When doing so, craft each message directly toward your target audience. Your friends and family will want a different type of personal message accompanying your ads.
Join Group Discussions in All Relevant Niches
LinkedIn has over 2,500 groups related to eBooks. There are unlimited forums here in all professional niches. All you have to do is join the discussions, and get people interested in finding out more about you. When group members decide to click through to your profile, you will have a link to the eBook in one way or another. If you are the author, you can place the eBook link in a very prominent area of your profile, including your headline. If you are only contributing to the promotional phase, you can list it as a project you're currently working on.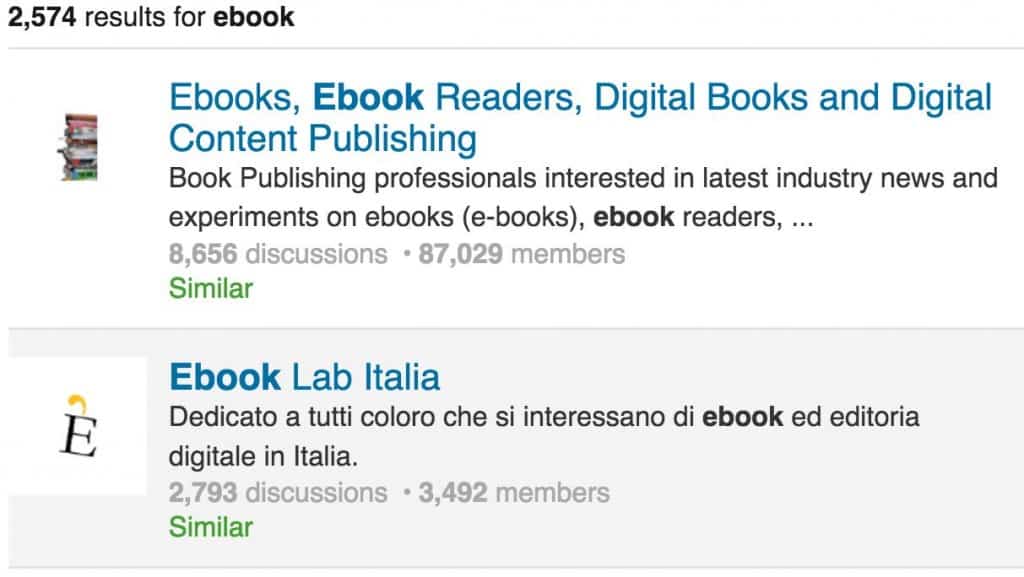 Use Facebook groups in a similar way. When group members click through to your profile, have a link ready for them to find. All you need do is join in on conversations with your target market. There is no need to even mention the eBook. If you do, you may come across as spammy, so be very careful in doing so.