What is the best word count or length for blog posts for SEO? Can you improve your blog SEO ranking with longer posts?
If you want answers to these questions, this article is exactly what the doctor has ordered. We'll share with you if length really matters and what rules you should follow when writing your next blog post to increase your rankings.
What is the optimal blog post length for SEO? 
There is no point in creating blog posts that nobody can find. In fact, if you really think that there is a universal amount of words that will guarantee you high rankings, you got it all wrong. However, there are a number of studies that prove that long posts tend to rank higher when compared to short content. Researchers also found that the optimal length of SEO-friendly blog posts vary by topic and niche. 
But if you're here to get a short answer, Hubspot claims that the ideal blog post length should be around 2,100-2,400 words. Neil Patel on the other-hand suggests blog posts should vary between 1,100 and 2,700. And Backlinko claims he found the ultimate answer: 1,890 words. 
According to those opinions, you can come up with the answer that the ideal blog post length is on average 2,000 words. 
Here is what Google Guidelines say about the optimal length of content on your site.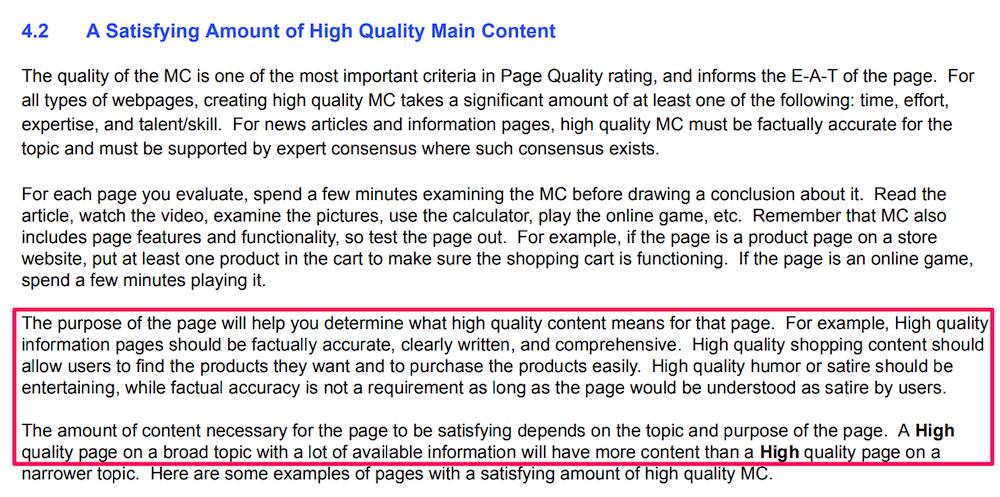 Screenshot from Google Search Quality Evaluator Guidelines
As you can see from the screenshot, there is no specific number of words. Google states: "High-quality information pages should be factually accurate, clearly written, and comprehensive. The amount of content necessary for the page to be satisfying depends on the topic and purpose of the page. A high-quality page on a broad topic with a lot of available information will have more content than a high-quality page on a narrower topic."
Now you can be 100% sure that there are no strict requirements concerning the length of your content; it's the quality that matters. It is a fact that if you want your page to get all the potential, you have to create unique blog posts in order to beat your competitors.
Continue reading to learn about the main factors that influence how long your posts should be for high rankings in order to have a clear understanding of the rules you have to follow to increase your chances to get that precious traffic to your website. 
Things to consider when choosing the length of your next blog post
Type and purpose of the post
The type of blog post matters because the optimal length of your content will depend on the topic you're covering.
For example, when people search for a specific answer, definition, or specific piece of information, they want quick answers. In these cases, you don't want to write a 2,000 word answer because it will only increase your bounce rates. The readers will be disappointed when they are unable to find what they're looking for quickly. 
However, when you wish to share a valuable case study with your target audience, you can write something longer. When users are looking for fixes, workable techniques, or success stories, they will appreciate a long read packed with valuable insights. In this case, you should provide meaningful information in detail because this is what visitors will expect.  
You have to know the type of post you're working on in order to meet the search intent of your potential visitors.
Google's expectations
This should be the first thing to take care of before you start writing a new blog post. In order to compete with others in SERPs, you have to make sure you create content that Google prefers for a particular query. 
Type in your suggested title or the keywords you want to target into Google search in to quickly analyze the type and length of posts on the first page. To check word count, copy-paste the content into any word count tool and you're good to go. 
Eventually, you will come up with certain numbers like:
1st position – 780 words
2nd position – 2145 words
3rd position – 3400 words
4th position – 2060 words
5th position – 950 words
At this point, you can see that three out of five first-page results are 2000+ words. This means that for that particular query Google prefers long-form content and you now know to write a longer piece. 
Brian Dean created the term "Skyscraper Technique" and suggests you analyze what your competitors wrote in order to create longer, better content to increase your backlink opportunities. 
This formula may work for some bloggers, but it is far from universal. Always keep in mind that your rankings don't depend only on the length of the posts you're uploading, but also on your domain authority. 
From my example with SERPs analysis, you may have noticed that the 1st and the 5th positions included websites with less than 1000 words. This happens because these pages have a high domain authority, which brought them an advantage over the others because of more Google trust. 
Note: The comparison technique won't guarantee you high rankings if you write a blog post with 2000+ words, but it will give you an understanding of what Google likes. This helps you know where to start when you want to increase your chances for first positions. 
Recap:
Use Google to analyze the length of the first-page content.

Define what user intent is in the following query.

The average number of words for a blog post is 1,800. 

The optimal length of a post varies between 1,000 and 2,000 words and depends on your topic and niche.

Opt for longer blog posts as they perform better in search.

Create unique and informative content that your visitors will benefit from.
Why you should opt for longer posts
Long articles provide you with a wider capacity of symbols in order to create unique and original content. With shorter posts, it's almost impossible to differentiate from the others as you have to come up with brief material strictly to the point. By opting for bigger lengths you can steadily increase the number of organic traffic your page is getting as well as social media attention. 
Long blog posts: if you did a good job making them interesting, visitors will stick around for a while. This could potentially decrease the bounce rate from your website. Longed articles invite users to keep reading, which so incorporate additional links to other articles on your website. This will increase your user engagement and the authoritativeness of your brand. 
A good informative blog attracts more visitors and can help you warm up your audience to move your leads further in the sales funnel. After conducting a decent competitive analysis, you'll know what topics others are missing to potentially gain the advantage in SEO over them. 
Lastly, in long-form articles, it's easier to incorporate personality when explaining the topic. This will definitely keep your visitors entertained and hungry to read more.