We all know that Google is constantly making updates to its search algorithm. In 2022, there were 10 significant updates added to the list of Google Search ranking updates. One of the most significant changes was the introduction of Google E-E-A-T in Google's search quality rating guidelines. 
Most marketing teams and content creators already knew the concept of Google E-A-T (expertise, authority, trustworthiness). However, on December 15, 2022, Google announced its latest formula update, adding an extra "E" to the acronym. This new "E" stands for experience. 
This is a minor update. Google stated that this latest update shouldn't impact your processes if you've followed the original E-A-T guidelines closely. Today, we'll look closely at how this change affects your content strategy and why it matters. 
Key Takeaways
Google accounts for more than

84% of the global search market

, making it one of the most popular search engines in the world. Chances are your audience is spending their time searching for information here.
Google considers hundreds of factors when

ranking pages

, but following the E-E-A-T guidelines will help you pass some of the most important signals. 
What is Google E-E-A-T?
The latest update to the Search Quality Evaluator Guidelines now requires content writers to demonstrate personal experience with the topics they're writing on. 
Experience is determined based on the "extent to which the content creator has the necessary first-hand or life experience for the topic."
Without it, the overall authoritativeness of your content and expertise on the subject matter comes into question. The result? Readers may lose trust in your brand.
Does This Change What Google Deems the Most Important Component of Online Writing? 
At one point, demonstrating expertise, authoritativeness, and trustworthiness all shared equal importance when determining the quality of a website's content. Google has stated that establishing trust is the "most important" member of the E-E-A-T formula.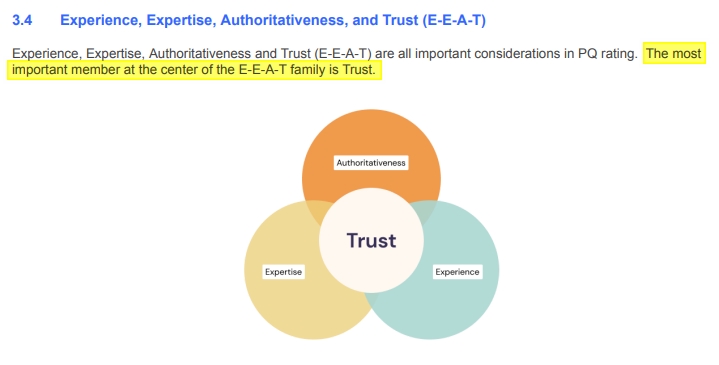 Source: Google Search Quality Evaluator Guidelines
To establish trust, you must be able to check off all the boxes in demonstrating experience, expertise, and authoritativeness.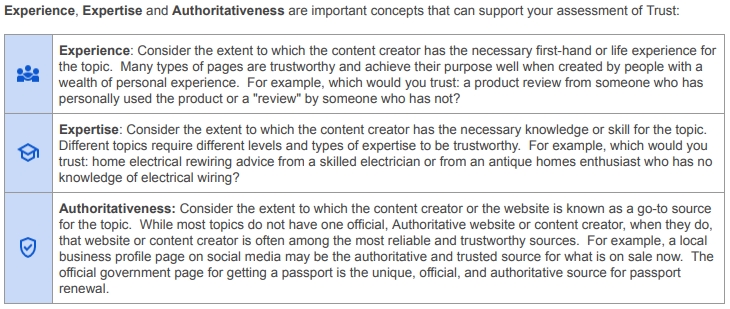 Source: Google Search Quality Evaluator Guidelines
5 Ways Google E-E-A-T Can Impact Your Content Marketing Strategy
This change in Google's guidelines shouldn't impact your SEO and content marketing strategy all that much. However, adding "experience" into the mix will set you apart from competitors that are still trying to write for the search engines and not their audience.
Here are five ways that implementing Google E-E-A-T into your content marketing strategy can help you establish a trustworthy relationship with your audience. It can also increase the value your content provides to your market:
1. Proves that Genuine Experience Brings in Genuinely Interested Audiences 
One of the biggest challenges marketers face today is standing out among the increasing competition. Common strategies used to rank higher in search engines, such as having an SEO strategy and a content syndication strategy, can help find your intended audience.
However, that's only half the battle. Once you've captured their attention, it's time to prove why your content is so valuable. By implementing the updated Google E-E-A-T guidelines into your content, you'll be sharing your first-hand experience and expertise on a topic with your market. 
For example, say you run a marketing company trying to convince potential clients that you can help them improve their social media strategy. By creating content that implements your first-hand experience in creating social media strategies for others (which you can prove through customer testimonials or case studies), you're showing – not telling – your audience what you can do. 
When done correctly, your content will be so valuable that your intended audience will be eager to share it with others. This will also help Google determine that your content is authoritative enough to rank higher in search results and help you create a trusted relationship with your audience. This cycle will continue to build momentum and bring in more traffic that's genuinely interested in what you have to offer.
2. Ensures You're Sharing Authentic Content with Real Value
In a day when AI content creation is taking over the industry, generic content that only covers the basics may flood readers. While these AI tools are excellent for generating ideas, it's up to the writer to expand on these ideas by providing their unique experience to the reader. This will give your content the expert and authoritative voice to give your audience the information they need and help you build trust, credibility, and customer value.
You can share personal stories backed by screenshots of you doing the work you claim to have expertise in. Or, you can include a client testimonial that backs up your experience working with them.
3. Allows Your Audience to Get a Deeper Insight
One thing that some content creators are finding troublesome is that proving experience is more complex than it used to be. However, this simply isn't true. 
For example, many different content formats are designed to demonstrate examples of personal experience and authority, including: 
Case studies

Infographics

Research reports

Webinars

Whitepapers
These content formats rely on the experience of contributors to prove their expertise and build trustworthiness.
4. Helps You Build More Authentic Relationships with Your Audience
Studies show that over 80% of consumers believe trust is essential when building authentic relationships. With another 62% of consumers saying that brands need to care more about them (and 60% saying they would buy more if they felt cared for), implementing the updated Google E-E-A-T guidelines has never been more critical. 
Remember, Google now deems trust the most crucial factor in search. To do that, you'll need to build your expertise and authority based on your personal experiences. 
5. Allows You to Become a Trusted Expert in your Industry/Niche 
When implementing all the steps in the Google E-E-A-T formula, you're going above and beyond to prove you're an industry expert. That's because you've proven to the search engine giant that you've taken the necessary steps to meet the needs of your audience.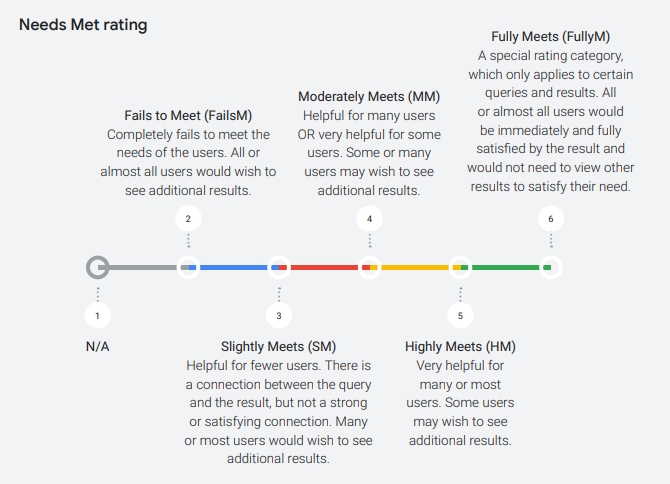 Source: Google
Google E-E-A-T is Simpler Than You Think
Following Google E-E-A-T lets you build trust and credibility for your website. It allows you to become an industry expert and assures your audience that you're experienced and knowledgeable. If you follow the Google E-E-A-T guidelines, you can ensure that you're providing your audience with quality content.