The way artificial intelligence (AI) has entered in our lives and changed our perception, tells a lot what the future is going to be. We have already witnessed certain cool applications of AI like voice-powered personal assistants – Siri and Alexa, which are creating quite a stir. Other AI based inventions in the news are autonomous cars, quantum computers, predictive algorithms, augmented reality, Internet of Things (IoT) and so on. The list is getting lengthier with each passing day.
The potential of AI is so enormous that it has touched almost every industry and sector like finance, marketing, research, customer service, education, telecommunication, you name it. So AI is going to have a huge impact on content marketing in the near future. Today, really advanced algorithms have the ability to easily pull pieces of information together and create articles with natural looking sentence structure.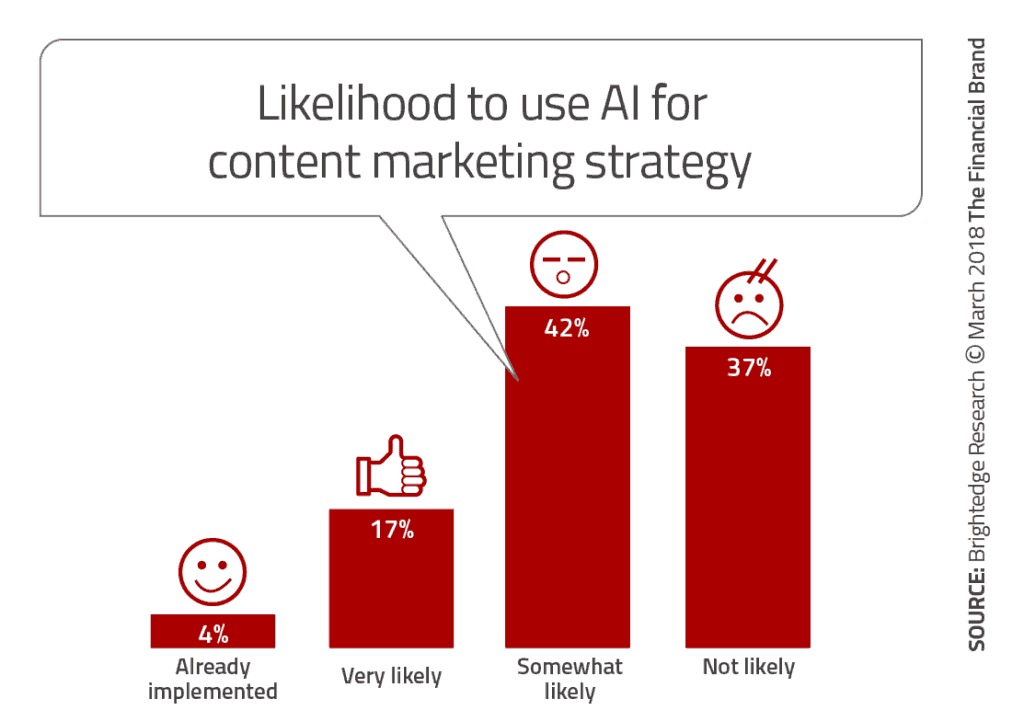 Image Credit: https://thefinancialbrand.com/wp-content/uploads/2018/03/Likelihood_to_use_AI_for_content_marketing_strategy.png
Recently, an AI-powered robot wrote a script for a science fiction movie. Many companies like Yahoo, Samsung are using this approach to generate large amount of content with an impressive rate. As the quality of these robots improves over time, they may well be able to generate complicated pieces of content in the future. Moreover, AI is disrupting industries both online and offline and improving experience for businesses around the world. For example, webhosting presents an excellent platform for integrating AI software. It helps speed up learning, discover improvements, and streamline services.
AI can revolutionize content marketing in following ways:
1. Auto-generation and auto-feed of content
As we have already discussed how certain intelligent algorithms are used these days to generate content. It is understandable that a car can be automated or robots can serve men, but writing is somewhat a creative aspect. So can AI be creative? It does seem so. Recently, a robotic author impressed judges in one of Japan's most prestigious writing competitions, The Hoshi Shinichi Literary Award. The news caused the LA Times to ask: Is the future award-winning novelist a writing robot?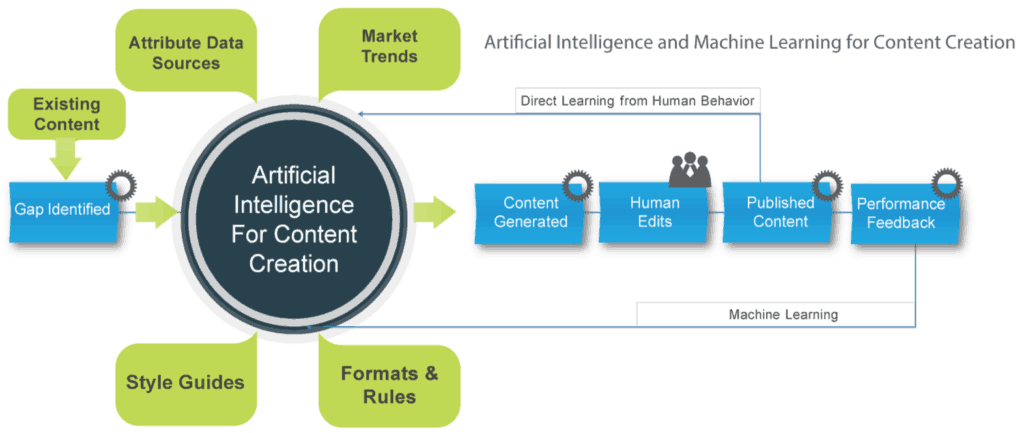 Image Credit: http://www.crewmachine.com/wp-content/uploads/2016/10/crewmachine_graphic.png
So in coming time demand of unique and personalized content will be fulfilled by AI robots. Also high volume of content is shared and posted online every day. Social media users are consuming 2 hours of content every single day. Therefore marketers can harness the power of AI to process this incredible amount of data and create highly-targeted content for their audience. AI is creating content related to every category like articles, blog posts, e-books, infographic examples, e-courses, templates, etc.
2. Significant boost to SEO
Due to improving in AI, ranking factors will change from query to query, as algorithm will learn from how people are clicking on the search results. AI will lay more emphasis on content quality, relevance and focus. Google RankBrain is a remarkable attempt towards understanding the content of websites. It is basically a machine-learning algorithm that identifies patterns and buckets data. It uses artificial intelligence to filter results. In certain tests, RankBrain beat company's experts at page selection. It can processes information related to an idea, domain or category of the query.
RankBrain is paying even more attention to SERPs and questioning every traditional SEO technique previously applied. Data can be collected by the common keywords or phrases that dominate titles and sources of links on top-listed pages. AI can be used to monitor website performance in analytics platforms to discover insights.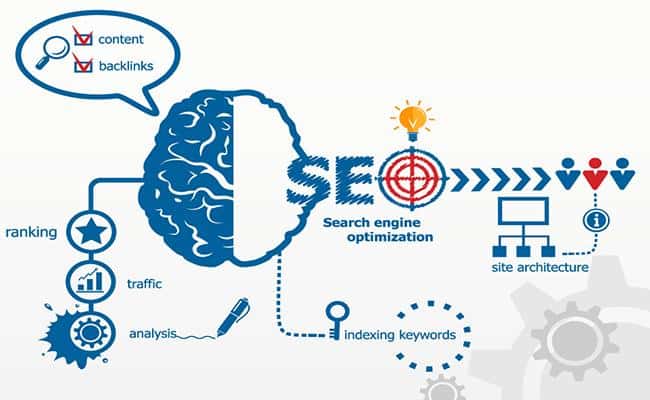 Image Credit: http://artscube.biz/clientuploads/directory/WebPages/SEO%20Sketch.jpg
Voice search is definitely the next stage of SEO. People have started using Apple's Siri, Google's Home, and Amazon's Echo for their searches to reduce time typing over smartphones. Marketers, therefore, have to prepare for the voice search algorithm and optimize their websites for voice commands.
Image Credit: https://edwardsturm.com/articles/seo-2019-predictions/
Most voice searches would be conversation-based queries and naturally asked questions so the content would be based on Hummingbird algorithm. So in order to boost rankings for voice search queries, marketers will have to add more natural questionable contents so it is picked up by SEO data. According to a recent study, Of the 3 billion searches that Google processes each day, 15% of them had never been seen before.
3. Chatbot integration
Chatbots are AI-powered computer programs that are meant to mimic conversations with a user. These are increasingly becoming popular because personalized online conversations are norm in business today. Chatbots can be incredibely helpful for content marketers. They can provide valuable information to audiences, and can address the pain-points customers experience in different stages of marketing and conversation funnel. Data collected by chatbot integration can be used to create more relevant and engaging content that can convert even more prospects. With further evolution in advanced machine learning technologies, bots are going to become more intelligent and capable of interacting with users with more contextually relevant ways.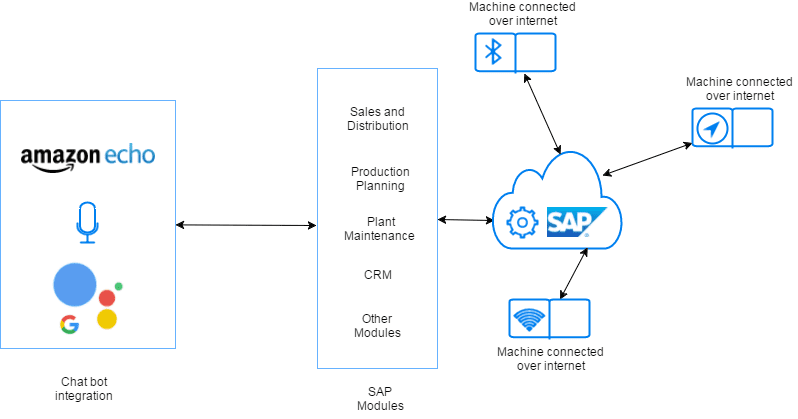 Image Credit: https://steemitimages.com/DQmZCqbgmRiqXPyTQXX7kBkcmvAPPXbV6dqg7dvFC9KR2vq/image.png
Chatbots are here to redefine the way marketers will create, promote and leverage content marketing to grow their business. For example, Facebook's Messenger gives higher engagement rate as emails are becoming less effective for marketers. Messenger is quickly gaining ground on email in terms of features and is already outpacing the platform in the areas where there's overlap. Chatbots use Facebook's API to promote content by sending plain text messages, rich cards, images, videos etc. Marketing automation through chatbots is a great way to easily promote new content better. With Natural Language Processing (NLP), chatbots can be built that are truly able to understand human inputs. This means they (chatbots) provide an engaging system to collect user's feedback, which will also classify the inputs. Another good example of chatbots is Pizza Hut's chatbot. They use it as an extension of their social media strategy to receive food orders for delivery and close more sales.
4. Impact of predictive intelligence
Predictive intelligence (PI) can increase the efficiency of any business, so it can be utilized to better understand individual customer needs and boost content marketing strategies. The AI-powered predictive intelligence anticipates exactly what will or won't be successful at any given point. It allows professionals to craft content with greater ease. They can also deliver content unique to each individual. Predictive intelligence enables content marketers to observe audience behavior based on past and real-time data, and then create content according to their preferences. PI uses algorithms to deliver content based on estimates of what the customer wants or needs. On other words, it anticipates the intent of the customer, and then provides a unique recommendation based on the observation.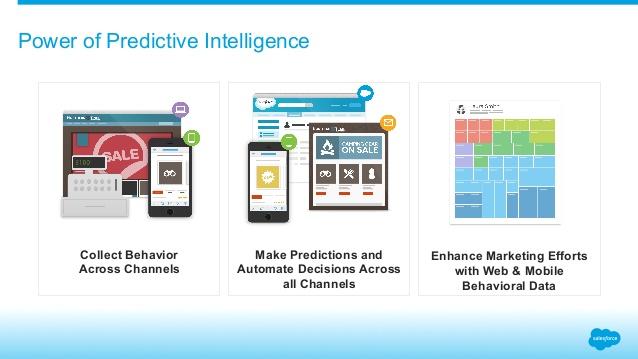 Image Credit: https://image.slidesharecdn.com/piofficehours-815-150827224342-lva1-app6891/95/marketing-cloud-partner-office-hour-august-27-2015-3-638.jpg?cb=1440715549
5. Strategic customer experience (CX)
AI provides marketers with crucial insights about the customer data that helps them make quick decisions. This in turn will give them opportunity to provide their customers with a more personalized brand experience. You can get to know your customers better through AI as you can develop and target dedicated pages that draw them in. For example, a personalized landing page can be used to answer any question that visitors have in their minds. Traditionally, the task of understanding customers has never been easy. A considerable time and money had to spend on the demographics of customers, that too without technology. But with the power of AI, marketers can easily know the customer needs, which help them devise new content marketing strategies.

Image Credit: https://qph.ec.quoracdn.net/main-qimg-e87ad841aaf917fc87d7d38d543daab0
A recent study conducted by BRP Consulting shows that in the next three years, there will be a 45% increase in the use of AI by retailers. Another report from Gartner states that by 2020, 85% of customer interactions will be handled by machines. This shows AI is definitely going to take the customer experience to the next level. AI has the power to make customers feel they are making their choices, but, it's the machine learning and the algorithm that are handling those decisions. It is opening up the whole new world of possibilities for businesses to build a more interactive, personalized CX.
Conclusion
Artificial Intelligence has significant uses in content marketing. It is helping marketers decipher the ever-changing world of content marketing by analyzing user data and helping marketers make sense of user intent. AI tools are already writing, optimizing, personalizing and automating content as well as shaping powerful content strategies.