Marketing Automation tools are one of the fastest growing new digital advertising trends. As of 2015, only 10 percent of companies were using automated marketing tools. However, that number has exploded over the past three years. Currently, over 65 percent of market leaders use Marketing Automation tools, and 35 percent of all companies were making use of them. In 2017, automated marketing was estimated to be a $3.3 billion market, and it is expected to balloon to a $6 billion market by 2025. 
WHAT ARE MARKETING AUTOMATION TOOLS?
Marketing Automation tools are software platforms and technologies that are specifically designed to allow companies to market more effectively through the use of multiple online media (such as email, websites, social media, etc.) by automating repetitive tasks. The software and tools allow marketing professionals to select specific criteria and outcomes for automated tasks and processes in order to increase efficiency and to reduce human error through software-driven interpretation, storage, and execution of those tasks.
"Marketing Automation has played a key role in shaping the success of modern day marketers. We are on a mission to improve marketing automation, one workflow at a time." – Sourabh Mathur, Esanosys.
Marketing professionals can use automated marketing tools to increase the efficiency of sales processes and marketing cells by meeting the demands of what would traditionally have been repetitive, high-touch manual processes with the automated solutions instead. Marketing automation platforms are generally either web-based or hosted, which means that no software installation is necessary on the part of the customer. 
WHERE DO HUBSPOT AND MARKETO FIT IN?
Two of the most common Marketing Automation tools on the market right now are Hubspot and Marketo. Both of these tools are strong in the automated marketing market, making up a combined 27.73% share. Both are cloud-based, making them simultaneously low in demand, high in accessibility, and popular among customers. The tools themselves are very similar in a number of ways, offering a lot of the same functionality. This similarity has led to a fierce rivalry that rages on despite their difference in size. There are, however, some differences in the two popular automated marketing tools, and these differences are related mostly to the differences in the client bases the two tools respectively serve.
WHAT IS THE MAIN DIFFERENCE BETWEEN THE TWO?
Marketo is primarily focused on serving enterprises and businesses that prefer to market to other businesses. The Marketo system is broken down into five main segments: consumer marketing, mobile marketing, customer base marketing, email marketing, and lead management. The system allows customers a certain level of flexibility and customization, offering purchasing options for individual segments, pre-combined bundles, or combinations packaged in an integrated system. The segments themselves have varying pricing levels, including Basic, Pro, Elite, and Enterprise options, to most appropriately serve businesses of a wide range of sizes. 
"Marketing Automation is powerful software and processes which make complex and repetitive tasks easy." – Mautic
Hubspot is a little better equipped to deal with smaller customers. Unlike Marketo, Hubspot does not offer its various functions as separate units, but instead presents every customer with the same single system that includes all of its functions and capabilities. It does, however, offer five pricing options for its core product, Marketing Hub, – Free, Starter, Basic, Professional, and Enterprise – allowing customers to still only pay for the level of service they find useful. There are also free add-ons available such as sales and CRM applications. This single unit solution is appealing to customers who aren't interested in tailoring a specific product for themselves and who are looking for seamless functionality. However, it also does not preclude the possibility of customization, since it offers multiple standard integrations with popular business apps. 
These differences in composition can also translate to differences in cost. Hubspot's core product starts out quite a bit cheaper than the Basic edition of Marketo. At the enterprise level, Hubspot is slightly less expensive, but there is less of a difference in price. Considering that most businesses will need more than one module to meet their marketing needs, though, Hubspot clearly wins out when it comes to price while delivering a relatively similar service. 
HOW ARE THEY SAME?
Hubspot and Marketo are remarkably similar in functionality. Both are cloud-based, and both operate on role-based access. Both of these Marketing Automation tools come with pre-programmed email campaigns that use effective delivery optimization tools, lead-nurturing, event-based triggers, and A/B testing.
HOW ARE THEY DIFFERENT SPECIFICALLY?
While Hubspot and Marketo are remarkably similar in functionality, there are a few minor differences when it comes to some relatively insignificant processes being exclusive to one platform or the other. The main difference between these two Marketing Automation tools, however, is the manner in which their systems are built to emphasize different customer groups. Marketo is primarily built to target enterprises and business-to-business marketing, as evidenced by its strong development and support of lead-nurturing functions. Hubspot, on the other hand, provides a tool that is more appropriate for targeting inbound marketing and the business-to-customer arena.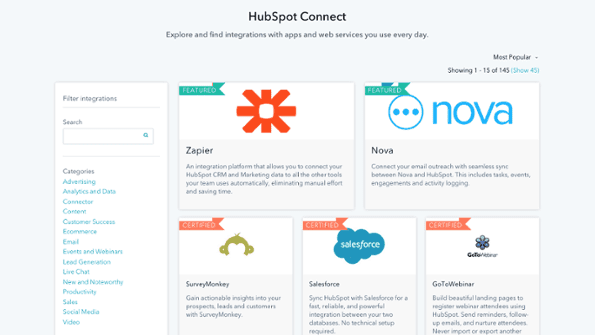 Another aspect in which the two products differ is in the ease of use by the client. If your company has a robust IT department that is knowledgeable and experienced when it comes to marketing software and processes, they may find the depth and complexity of the Marketo system more appealing. If, however, your company is approaching such a platform for the first time or is just getting started with this type of marketing, the surface-level user-friendly nature and user interface of Hubspot is probably going to be more appropriate to your situation. 
Few in the industry would claim that automated marketing and customer relationship management tools are not dependent on one another. Anticipating the need to avoid problems in this area, Hubspot has included customer relationship management software into its marketing automation platform. It even goes a step further by offering basic integrations with some of the most popular existing customer relationship management systems. Marketo was built with an integration with Salesforce in mind, and it accomplishes that integration well. It also offers both native and certified integrations with a number of other capable customer relationship management tools.
Marketo also offers a bit of an advantage when it comes to analytics, as it has the capability to provide deeper, more insightful data analysis. One could use Marketo's analytical functions, for example to show the relationships between marketing efforts and revenue fluctuation. Revenue can also be associated with specific campaigns. Even more impressively, Marketo can use digital behavior patterns, customer relationship management data, and content preferences to perform predictive analytics and modeling. 

IN GENERAL
Hubspot and Marketo are relatively similar in functionality, and, at the enterprise level, they can be relatively similar in price. Hubspot is going to be less expensive at some levels and under some circumstances, but the important differentiation come down to company size, customer base to be targeted for marketing, and depth of processing. If you're a smaller company with a small, inexperienced or non-existent IT department, and all you want is a one-stop user-friendly solution for some common automated marketing tasks, then Hubspot is going to be the better program for you. If, on the other hand, you're a larger company with an IT department that's already familiar with automated marketing and CRM software, and you're looking to not only perform some customized automated marketing processes but also to take advantage of some specialized analytical data, then you may want to spend a little bit more to acquire the segments of Marketo that satisfy your needs.