Email marketers often focus most of their attention on list building, but maintaining email list hygiene and warming leads is equally as important. When a person joins your email list, they might be enthusiastic about your brand, expecting the freebie promised before the opt-in, or simply curious. But as time passes, they start losing touch, and your engagement rate starts to slowly decline. 
This translates to leaks in your marketing funnel. Thankfully, you can fix it. Re-engagement emails help to revive cold, disengaged subscribers in multiple stages. Generally, brands send out a series of two to three re-engagement emails. Are you confident in your re-engagement email marketing approach?
Re-Engagement Email Marketing Skills
In this article, I share top tips by expert email developers and marketers to brush off your re-engagement email marketing skills. 
1. Segment Your Disengaged Readers
The first step to running a successful re-engagement email marketing campaign series is to understand why your subscribers stopped engaging in the first place. Identify why they joined your email. Was it for welcome freebies or were they considering multiple solutions? Many people also give fake email addresses while others give two ids, lowering your email marketing performance. 
Next, identify their current position in the marketing funnel along with their demographics, psychographics, and purchase intent. This will help you plan your time and efforts for running different campaigns as you won't like to invest the same energy for all dormant leads. Past data of opt-outs and profiling can also provide valuable insights. Following this tip ensures that you focus on better quality leads right from the beginning.
2. Let Them Reconfigure Their Preferences
Reading emails often becomes overwhelming, which can lead to subscribers opening your messages less frequently. Giving an option to throttle down the email frequency works like a charm. Extend different mailing frequencies and allow subscribers to reconfigure it themselves.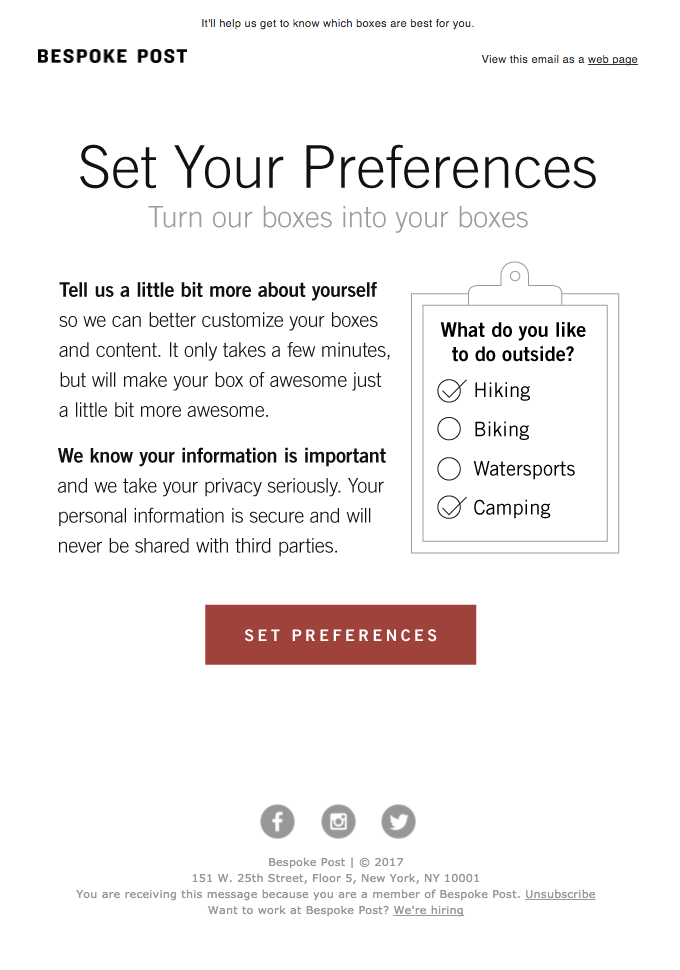 This is convenient for both of you since it improves your overall engagement rates and reduces your subscribers' chances of getting frustrated. You can also enable them to receive specific types of emails as it helps you serve their purpose of connecting your brand.
Here's a chart that shows industry benchmarks for the key email performance metrics.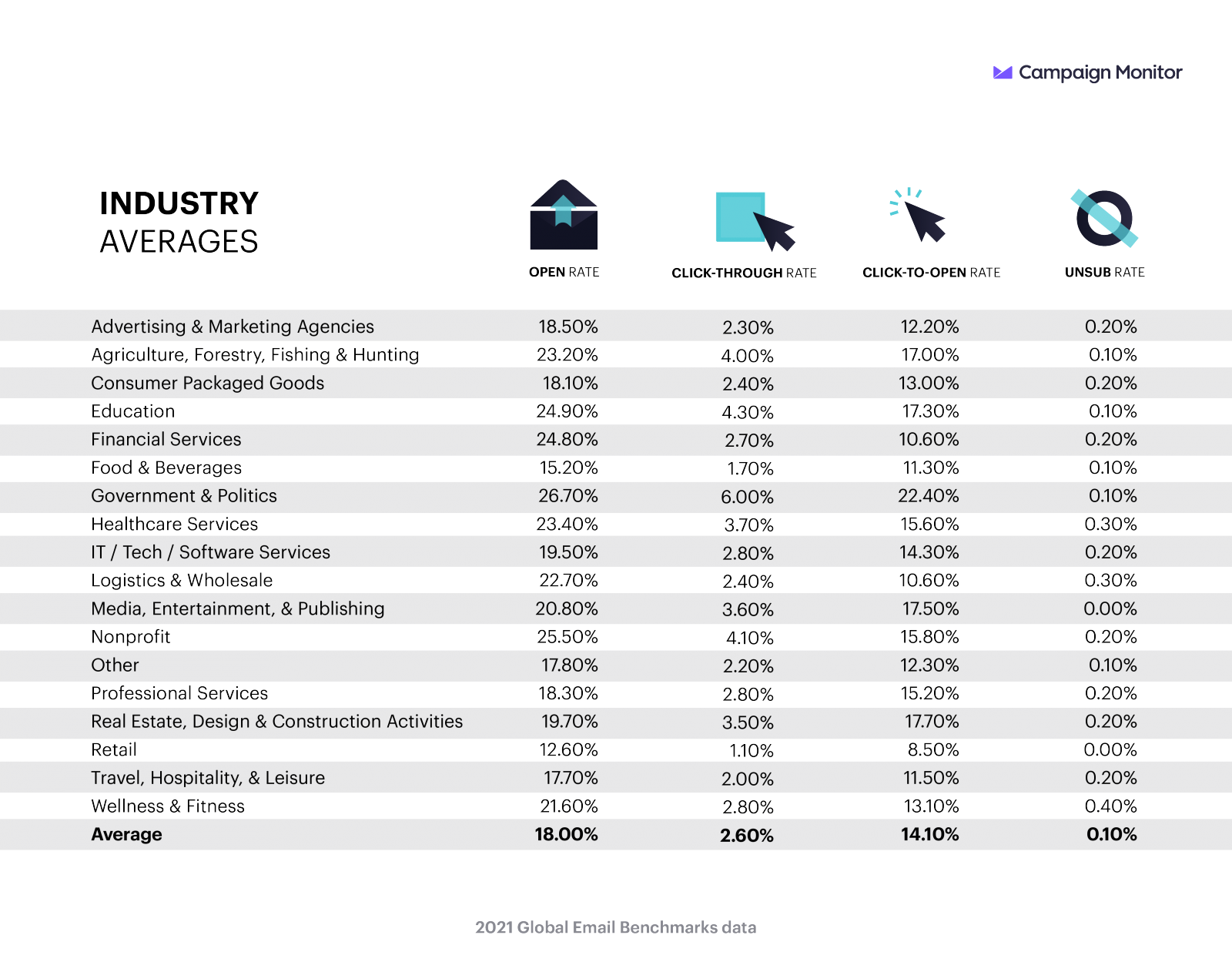 3. Offer Help For Common Issues 
If the above trick doesn't work, you can try extending help on common problems your subscribers are facing. It could be a coding glitch that compromised your message's rendering, a mishap in your automation workflows leading to irrelevant emails, or even issues with your copy. Address such concerns and reassure your readers that such issues won't surface again.
You can also use your CRM to see if they made any recent purchases or logged a complaint before disengaging. In such cases, reaching out is a great way of winning back your enraged customers. 
4. Send Personalized Messages
When your dormant subscribers still refuse to engage, you should vamp up your personalization efforts. Including their first name, preferred products, and even sending them a message based on their purchase history will help build a bridge. I find that personalizing your win-back emails is extremely important to their success rate. Your cold leads are least likely to respond to generic messages from a brand they want to see less often.
You can get straight to the point and ask them the reason behind dismissing repeated re-engagement email requests. Combining this appeal with honesty will filter any irrelevant subscriber who isn't likely to purchase from you. This type of re-engagement email marketing message often helps find out enraged subscribers since they can speak their mind directly. It also helps refine your future communication strategy.
5. Send Them Special Offers With Ladder Discounts
Now comes the real deal. Sending discount offers on your merchandise for breaking the ice. It's a bit tricky as businesses admit that few people join their email lists and become inactive only for getting such discounts. It doesn't seem harmful at first sight since you're making a sale, but soon it starts digging into your bottomline.
It is best to offer ladder discounts as they incentivize bigger transactions. Thus, you can avoid such subscribers who are only around when you compromise your pricing heavily.
6. Ask For Final Reviews
Let's face it, every subscriber won't stay. Frankly speaking, almost half of the subscribers engaging at this moment will not be doing so next year. They are only going to dent your deliverability if they don't unsubscribe. This damages your IP reputation and limits your outreach. 
Here's an email example that lets the subscriber know that they are removing them from the list.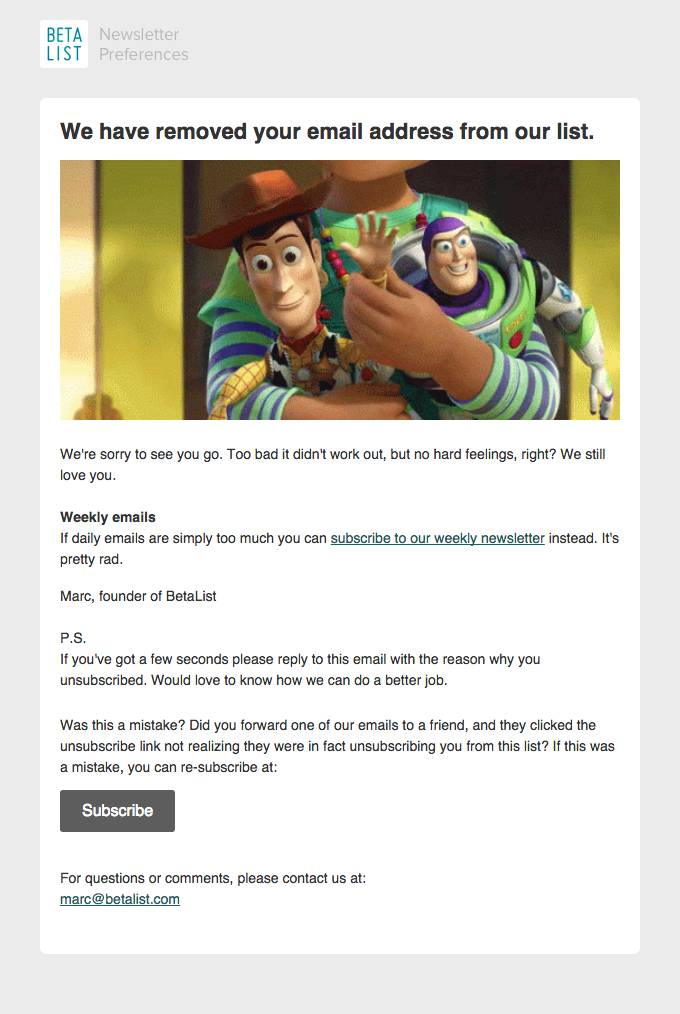 Discard dormant leads that aren't going to engage by identifying the email addresses and asking them to opt-out. You should also ask whether they no longer wish to be engaged. You can use this data to improve your future list building activities.
Most of the marketers directly start with discounts but the previous stages are equally essential. Re-engagement email marketing helps you retain the repeat business as well as complement new client acquisition costs.