Being on video can be scary.
I won't sugarcoat it. We've all seen the data. People fear public speaking more than death. Combine public speaking with all the new considerations and pressures of presenting in virtual environments — from adjusting microphones, lighting, and camera framing to selecting the perfect virtual background — and it's not surprising that people feel overwhelmed or uneasy about presenting on video.
Many of us will be transitioning back into our offices in the coming months. Many of our new work setups will be a hybrid of in-office and remote team members on any given day. Because there may always be someone who isn't in the office, video meetings and virtual presentations will play a key role in the hybrid workplace. They will help ensure that we are treating our remote colleagues equally and conducting live meetings in the most efficient way.
The good news? There are a few simple steps you can follow to ensure that you're feeling confident on video and creating engaging virtual presentations. Following these tips can help you stand out in front of coworkers, clients, and customers in your new hybrid office setup.
Virtual Presentations Can Be Powerful Career Boosters
Knowing how to present yourself and your message over video is going to prove critical to your success.
Check out my story below for how I got my start on video, nerves and all. This year, I made it my mission to do even more public speaking and virtual presentations. Practice makes perfect, after all. I've been able to draw on my experiences at amazing companies such as LinkedIn and Prezi to help others become more confident on video. I like to help them create truly engaging virtual presentations that wow their audiences.
Below are the most useful tips I've learned on my journey so far.
How to Appear More Confident on Video
1. Use visuals.
Before the pandemic, it was already difficult to capture someone's attention. During the pandemic, it became that much harder as our screens became our main source of connection to everything and everyone.
Screen sharing became the status quo but it wasn't an effective way to engage people over video. It became evident early on that audiences began to tune speakers out when they switched the video call screen away from their face to display other content.
So how do we break free from the status quo? One of the best ways you can do this is by bringing visuals into your presentation and saying goodbye to screen share.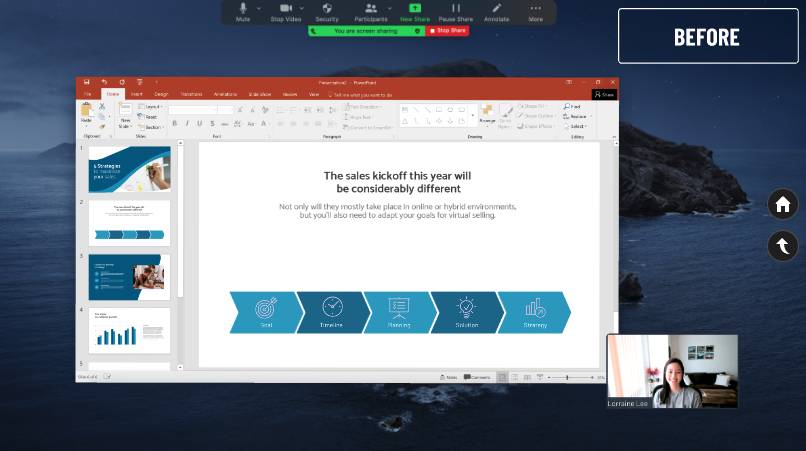 From Prezi research, we've learned that when someone is looking at the screen, they're most engaged when there is visual content being shown in the same video feed as the presenter. You need to see the facial gestures and expressions of the presenter combined with visual content to create a compelling presentation. Screen sharing gives us one without the other, and that's where standard presentations have fallen short.
There are plenty of stats out there, but the one that surprised me the most was that 90% of the information processed by the brain is visual. If you're using visuals well, you're going to have a more impactful presentation, which in turn will drive audience engagement.
Have you ever told a story and had your audience hanging on your every word, excited to see what comes next? That same positive feeling and confidence boost can apply to your presentations. Give them a great show and they'll want more.
The image below is using the same content from the screen share above. However, it's a lot more enticing to look at than the "Before" screenshot above.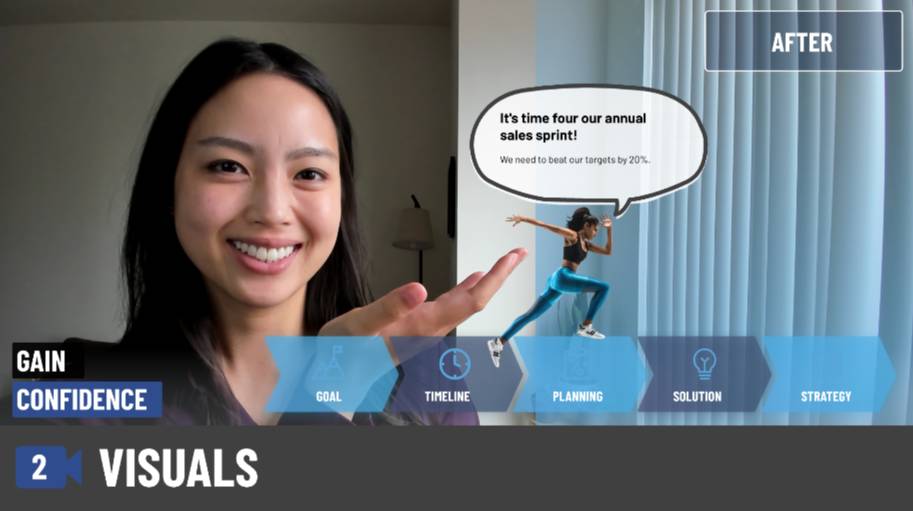 Another way that I've found visuals give me confidence is that they help balance out the audience's focus between me and my content.
Probably one of the most intimidating things about presenting is realizing that everyone's eyes are focused on you. That said, when you are using visuals well, their eyes should be moving back and forth. This also keeps them more engaged.
For the non-designers out there, don't worry about building something from scratch. You can use templates offered by tools like Prezi Video, Google Slides, Lucid, and others. Additional resources like Remove.bg and Creatopy will do wonders if you don't have Photoshop.
Be sure to check out this video by career coach Diana Chan. She uses a template and simply adds her text and images as she would in PowerPoint or a similar program.
2. Add lighting.
Lighting is another crucial element for building confidence.
Although it may not seem obvious at first, lighting has a psychological effect on you as the presenter. When you add lighting to a presentation, it makes your video and you look better, more professional, and more credible as a speaker. And if you and your video look great, you're going to feel better about how you're coming across sharing your ideas. This leads to more confidence.
It's best to have your light source aimed toward your face to avoid a dark screen from a backlight effect. Ideally, you should face a window to ensure that you're receiving natural light. If you still need an extra boost, a good ring light ranges from $20-$35. These can make a huge difference in your virtual presentation. I personally have two flanking my desk.
3. Set up your space.
Another thing you'll want to do to build your confidence is to record in a proper setup. Go for a non-cluttered background for your virtual presentation. Similar to lighting, by appearing more professional, you will feel more confident with the impression you're leaving on the audience.
Most of us don't have the luxury of having a home office that's straight out of a West Elm catalog, and that's okay. I recommend hacking your space. Buy a room divider or hang up a curtain to create a distinct workspace. A non-cluttered background will help you feel more confident about how you and your content appear on camera.
Of course, as you get more comfortable, there's certainly room to get creative. Try stepping outdoors to get that natural lighting I mentioned earlier. Consider adding personal touches to your background. These can offer insight into who you are without being too distracting to the audience.
Virtual Presentation Skills Are a Worthwhile Investment
As the current trend in influencer marketing demonstrates, it's clear that video is here to stay. If you're still feeling overwhelmed or unsure, take it step by step. This isn't something you'll master overnight. However, with practice and time, I'm confident you will improve and impress whoever is on the other side of the video call.