Have you ever wondered why one brand catches your attention over another although both of them are offering the same product? The truth is each brand has a different story to tell and how well it tells that story is what makes or breaks it. Simply spending money on billboard advertisements will not get you far enough; to connect with your customers, you need more than that. You need to create unique content that can convince customers about the value of products you sell, and why they should choose you and not the others.
But kick-starting content marketing strategies is not an easy task. You need to be fully prepared before you embark on this endeavor. You are expected to have access to tools that will help you come up with content which is both entertaining and meaningful for your buyers.
Here are some important tools and apps which can make your content marketing efforts a success:
1. BuzzSumo
BuzzSumo will let you find topics you can write on and also identify influencers who will be able to market the content on your behalf. So, you can get your hands on insights which reveal which type of content had been most extensively shared across most networks. You can also discover influencers in your industry and see the type of content they have shared. With BuzzSumo, you will receive alerts every time content using your keywords gets published. Each time an industry competitor publishes new content, a notification is delivered so you wouldn't have to miss out on anything. Competitor content can also be tracked and you can see how it performs in relation to your performance.
2. Grammarly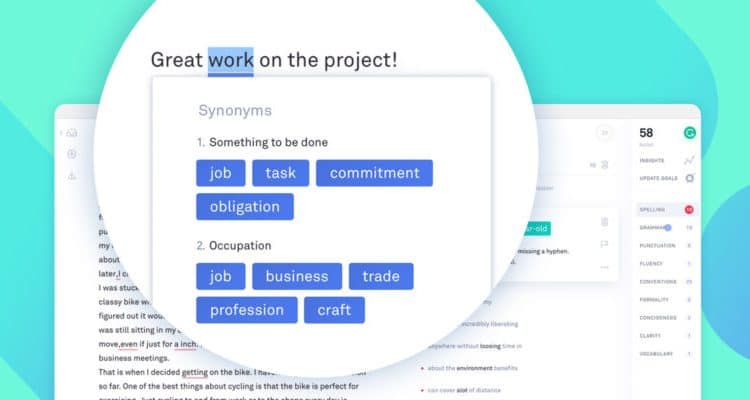 Grammarly is an independent content editor which will scan the content for errors and ensure that the final post is as flawless as it can be. When you install this content marketing app, you will find that it scans everything you type on the browser such as cloud documents, emails, posts on social media, etc. It will give you correct spelling, grammar, punctuation, and word usage. Today, you can get Grammarly for Google Docs which is not a distinct tool; it's rather a new feature which is most impressive and user-friendly. What you need to understand is that no automated editorial app can be infallible. So, there is no substitute for proofreading your own work. Grammarly may be free but it is better to opt for the premium version as this is designed to detect the more nuanced grammatical problems.
3. SEMRush
SEMRush offers insight into everything your competitors are bidding on. This tool lets you view all keywords that your industry competitors may be using for getting better SEO rankings. All you have to do is enter a URL into this app and you will be provided with tons of keywords. You have to click on the option "SEO Content Template" and then type the keyword you wish to focus on for your content. The tool will immediately give you recommendations on all aspects like target content length, keywords, links to be included, etc. You can benefit from its text editor that lets you test content which you may have created to target a specific keyword. This app is not cheap but it is worth every penny you spend on it. You can choose from different plans depending on what you need. With sincere efforts and hard work, this tool will ensure that your site gets a first-page ranking on search engines.
4. Evernote
Evernote is perfect when you want to try brainstorming for future content. You may then need a place where your whole team can put in their ideas and discuss these with each other. Evernote is then the right choice for you. You will find it compatible with almost all devices. Evernote allows you to organize, capture, and share notes. This note-taking app may be used through the web or it can be downloaded. So, you may clip things from sites, build templates, scan documents and attach these, and sync notes, etc. across many devices. For those keen to own a virtual notebook, Evernote is just the right tool. Whatever you save on Evernote can be accessed any time using any device, whether your smartphone or laptop. You can access the notebook when you are offline. You can even search for text that may have been captured previously, sync notes across multiple devices, and add annotations to pictures.
5. Kred
If you want your content to sell, you need to make sure that you find influencers who will share your content on social media. Simply creating new content is not enough; and this is where Kred can be of help to you. Kred will assess your influence through an evaluation of Twitter and Facebook activities. This in turn is going to help you identify influencers. Unlike other tools which influence social media, this one allows you to create your individual "influencer" status. When online presence receives a boost, your content automatically gets marketed better. Kred can be highly useful for building credibility and trust and when your viewers realize who you are; they are keener to know what you have to offer.
6. Trello
Trello is perfect for brand building in a hassle-free manner. You can use this tool for improving collaboration amongst your team members. This will help you up your game by providing you with options of lists, boards, and cards. You can use Trello for scheduling content writing, content posting, and sharing. Even your team members can leave messages for one another and share content under one roof.
7. Canva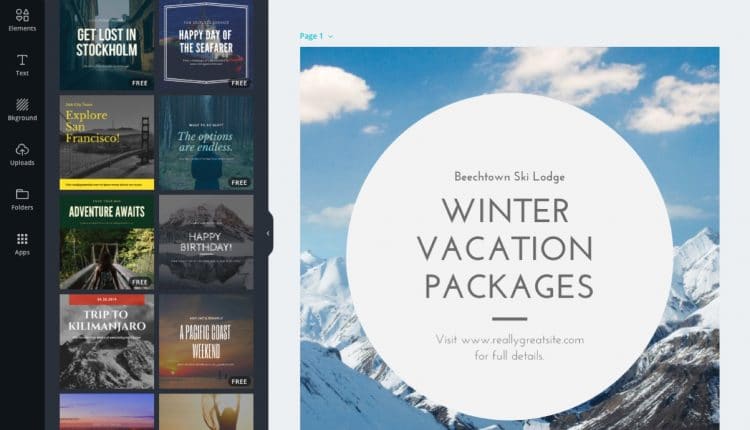 Canva lets you design attractive images which can brighten up your blog posts. The presence of high-quality images will encourage viewers to click on the links. Photoshop may be an option but it is time-consuming and costly. Canva, however, offers pre-designed templates and layouts. You can easily use these to come up with something eye-catchy. You are free to choose layouts specific to the kind of platform you want them on. For instance, templates for Instagram posts are not going to be the same size as those for social media banners. There is a drag-and-drop feature which makes your task easier and you can successfully capture the attention of your readers.
8. MailChimp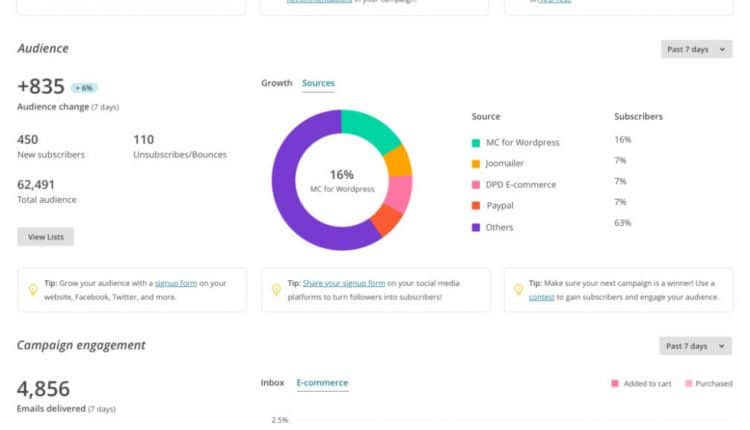 MailChimp is perfect for email marketing without which content marketing cannot flourish. Any online marketing strategy must include email marketing and MailChimp fits the bill perfectly. It lets users access the dashboard from all kinds of devices, whether desktops or smartphones. MailChimp is free with a limit on the number of subscribers and number of emails. You can benefit from many interesting features, especially mail-list building, which lets you improve customer engagement with the brand. The tool will also allow you to track the emails and you can monitor metrics like subscribe-unsubscribe rates, open-and-click rates, etc. You can create custom newsletters by choosing from multiple pre-designed templates. You can even target different kinds of audiences by segmenting the mail list depending upon customer behaviour, preferences, and sales history. MailChimp will even let you send out newsletters each time your blog gets updated. You can track your marketing campaigns through reports which show users that open your newsletters and share these on other social networks.
9. GetResponse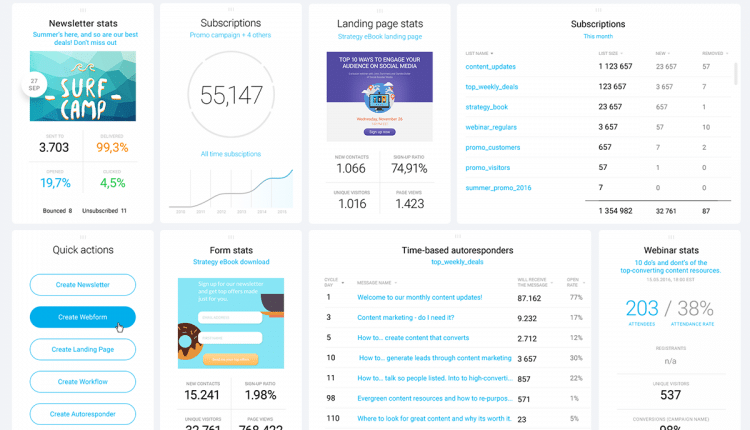 GetResponse is a popular content marketing tool that allows you to trigger events and emails. Email marketing is known to guarantee the highest returns on investment. It is also believed to be the most effective tool for customer retention. Being able to keep your existing customers satisfied is actually far less costly than bringing in new customers. However, many companies fail to understand the value of an email marketing tool to boost their sales and get more conversions. This tool uses automation for triggering emails and events depending on actions that are taken by recipients, or after a specific time-period has finished. These are features that can give you much value at nominal prices. GetResponse offers CRM capabilities allowing you to monitor relationships with clients. These help in boosting brand awareness which in turn boosts content and customer engagement.
10. Leadpages
Leadpages is a content marketing app that helps you keep in touch with visitors once they have visited your website. This works by capturing the email addresses of your viewers. Using Leadpages, you can create customized landing pages, registration pages, pop-up boxes, and other forms where the visitors can type in their addresses in return for the incentives you offer them. Once the subscribers have signed up, they are immediately provided with the incentives promised to them. Besides, Leadpages will also sync with your email service provider so that the subscribers are automatically added to the email list. You can take advantage of their built-in payment systems for running the store efficiently. Leadpages offers tablet-friendly and mobile-friendly themes which look appealing. It also provides features like drag and drop feature, A/B testing, unlimited integrations, etc. Moreover, it has SMS marketing features which let you capture even more leads.
To sum up, content marketing is much more than simply deciding what to write. It is not enough to come up with interesting and relevant content; you need to make sure the content is engaging and reaches the audience it is meant for. Only when it reaches your target audience will it be shared by them on various social media platforms. This task is not as easy as it sounds; it involves a lot of effort and hard work. But it becomes easier with the help of aforementioned content marketing tools and apps.