There is no denying that email continues to be a critical communication modality for businesses. In fact, rather than shrinking, email usage is expected to continue to grow upwards of six percent per year for the foreseeable future.
Email is inextricably woven into the way we do business – in essence, it's the database of our personal and professional lives. Email is one of the few constants in our lives; it never stops, day or night. You have your phone on your nightstand when you wake up, you check your email before your commute and you use your tablet at night while you're watching tv. We rely on email to communicate with prospects, customers, vendors, friends and family.
The email signature itself is one of the richest, yet untapped, branding and demand generation tools at a company's disposal. Because of the impact (and impression) your employee email signatures can leave on the recipient, we've put together a quick three-step guide to help you and your company make the most of this tool.
For Marketing
Marketers want audiences to interact with their brand. Best practices dictate that marketing teams will create a lot of marketing-related content and deploy that content across many different channels. Their objective is to target the appropriate people with those marketing pieces, in the hope of piquing their interest enough that they decide to explore further.
So how can companies capitalize on the thousands of 1:1 emails their employees are sending each day? By leveraging the email itself. Each email that a company's employee sends has a signature area – a dedicated space that is ideally suited to contain a graphical, clickable call to action that promotes what's most important and top of mind to the organization. As a marketer, it's a profound opportunity to be able to promote a brand or demand generation message in each of the thousands of emails that are sent out each day – and update them in real time, in a moment's notice.
Use email signatures to promote marketing materials such as:
Thought leadership (reports, ebook, blogs, etc.)
Email newsletter sign-up CTAs
Direct links to your social channels
Case studies and customer videos
News about events, tradeshows and webinars
Press releases and feature articles
By leveraging the e-mail signature block, every employee's email now provides an opportunity to engage and convert prospects and customers.
For Sales
If marketers' primary objective is to drive engagement with the brand, then salespeople want you to engage with the process. Sales, whether it's pre-sales or getting the final contracts signed, cares a lot about the process and making sure prospects see the true value of what they're providing.
What if you could let your email signatures do the work for you? What if with every email, you guided your prospects on a journey where, with one click of a button, they could interact by requesting a demo, seeing a product video or tour, viewing pricing and product features, or calculating the impact your product or service could provide with an ROI calculator. With each click and interaction, they understand your product or service offerings better – all with minimal effort on your part.
Use email signatures to allow prospects to interact with tools such as:
Demo requests and product videos
Pricing and feature guides
ROI Calculators
Now every email can help your prospects feel more and more confident about moving through the sales process.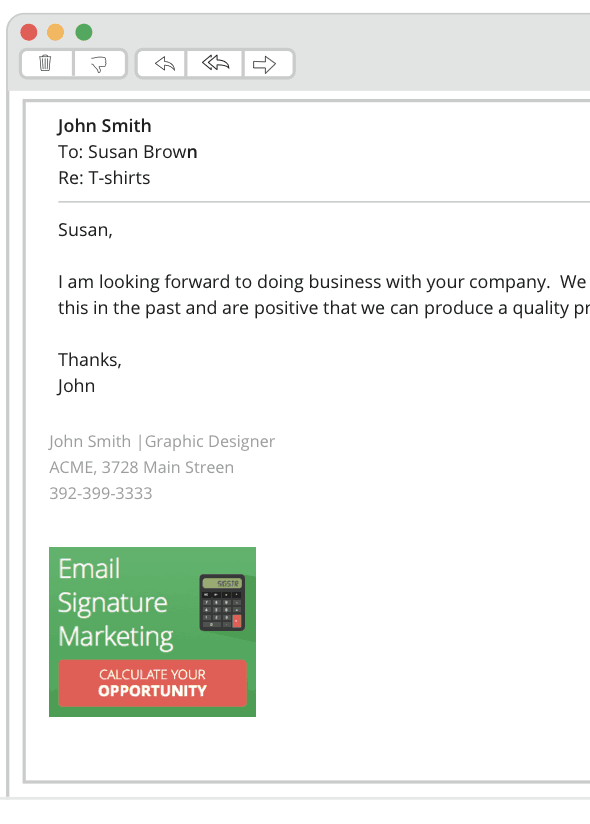 For Customer Support & Customer Success:
If Marketing wants you to interact with the brand and Sales wants you to engage with the process, then Customer Support and Customer Success wants customers to learn more about the product, services and value the company offers.
Customer Support and Customer Success exist to help customers feel more confident about the product and services being provided. They want their customers to understand not only how to get their questions answered, but how to best troubleshoot and solve problems for themselves and continue the learning journey well beyond signing on as a new customer.
Promoting product materials or a referral landing page doesn't mean replacing the existing portal or community, but rather email signature marketing serves as a constant reminder of the tools and resources that are available for those customers and urges them to join the conversation.
These tools can include things such as:
Service and support phone numbers and contact info
Latest product release notes
Community sign-in or sign-up page
Overview of new products/services
Landing page to suggest referrals
Customers can be one of your company's biggest assets. It all starts with education and empowerment.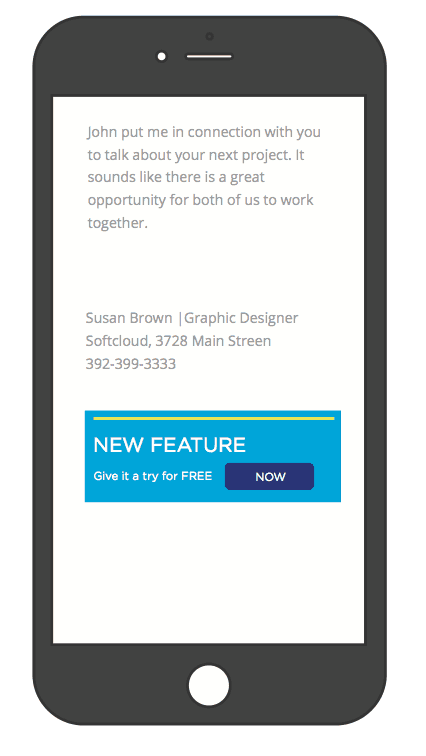 Are you thinking of other ways you could leverage email signature marketing at your company? What about your HR department promoting career openings? What about your channel team promoting new partnerships? The options are endless. For more information, check out the free resource "3 Creative Ways to Unlock the Hidden Power of Email Signatures".
If you're ready to get started with email signature marketing at your company, check out Sigstr to power one-to-one email signatures for your employees, who are often the most frequent touch point with your customers. Sigstr helps ensure that your best marketing, sales and customer support content is elegantly inserted into these conversations – providing continued return on your content investments. Also, you can check Newoldstamp to create and manage your company email signatures in one place and keep a consistency of your brand.