Blogging has remained one of the most sought-after strategies for content marketers to generate traffic. Sites that have blogs attract 55% more traffic than those that don't.
As a marketer, you are likely busy creating content for your blog, but are you actually measuring the impact of every published article? Your content marketing efforts could go in vain if your content pieces don't attract the engagement you're after. The idea is for people to take action when consuming your content, because action leads to conversions.
Some content marketing tactics simply perform better than others. These are the ones that you need to favor in 2020 to generate maximum user engagement, on your blog and on other communication channels as well.
Let's have a look at five top ways to boost the performance of your content marketing strategy.
1. Use Question-Based Titles
Your titles appear everywhere. They are the first things people see when scrolling through their social feeds and scanning search results. Using question-based titles such as "how-to," "why," "what," etc. can help your site rank as a featured snippet in Google's organic search results.
Around 41% of questions have featured snippets. Having your content ranked as a featured snippet not only increases site traffic, but it also helps you to acquire more natural backlinks.
Around 10% of voice searches begin as actual questions. Using question-based titles and getting on featured snippets will increase your chances of appearing for voice search results.
You can use a keyword research tool like Answer the Public to get question focused content ideas.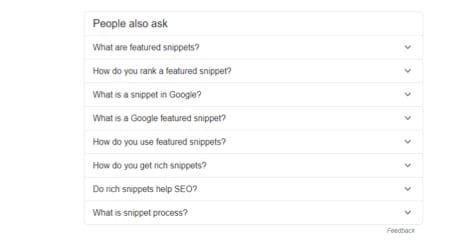 Additionally, you can look at Google's "People also ask" section to find the most frequently asked questions and create content around it.
2. Host Automated Webinars
The average webinar receives 260 registrations. Now imagine the level of engagement you can see if you offer webinars every day.
Whether you just want to promote a product rollout or explain a concept to your audience, webinars are an effective content marketing tactic. Informational webinars also help to boost your authority in the niche.
Once you have the email address of all registrants, you can leverage email marketing to nurture those people. To find the content ideas for your webinar, look at your most viewed pages, Quora questions in your industry, check what's trending (Google Trends can help you find it out), and talk to customers.
If you're concerned about the time it takes to create and run a webinar, then don't worry, tools like ClickMeeting help you automate the webinars.
All you need to do is upload your webinar recordings, videos, calls-to-action, and decide your automated webinar timeline. ClickMeeting's webinar flywheel will promote and run your presentations and automatically export leads to your CRM.
3. Improve Your E-A-T
Google recently published a blog on Webmaster Central reminding users about the core updates and what to do about them. In this blog post, Google specifically pointed out the importance of following the E-A-T guidelines. This applies to everyone creating and publishing content on websites.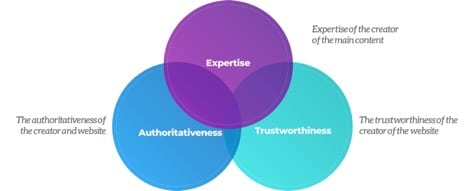 E-A-T stands for Expertise, Authority, and Trustworthiness. Content that has strong E-A-T does well in search results.
Here is what you can do to improve your E-A-T profile:
Earn links from high-authority websites.
Partner with influencers and ask them to share your content or ask top influencers to contribute to your blog. You can find top influencers on platforms like iFluenz. There is no fee to start your proposal and you only pay after your proposal is accepted by influencers.
Include a bio and credentials of the author at the end of the content.
Back up the claims you make on your content by linking out to authoritative sources.
Update your site regularly with relevant and current information.
Also, your content must be crafted for your users and not search engines. Give more importance to user intent than keywords.
4. Segment Your Audience
Some of your blog readers are not ready to buy, but others are. Segmenting and creating content that caters to the needs of your potential customers at different stages of the buying cycle will increase the engagement and conversion rate.
The three stages of the buying cycle are:
Awareness: Your audience identifies they have a problem that they need to solve. This is the stage where the buyer becomes aware that your business exists.
Evaluation: Your audience gets to know that your product can solve their problem, and they're trying to determine if you're the best option out there.
Purchase: Your audience is now ready to buy your product.
Prospects at different stages of the funnel have different expectations of what type of content they want to consume.
Prospects at the awareness stage prefer informational content like introductory eBook, tutorial, or how-to videos. Someone at the buying stage would prefer product demos or free trial or a free consultation.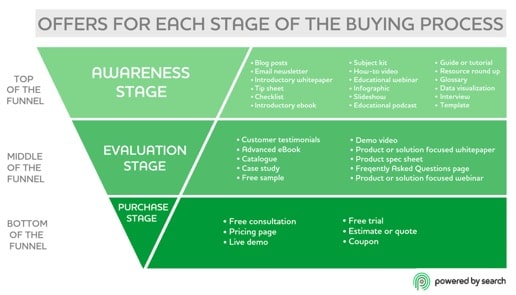 The best way to find out who is at which stage of the funnel is by laying out several scenarios in which prospects become customers and trace back what actions they took since their first interaction with you.
Here's an example of how a conversion path might look like:
A prospect visits your website.
Reads various blogs on your website.
Navigates to the features page to see what you offer.
Downloads tutorials or watches product demos and leaves.
You send them an email for a free trial.
They start the trial.
They enjoy your product and convert to a paying customer.
There will be more than one conversion path. You can determine a few of the most common pathways by looking at how your leads have converted into customers in the past.
5. Leverage Native Advertising
Native advertising is a form of online marketing in which the ads resemble the look, feel and function of the media format in which they appear.
Promoting your content via native ads offer its own set of advantages. Native ads don't look like a sales pitch, hence, they are more effective. Native ads receive 53% more views than traditional display ads and can increase the purchase intent by 18%.
Another advantage of native ads is that they can easily bypass ad blockers, as they adapt to the content format naturally.
To leverage native advertisements, create content to entertain and inform your audience. For example, if you offer site audit tools, promote content that suggests a few hacks about SEO or lists some important metrics to track in an SEO audit.
RXBAR, a protein bar retailer, does a great job of creating native ads. They published this paid post on BuzzFeed on why protein is necessary for staying healthy.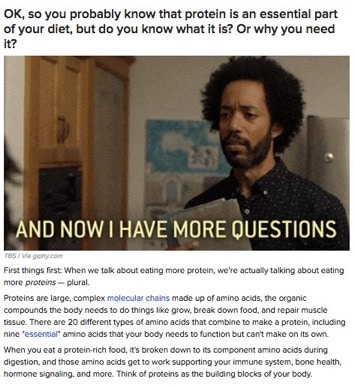 RXBAR used funny GIFs to make the copy engaging to the reader. Once the reader was convinced about the importance of protein in their diet, they promoted their product.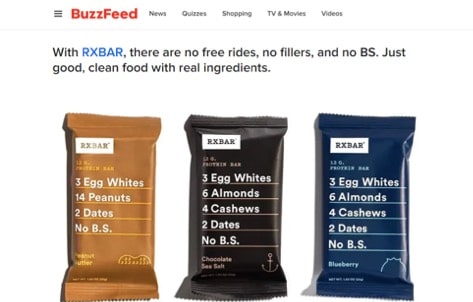 You can use the power of native ads to promote your best content. Make sure to prepare content that resonates well with the platform you are using to display your native ads. In the case of BuzzFeed, the content should be funny, but if you are promoting on LinkedIn then you need to prepare content that offers straightforward advice.
Final Thoughts on Content Marketing in 2020
Marketers have already started leveraging content marketing to earn customer trust as opposed to selling their products directly. 2020 is the year you need to empower your content marketing by following the five strategies discussed in this article.
Create question-based content, improve your E-A-T, segment your audience as per their interests, and host a webinar to increase engagement. Last but not the least, start creating native ads to build backlinks and boost conversions. Happy content marketing in 2020!