Instagram is growing faster than any other social media channel. Writing an Instagram bio is not that easy, it requires a lot of thought!
Your bio is the backbone of your presence on Instagram. It's worth investing some of your time to get it right.
Wondering how to write the best Instagram bio?
In this article, you'll discover how to write good Instagram bios that make a great first impression and convince new visitors to click the "follow" button!
Let's get started:
1. Start with Basic Description
 One of the most evergreen formulas for writing an amazing Instagram bio is to include a self-description. A self-description doesn't just sound honest but is also a peek into the manifolds of your personality.
For example, if you take a look at Queen Latifa's Instagram bio, you will immediately come to know that she is more than an actor.
The first line of her bio says, "Actor/Rapper/Singer/Producer." Not only does self-description generate interest in people, but it also makes your bio appear cool.
Remember that your Instagram bio doesn't have to be lengthy and tiresome as long as it is descriptive.
Here are some cool Instagram bios ideas: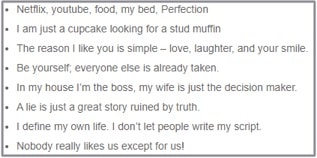 2. Use Keywords for the Field Name
If you think that the name field on Instagram is just there to add your name, it's time you take a look at it again. When you click on the edit name option, the first field that you find is your name. Remember that it is different from your Instagram username.
While most people fail to pay attention to it, it is the name field that makes up the first 30 characters of your Instagram bio and is an excellent source of helping you with the SEO.
It will especially help people find you, who will look up your name on Instagram. For this reason, use keywords specific to your niche. Take the example of the brand falcon that ads falcon.io to its Instagram name since this is what people search to find the brand on Instagram. 

3. Add Skills and Experience
Your skills and experience define your personality. Make sure you add them in your Instagram bio so that people get drawn towards your expertise.
Let's take a look at the bio of renowned marketer Neil Patel. In a quick eye moving bio, he describes the best of himself and manages to keep the user engaged. Here's his bio: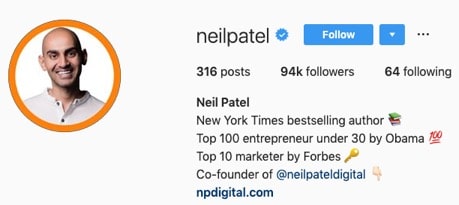 It gives the perfect insight to the user, what you are willing to offer.
4. Put a Call to Action
Regardless of whether you own a business or are an influencer, having a call to action in your bio gives you an extra edge. Since Instagram only lets you add links in the bio, you can actually use it to draw traffic to your website or product.
Be it signing up to your platform, purchasing your next product, or asking people to listen to a track you produced, CTA can help you do it all.
Look at the famous author and life coach Tony Robbin's Instagram bio that includes the CTA 'Watch the Documentary' along with adding the finger emoji for added effects.

5. Add Your Hobbies and Interests
Adding your hobbies and interests can be a great way to generate anticipation among the people and drive them to follow you. Whether you are a brand or an individual follower, adding a hobby or interest can help you connect with the audience and establish a relationship with them.
Haring hobbies and interests also make you appear cool and likable. Don't believe it yet?
Take a look at T-Mobile's Instagram bio that says it is a crusher of customer pain points and likes to binge Netflix apart from creating the most advanced wireless network ever.

6. Don't Shy Away from Using Emojis
Emojis make your Instagram bio a visually refreshing. They are fun to add and help your brand stand out from the crowd. They are also helpful since they can help in expressing a lot without writing about it.
You can try to be creative and use a combination of words and emojis in your bio or use emojis to emphasize on the key content like the brand Jetblue does it. However, refrain from using too many emoticons or using them without any content.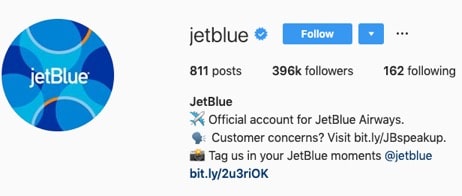 7. Don't Miss Out on Your Contact Information
Your contact information is the only way your followers will reach out to you. In case you're a fan page, influencer, or a business, always make sure to leave your contact details in the bio, so that interested people can get in touch with you easily.
In case you are a famous brand, you can also direct people towards your support by adding a link. However, if you're looking for something general, you can always write 'For inquiries contact…'
8. Add Your Brand's Hashtag and Tag Related Accounts
One of the best things that you can do with your Instagram bio is to tag all related accounts and add your brand's hashtag there. This wasn't possible earlier, but thanks to Instagram updates from last year, brands can now add profiles and usernames to their bios that can be clicked by the users.
You can try this by adding the '@' or '#' icon to your bio which makes the content following it instantly clickable.
Check out the brand Moment that uses their Instagram bio to promote other business profiles along with their original brand hashtag. This practice also helps in maintaining a sense of authenticity and reliability for your band.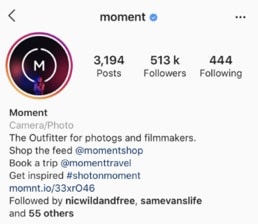 9. Use Custom Fonts
Even though Instagram in itself doesn't offer a choice of fonts, you can use third-party applications to do it for you and make your bio stand out.
For example, you can use a tool and easily try out the fun and quirky fonts for your bio.
Check out the bio of Gavin James, who is a senior creative at Aardman Animations. It's fun and undoubtedly quirky, making it worth a try for everyone out there.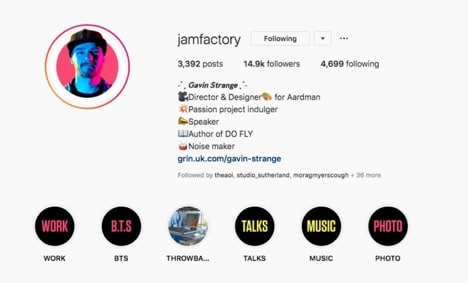 Don't make your Instagram bio static – Try different texts, emojis, phrases, and more. Do you have any tips to make Instagram bio impressive? Please drop your thoughts here.