There's lots of different ways you can promote and distribute content. That said, not every channel is ideal for every type of content asset you might develop. The fact of the matter is that most of the folks reading this are likely prioritizing top-funnel content (or at least plan to). The purpose, generally speaking, for top-funnel content is to create an audience to nurture over time. This nurturing is what causes some audience members to be what Mark Schaefer call's "activated."
For the most part, content and its paid channels of distribution can be divided into three major categories – top, middle or bottom-funnel. It's a simple way to break up the buyer's journey. Ideally, priorities and budgets between content creation and distribution should align with the buyer's journey. It should look like a funnel. Unfortunately, most content creators are just starting to figure this out.
As early as last decade content priorities looked like this for many: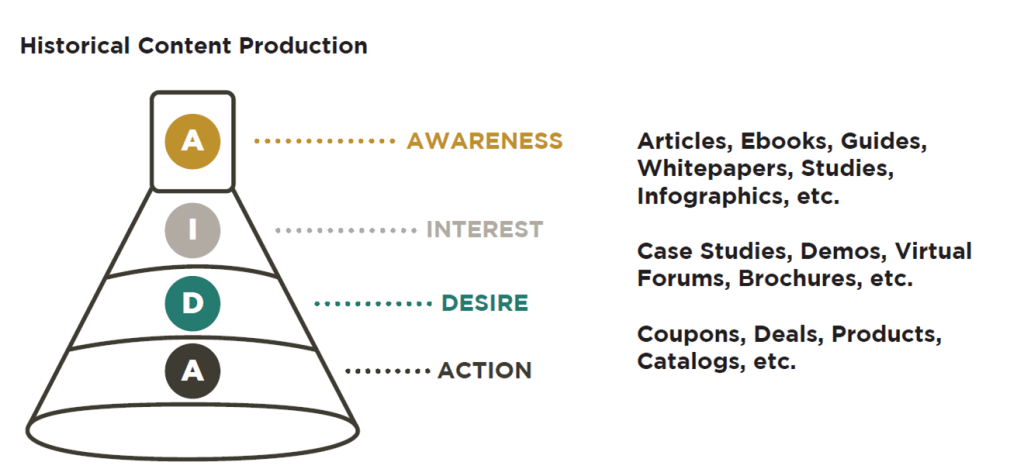 As you can see, this is an upside down funnel. As a result, content creation was not aligned to the buyer's journey. This is problematic for those trying to build an audience to activate. For the most part, today's content creation priorities have become aligned with the buyers journey. The funnel has been flipped to reflect this alignment for many content creators.
Unfortunately, today's content distribution priorities and budgets still reflect the above legacy content creation funnel and, for the most part, don't align with the buyer's journey. Here's what it looks like today: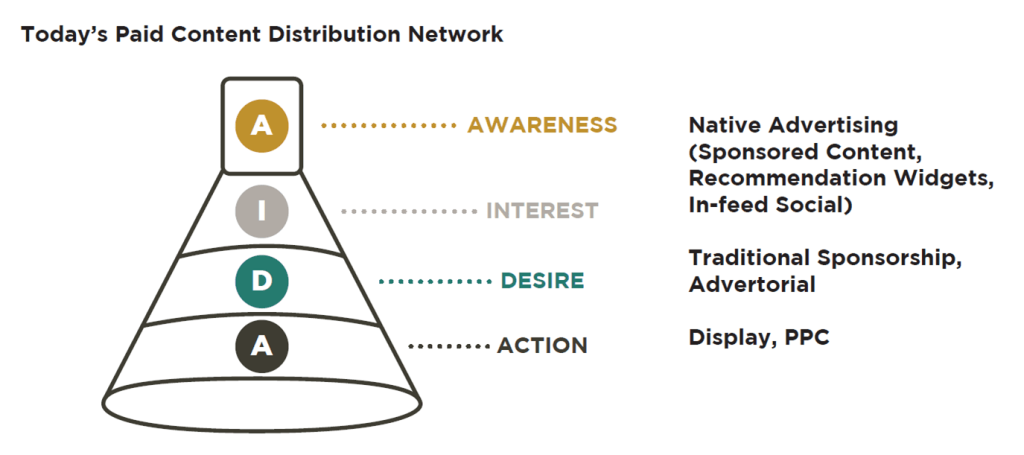 As mentioned earlier, there's lots of ways to distribute content, but if you look at the amount of resources being spent on paid channels today, they generally stack up like this. As you can see below, much of today's content creation and distribution priorities are in disequilibrium.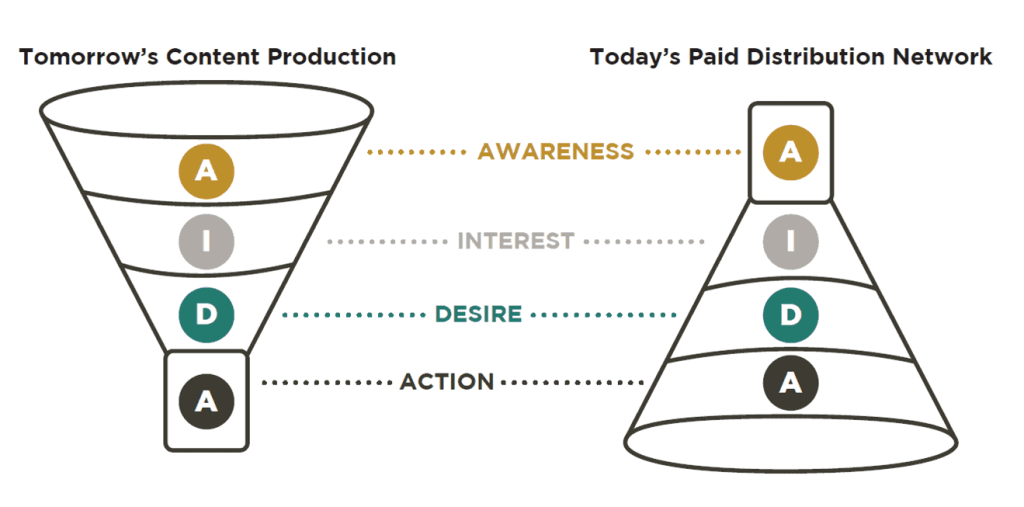 For those of you wishing to build an audience to activate the above model is not helpful. You'll want to flip the distribution funnel in order to align it with the buyer's journey and content production, thus focusing more time, energy, budget and effort on native advertising.
Native advertising is the best way to promote top-funnel content that attracts an audience for you to activate. It can be used for mid to bottom-funnel content, too, but only if done in a very particular way. What makes this form of advertising "native" is that it's considered "in-feed." This simply means that the content is displayed within the normal reading stream of the website. The content looks like it's supposed to be there, as opposed to banner ads that are gaudy and obnoxious.
Some examples include a sponsored post on Facebook, a sponsored article on a blog, or recommended content. Now let's look at the different forms of native advertising that are effective at growing an audience.
Paid Social Media
This is the one you're probably most familiar with. Facebook, Twitter and LinkedIn all provide native advertising solutions. However, anything not in-feed is not considered native. Any display advertising or retargeting solutions offered by social media networks is not native advertising.
Based on my own experiments, it's a best practice to only use paid social media with your best performing content. Larry Kim, founder of WordStream, only promotes his top two performing articles a month and spends as little as $50. His results are phenomenal.
Something else he does that's worth noting, too. Larry doesn't target the folks he wants as part of his audience with social media. He actually targets the journalists, influencers and bloggers that cover the topics he writes about. In this way, he's actually using paid media to earn media.
Lastly, if your sponsored post gets shared all subsequent clicks, likes, comments, etc. on the shared post cost nothing.
Programmatic Native Units
These are the units you typically see at the bottom of an article that "recommend" other articles to read. As a content creator you can pay to have your content placed on thousands of different websites. There are other places these units can be placed in the normal reading stream, too. Each network has its own options.
What makes this type of native advertising so appealing is the scale it can provide. Due to relatively low cost per click these solution enable you to promote all of your top-funnel content at scale. Generally, there's A/B testing options with machine learning optimization and bidding. In rare cases, I've seen cost per clicks as low as half a penny.
Sponsored Content
Believe it or not this form of native advertising has been around over 100 years. For much of its existence you'd only see this in magazines and newspapers. Today, however, most folks pay to write an article (or have one written for them) on an online blog, trade publication or media outlet.
The only difference between a regular editorial article and sponsored content is the denotation of it being sponsored by. This type of native advertising allows you to get your content in front of other (usually larger) audiences.
Native Email
Not all email advertisements are native – only ones that are naturally in-feed and look organic to the editorial content. Many blogs and media outlets will allow you to pay to have your content featured in their email newsletter or even do a one-off email with just your content.
If done well, this can help you grow your audience quickly. I've driven over 700 incremental subscribers to my website with just one natively sponsored email.
Targeting
For sponsored content and native email you'll want to do your due diligence and make sure that the blog or publication's audience is indeed the one you're trying to attract. You can ask for a breakdown of the audience by industry, geography, role/title, company size, etc.
If you identify blogs or publications that you believe have your target audience than reach out to them and ask if they have a media kit. Much of the audience information will be in it, as well as pricing.
For paid social media and programmatic native units targeting options are robust. Here are the main ways people are targeting audiences today:
Context – making sure your content only appears around editorial content of a similar topic
Audience – targeting audience members with only certain attributes
Day-parting – targeting by day and/or time
Device type – only targeting audience members on desktop, mobile or tablet
Geo-location – targeting based on geography
Weather – yes, believe it or not some solution allow you to target based on weather conditions
Lookalikes – some solutions allow you to upload the email addresses of your existing audience (or ideally your existing activated audience) in order to find them in the network. Once they're found the network identifies attributes that those people have in common and targets people with similar common attributes.
If your goal is to build an audience and activate it than you'll be spending much, if not all of your time, energy and effort producing and distributing top-funnel content. As a result, native advertising is the paid channel you'll want to spend your time on. I've given you all of the major options. Now it's up to you to figure out how to divvy up the mix and how much you want to spend.
I recommend starting with smaller budgets and experimenting in the beginning. If you're having trouble setting up your first campaign query Google for help or reach out directly to the network of your choice. Also, LinkedIn's learning section (formerly Lynda.com) has several classes available for some of the native networks. These two resources should help you get your first native advertising campaign off the ground quickly.