This year I took on a couple of ambitious tasks. One was part of my professional development, to learn everything I could about artificial intelligence (AI) and marketing, and the other focused on annual native ad tech research, similar to what was presented here last year – the 2017 Native Advertising Technology Landscape.
Little did I know at the time, but an entire ebook came out of the subsequent AI research, "Everything You Need to Know About Marketing Analytics and Artificial Intelligence." It literally is everything you need to know about marketing and AI today and its impact on analytics, earned, owned and paid media. As a result, I'd like to share what I learned conducting all of this recent research.
Before we can start on the impact of AI on paid media we must first look at its impact on analytics. That, perhaps, above anything else has the most direct impact on paid media.
Analytics
Most of us are used to using one of the big three or so analytics platforms. They shall remain nameless. These platforms also own some of the largest online advertising marketplaces in the world. They don't have much of an incentive to help us spend less and achieve more.
As a result, they only focus on data up to one degree away from our websites. Here's what that looks like:

Most of us have grown used to looking at our analytics in this attribution model. However, this model only represents up to 20% of the data available within our topical sphere of influence online. If we want to view the other 80% the model would need to focus on data three degrees away from our websites. Here's what that looks like:

Using AI to pull in many disparate structured and unstructured data streams, analytics can actually see nearly 100% of a website's topical sphere of influence online, opening up the 80% we can't see using one of the big three analytics platforms. It's the equivalent of looking at the Internet like this: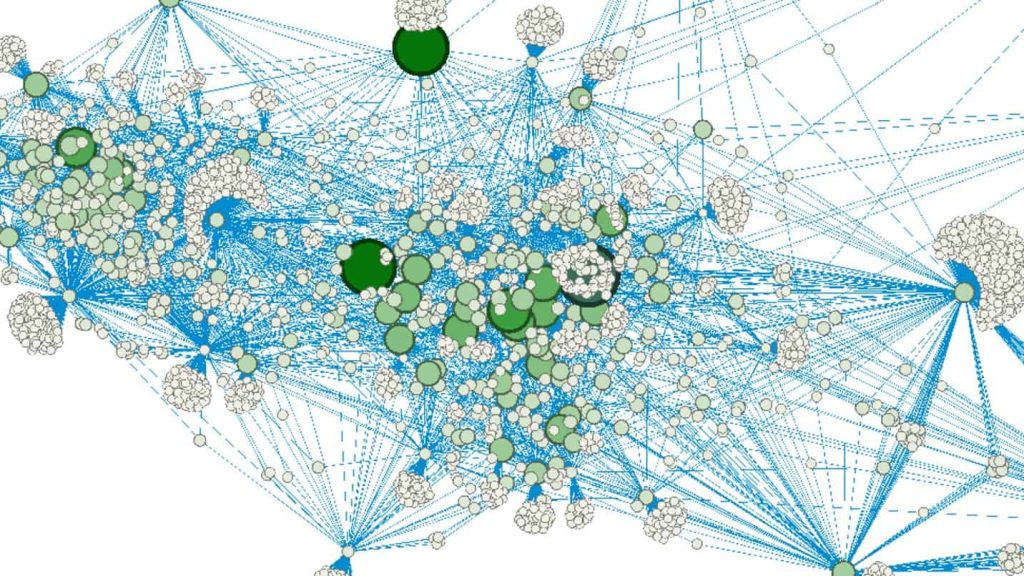 As opposed to just this view that the big three give us:
Having this view has a very significant impact on earned owned and paid media and I explore each and their subcategories in my new ebook. However, for this article let's now look at its impact on paid media specifically.
Display
The phrases "programmatic" and "real-time bidding" (RTB) have been all the buzz the last several years in and around display, and paid media in general. Occasionally, these phrases are discussed alongside AI, machine learning and natural language processing. While both programmatic and RTB systems have a tinge of AI, they really represent a bridge technology that's moving display advertising from its current state of mediocre-transparency, to a fully attributed and transparent future.
Two technologies will have the biggest impact on this transition – AI and blockchain. The display space struggles with both transparency and attribution. There are many third parties out there that stick their hands in the candy bowl and grab pennies at a time of our precious budgets spent. Add to that a glutton of spam bots committing click-fraud and you have a system rife with problems.
On average, display advertising has a 0.05% click-through rate. Of those click-throughs only 30 to 40% of them don't bounce immediately. The inefficiency of this channel is astounding. The first display ad was from AT&T back in 1994 and featured a 44% click-through rate. By 1998 click-through rates fell dramatically – closer to what we see today.
The good news is that technology is helping to fix these problems with inefficiency. In an AI-driven analytics environment that boasts three degrees of attribution away from the website, brands will not only be able to see the most efficient display channels driving traffic to them, but all of the channels efficiently driving traffic to all of the prudent website in and around their industry.
Through AI-driven analytics, brands will know exactly where they need to double down and where they need to pull budget. This level of insight is helping double, and even triple click-through rates and the overall post-click performance for display advertising.
Pay Per Click
AI-driven analytics solutions can surface the most impactful keyword phrases for a brand using many different unstructured data sources. PPC isn't just for advertising on Google. It identifies gaps and prescribes new keywords, bid adjustments and ad groups. It helps marketers more efficiently manage their budgets.
The possible combinations of keyword phrases, ad groups, targeting, etc. are nearly infinite for a brand. Allowing this big data to be analyzed using AI-driven analytics is the most efficient way to ensure a brand is investing in the best possible combinations and permutations.
Using machine learning the optimization only gets better over time. It's constantly improving to drive revenue or whatever goals are established for PPC. With its real-time nature, AI-driven analytics used to power account management, is especially critical for brands sensitive to fast-acting seasonal, market or consumer shifts.
While AI has made many end roads in PPC, it still is not at a level where account management can be completely automated without a marketer behind the wheel. However, future iterations built on top of neural networks with deep learning capability will get there. Just like AI can be taught to play a game better than a human, so too will it be able to run a PPC campaign by itself one day.
Native Advertising
AI is having a significant impact on native advertising already. On the ad tech side, the use of machine learning is creating cost per engagement models (CPE), as opposed to traditional CPC, CPM or CPA. This is ideal for marketers wishing to distribute their top-funnel content at scale. Content marketers want their content engaged with.
From an analytics perspective, all of the same benefits AI provides for display advertising are realized, too – knowing which sites are most efficient at delivering actionable traffic up to three degrees away. This data allows for budgets to be moved around only to those sites that perform and allows brands to pull budget back from those sites that don't. This level of visibility helps marketers avoid almost all of the waste, fraud and abuse associated with online paid media.
It also gives a very accurate competitive view. This is useful for other less obvious reasons. Collecting an inventory of competitor's creative assets in native advertising for those units that perform well can help give brands a competitive edge in their creative. In addition, the content intelligence built into AI-driven analytics lets the marketer know which content will likely perform the best when using native advertising solutions to scale distribution.
Sponsored Content
Content intelligence tools based on AI are also ideal for uncovering paid syndication and sponsored content opportunities. According to Margaret Boland of Business Insider, over the next five years sponsored content will be the fastest-growing native format. Sponsored content is considered long-form native advertising. It's an entire article or series of articles written by either the publication or the brand itself.
Content intelligence can help marketers make the ideal targeted list of publications and/or blogs to request sponsored content or paid syndication on. It also provides an ideal way to track its performance over time without having to rely on the publication to offer up data.
Paid Social Media
Over time, organic social media visibility for brands has drastically diminished. This forced many to invest in the multitude of in-feed paid solutions on social channels. In fact, 60% of total global programmatic ad spend on native advertising will be on Facebook by 2020.
Paid social media marketers realize the same benefits as described in the above programmatic native advertising section. However, one major benefit it provides with paid social media marketing is data independence. Marketers don't need to rely exclusively on the Twitter or Facebook dashboards to monitor performance. Data normalization and benchmarking across all social media channels is an advantage, too.
Also, with the three-degrees view, marketers will be able to identify where the user was prior to visiting the social media network. This information could prove to be highly valuable for identifying new places to advertise or to pitch a story idea to.
The bottom line on how AI impacts paid media is simple – better performance and less cost. Waste, fraud and abuse are better identified, and we have a better view of our industry's corner of the Internet. Join us again next week as we take a deep dive into the entire native advertising technology landscape. For more on how AI impacts earned and owned media, and their sub-categories, feel free to download my latest ebook.
A variation of this article first appeared on Martech.Zone.