Search engine optimization is a fast-moving field. To keep up, marketers must stay on top of trends, algorithm updates, and new tools. Have you updated your SEO strategy lately, or is it stuck in 2019?
Is SEO still relevant in 2023?
For those in the back, the answer is a resounding "yes!" Between artificial intelligence and algorithm announcements, the SEO marketing conversation is alive and spicier than ever. But how will SEO change in 2023?
What is the future of SEO in 2023?
Here are a few of our predictions for how SEO will change in 2023 and how you can get ahead of them.
Algorithms continue to prioritize helpful content
We saw an important Google algorithm update in September 2022. The "helpful content update" confirmed Google's intention to focus on people-first content.
As search engines become more and more sophisticated, the gap between black hat SEO techniques and truly valuable content is now a chasm. With the new algo update, creating content with the sole intention of ranking on the SERP will, ironically, help you rank even less.
Instead, Google recommends creating content that leaves readers satisfied and feeling like they've learned enough to achieve their goals. The helpful content update comes on the heels of Google's addition of a second E to the E-A-T quality guideline. These updates show that Google will continue to rank helpful content demonstrating experience, expertise, authority, and trust.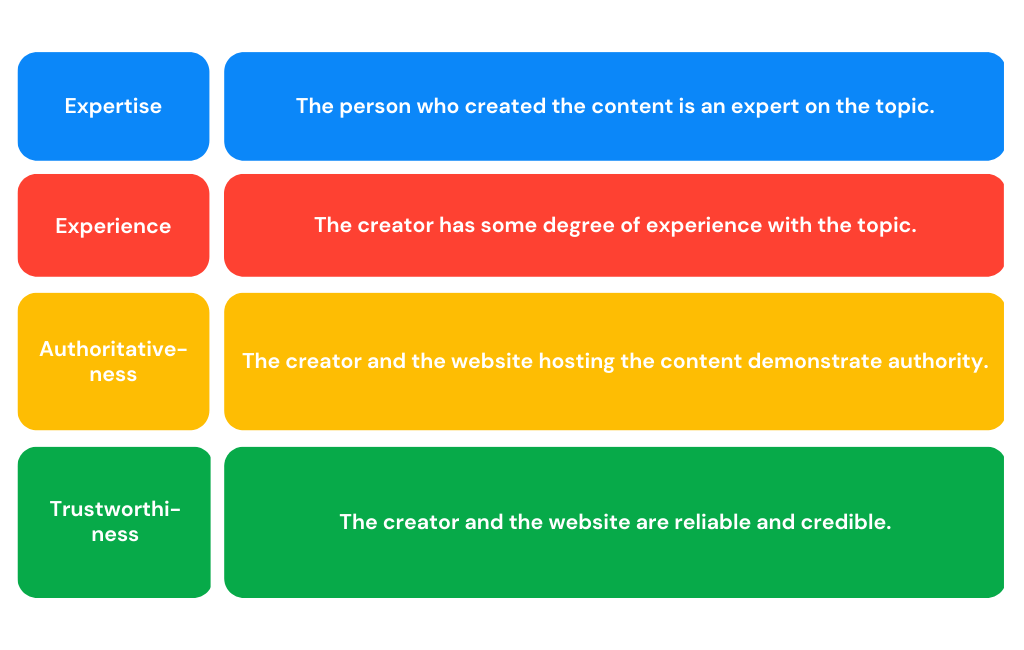 Navigating artificial intelligence and content automation
AI naysayers might have cheered as Google recommended against "content written for search engines." Do AI and automation tools have a place in creating content that's by humans, for humans?
Yes, absolutely. And they're not going anywhere. SEO tools have been around for years, and AI is the latest addition to the toolbox. These tools can help ensure a data-driven SEO strategy while saving significant time on previously-manual processes like:
Idea generation and brainstorming

Content briefs and outlines

Competitor research and analysis
Savvy marketers will start incorporating AI and automation into their content strategy ASAP while still putting people first.
New heights of technical performance
Content-centered algo updates and AI-generated content are the sexy trends in 2023. But your website's technical SEO performance is still as important as ever. And the bar is getting higher and higher.
These days, users simply won't stand for a website that loads slowly or looks off in any way. They can easily go back and click the next search result. Google announced its page experience update at the end of 2021, and will continue to emphasize performance in 2023 and beyond.
Continuous scroll and higher CTRs for lower-ranking content
At the end of 2022, Google finally introduced continuous scroll on the desktop SERP. Now, users no longer have to click to see a new page of results. While this won't change much with your SEO strategy, it is good news for content targeting competitive keywords. Content that sneaks into the 11-20 spots will likely start to see higher click-through rates this year.
How can I improve my SEO in 2023?
Here are some of the most prudent SEO techniques for 2023. (Sorry, but it looks like you'll be doing a lot of auditing.)
The content audit
Content marketing took off in the early 2010s. That means marketers have been diligently creating content for well over a decade. If you're working for an established brand, you have a lot of content on your site. Like, a LOT of content.
Do you regularly audit that content and look for ways to optimize and repurpose it? Does it need a refresh based on Google's helpful content update? Kicking off 2023 with a full content audit is definitely a good idea.
The keyword audit
As they say, one person's trash is another person's treasure. And unfortunately, 2019's treasure keywords might be trash in 2023. If your content focuses on an outdated keyword, you have a glowing opportunity to refresh that content with a cutting-edge keyword in mind.
The process audit
With the explosion of new automation tools, your SEO and content creation process deserves a fresh look. If you keep the same old process in place, you'll fall behind your peers who are exploring time-saving tools. In other words, what got you here… won't get you there.
The technical audit
Google's PageSpeed Insights tool will continue to be essential for assessing how your site stacks up against the latest technical standards. Look for new opportunities to optimize load speed and cater to users on a variety of devices.
User experience: Always has been, always will be
Here's the bottom line. In 2023, SEO will change in the same ways it changed in 2022. And in 2021, and before. Search engine algorithms will continue to refine the definition of quality to identify content that delivers an incredible user experience. As marketers, we'll continue to find new ways to educate, entertain, and delight.