As I shared in Why a free SEO tool junkie finally joined the paid club, we survived for years without a paid membership to any tool, but finally bought the SEMrush membership after landing a very prestigious client who needed what I can only describe as a 360 degree view of the marketing ecosystem.
We were required to research not just their SEO performance but their complete communication approach which included content, PR, social media, and advertising. What wasn't working so well?? What could we add to our own arsenal? Or in short, what were the digital opportunities that we could leverage given our own strengths and weaknesses?
Our brief was two part. First we needed to do a complete analysis of the existing competitive landscape and basis for our findings. We needed to draw up data driven strategies that would help us outperform the competition.
We considered only 2 other tools before we finalized with SEMrush. These were MOZ and Ahref and while they are both really strong tools in their own right, we felt that SEMrush was better given our very specific goals.
Getting started: The Bird's Eye View
We had experimented in the past rather successfully with SEMrush's free trial option so we had some idea of the tool features and leverage points. Our first stop was the domain overview and the traffic analytics which allowed us a bird's eye view to identify areas that merit further/in-depth exploration.
While both traffic analytics and domain overview tools seem to provide a snapshot of a website, they have different data sources and should be used for different goals. Domain Analytics makes estimations based solely on keyword position, so the traffic shown is only an estimation of what ranking basis the website could get. It does not reflect non-search traffic like social, referral, or direct traffic and is therefore not as accurate a measure of traffic as is Traffic Analytics which is based on clickstream data.
If this sounds confusing just have a look at the dashboards below and see what data you can expect to get in each.
Traffic Analytics
Traffic analytics is ideal for benchmarking your own traffic performance. Broken down by sources/location/device as well as all the other data cuts you would expect to see on the Google Analytics screen for your own website.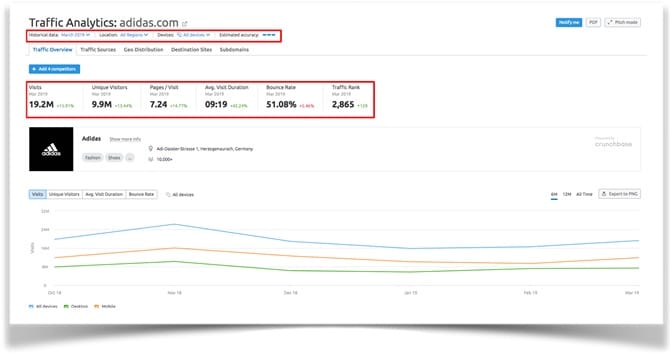 Domain Analytics
Domain Analytics on the other hand is best suited for comparing search performance and helps you create a more complete picture of the competitive backlinks, display ads, and organic and paid keywords.

Next steps: getting more specific
A small heads-up, the tool can be very overwhelming given the amount of data, sub filters, and cuts that it can show you. I would suggest you spend some time on the big picture presented by the two tools above to get a better idea of what areas you want to drill into further and in what priority.
For example, you may see that the bulk of traffic is organic, in which case you may want to know more about backlinks and performing keywords. On the other hand, it could be paid in which case you may want to pursue a completely different set of metrics.
There are basically 4 heads under which you can analyze the competition.  Each then has several tools under them depending on what information adds up to (what I believe is) a very exhaustive view of what your competition is up to. Each section has provided FAQs and user manuals that can give you a lot of detail on the how and why.
SEO
Advertising
Content and PR
Social
Now that you have an overview of where they fit in the grand scheme of things, let me explain each of these superpowers in some detail. I'm going to try not  into too many details as these are pretty powerful tools and it can get pretty tedious if you try and do everything at once.
A. SEO
A.1. Organic Research
This is great for understanding the keywords that the competition is ranking for, the traffic they are sending their way, as well as to identify new competition that you may not have known even existed. You can also map changes in keyword rankings over time –  wins and losses that could be indicative of current weak spots or recent campaigns.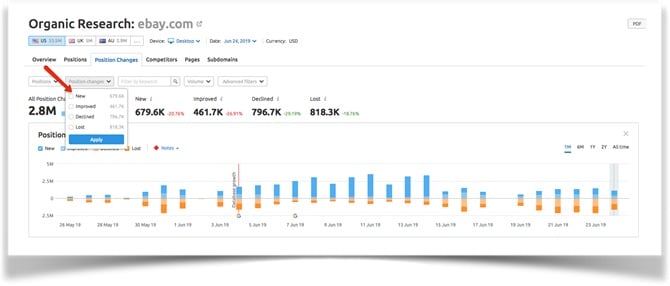 A.2. Keyword Gap (Available for both organic and paid competitors)
This is a keyword focused feature that allows you to compare performance for money keywords across both paid and organic competitors. Placed side by side, you can clearly see competitive strongholds and devise specific strategies to improve.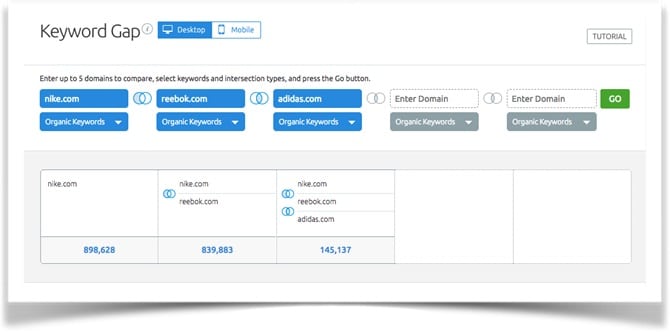 A.3. Backlink Analytics
Given that both the quantity and quality of backlinks are still such an important factor in Google's ranking algorithm, it makes sense to track and monitor one's own, as well as competitive links. You can map performance of pages against their backlinks as well as identify toxic links that may be hurting you.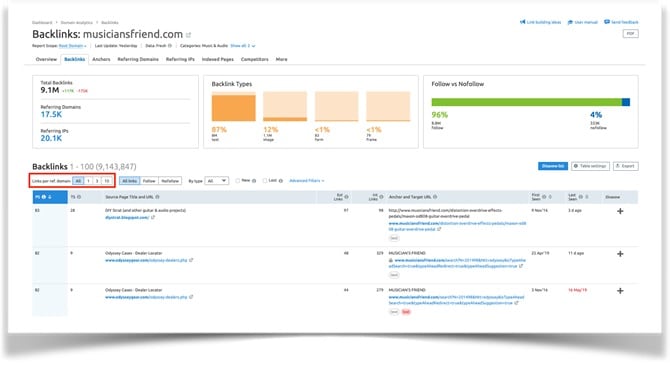 A.4. Backlink Gap
Similar in concept to keyword gap, this allows you to compare your backlink profile with up to 5 competitors side by side, letting you visualize opportunities in a single frame.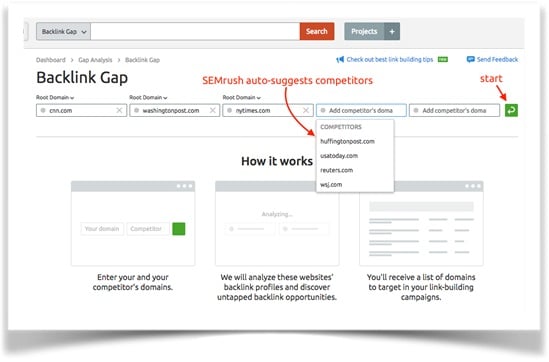 B. Advertising
B.1. Advertising Research
For categories with high amounts of money spent this can be an incredibly powerful tool to unearth several insights that would be hard to find otherwise. You can analyze keywords by cost-per-click, competitive density as well as actual ad copies going back to 2012.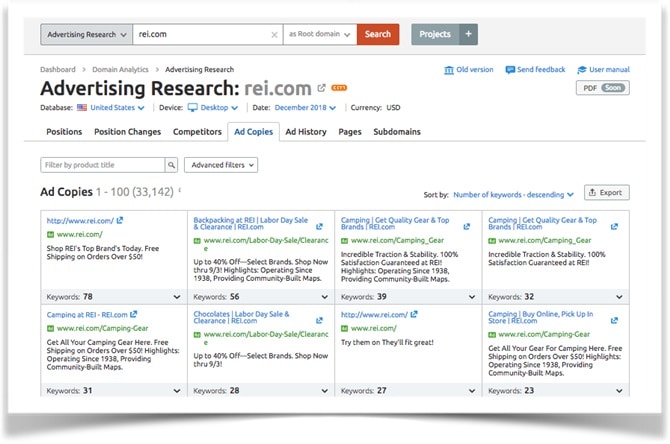 B.2. Display & PLA ( Product Listing Ads) Research
As the name suggests, this section unveils your competition's display network and shopping campaign strategy in 46 countries. Not only are ads a great fodder for developing your own campaigns and pricing, you also get valuable intel on the keywords that triggered them.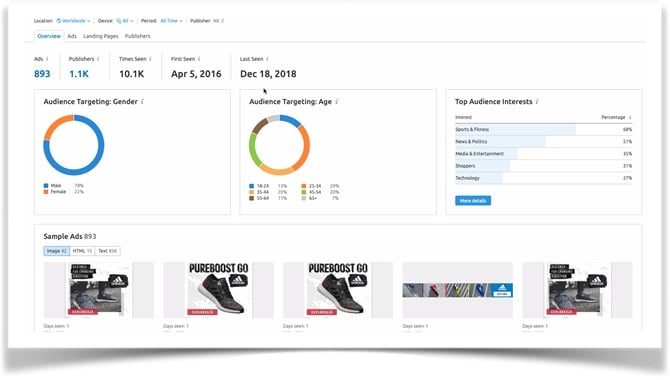 C. Content and PR
C.1. Brand Monitoring
Not only does this track online mentions of the brand that you specify (much like Google alerts), it gives you a lot of detail that makes the insight more actionable. You can see details like total mentions, positive mentions, mentions with backlink, specific domains giving you love, and so much more for the specified campaign and date range.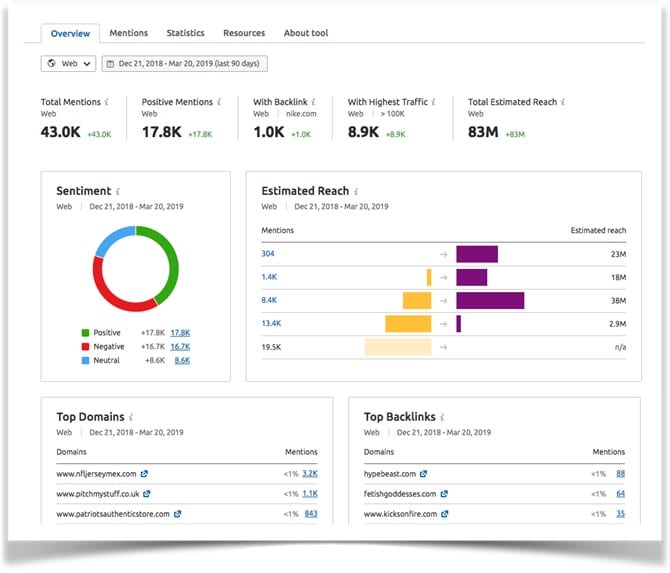 C.2. Topic Research
Frankly this is a great tool to find websites that cover the same topics as you or get an in-depth idea of competitive content. You can also generate ideas, headlines, questions, and a neatly laid out mind map to help you come up with your own content ideas.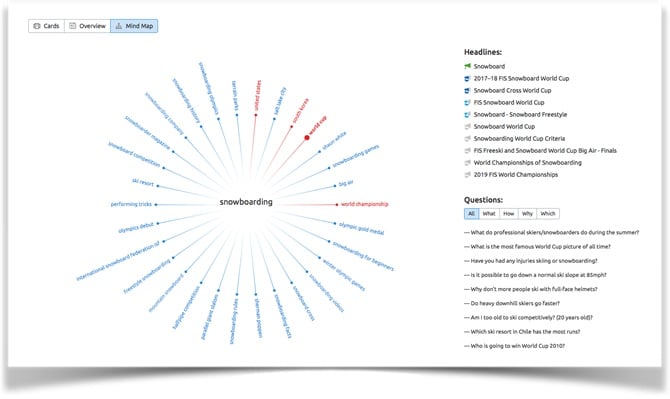 C.3. Post Tracking
This feature is useful to track the success (or failure) of your own and your competitor's third-party content efforts. You can see the keywords that it's ranking for, shares, backlinks, referral traffic, and estimated reach of individual content assets within any campaign.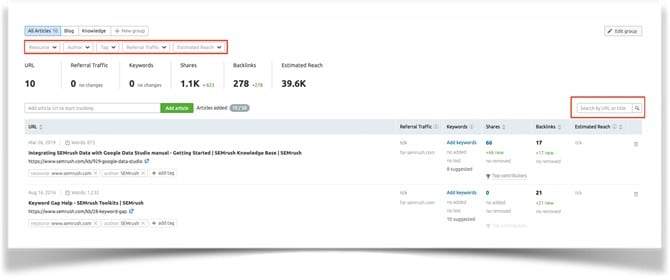 D. Social
D.1. Social Media Tracker
Last, but not least, the SEMrush competitive toolkit lets you monitor and track performing content for your competitors across Facebook, Twitter, Instagram, YouTube, Pinterest, and LinkedIn.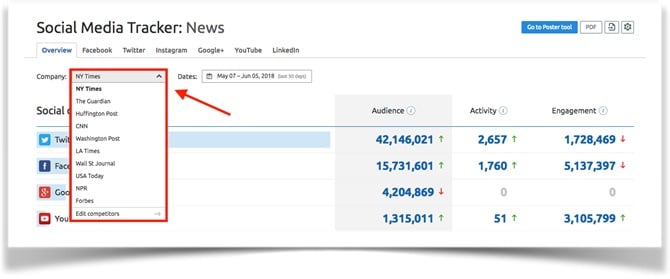 In summary, the real power of an SEO toolkit  does not lie solely in its ability to give us hard metrics against our own performance, but the ability to give us metrics for the complete brand ecosystem. Focusing only on one's own progress is taking a very uni-dimensional view that misses out on the complete picture.
You may also want to view the video below for additional information.
You can opt for a 7 day free trial today and get going. We look forward to hearing about your experience with competitive analysis tools or any questions that you may have in the comments below.