Lockdown, stay at home, work from home – for nearly 2 years, people have been encouraged to stay in more and go out less. This has had a huge impact on people's lifestyles, and subsequently, on the customer journey. More people are accustomed to the convenience of digital shopping, and they're less interested in in-person interactions.
Businesses need to move quickly to respond to these changes. Otherwise, they risk losing loyalty and sales.
Let's unpack the changes that COVID triggered and look at what you can do to ensure your organization is still enabling a journey customers want to take.
Key Takeaways:
The customer journey is different than it was pre-2020 and brands need to adapt.
A lot of these changes were already underway. The pandemic simply accelerated them.
To offer the post-pandemic experience customers are looking for, businesses need to increase digital, self-service, and no-contact options.
5 Ways the Customer Journey Has Changed
The restrictions and obstacles created by the pandemic forced both companies and consumers to adapt.
Retail businesses started offering delivery or curbside pickup.
Offices sent employees home to work, increasing the percentage of Americans working remotely from 22% to 42%.
A larger number of consumers started using digital shopping, contactless payments, and subscriptions for the first time or more frequently than they did before the pandemic.
Here are some of the key ways these shifts have changed the customer journey for the foreseeable future.
1. Digital shopping is now the norm

From March 2019 to March 2020, the portion of retail-oriented online credit and debit card purchases jumped from 19% to 30%. This new level of digital shopping has held steady throughout 2020 and 2021, indicating a long-term, or even permanent, shift.
To give consumers what they want, make sure your online buying experience is simple and straightforward. You can also up the convenience level even more with alternative buying options. For example, you could offer subscriptions, which allow consumers to put their digital purchases on autopilot.
2. Consumers are trying innovative ways to buy for the first time
An important indicator of how commonplace digital shopping has become is the percentage of households ordering groceries online instead of going to the store.
The shift to digital shopping for clothing, household goods, and other items has been going up for years, but pre-COVID, few people had even tried online grocery delivery – as of 2019, 81% of households never ordered online. By 2021, 36% of households had tried out online grocery shopping, and 64% never had.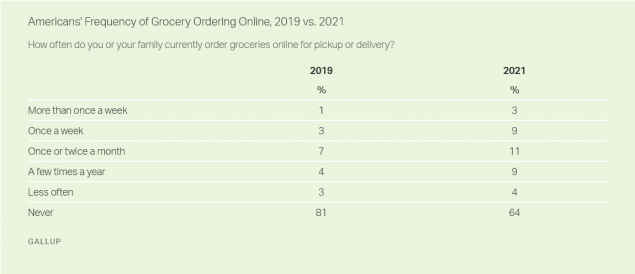 People also tried out subscription services during the pandemic, many for the first time. Because of the rise in interest in subscriptions, experts predict that 75% of direct-to-consumer brands will have a subscription offering by 2023.
3. Consumers now expect contactless payments
Another change is the way people pay. Before the pandemic, consumers were starting to use tap-to-pay transactions with their smartphones or contactless credit cards. However, adoption wasn't widespread.
Between 2020 and 2021, contactless transactions grew by 30%. Even more telling – nearly half of consumers won't shop at a store that doesn't offer a contactless option.
As Guido Sacchi, chief information officer at payment software company Global Payments, says consumers today are looking for "less personal, more digital."
4. They want more self-service options
Self-service is another customer journey trend that is accelerating post-pandemic. As people started using more digital options, they became more used to researching products and services, buying, and even resolving issues independently.
Self-service buying also resolves a lot of the friction points consumers have when it comes to shopping in person, such as congestion, long lines, and product availability problems.
The bottom line is, consumers want to resolve issues by themselves, and they want to be able to make purchase decisions on their terms, whether that's on the go with their mobile phone or sitting on their living room couch.
This is why it's important for brands to offer a wealth of useful information online through knowledge bases and other content marketing channels. The goal is to enable the customer to move as far along the buyer's journey as possible without having to walk into a store, call your business, or reach out for contact in another way.
5. Data privacy is a bigger priority
More digital, self-service touchpoints and fewer in-person interactions all offer greater convenience. But they also push more activity online, which has made consumers more focused on data privacy.
In PwC's December 2021 Global Consumer Insights Pulse Survey, 59% of respondents said they have become more protective of their data privacy over the past 6 months. Also, nearly half of respondents said that how well a brand protects their personal data impacts their level of trust in that brand.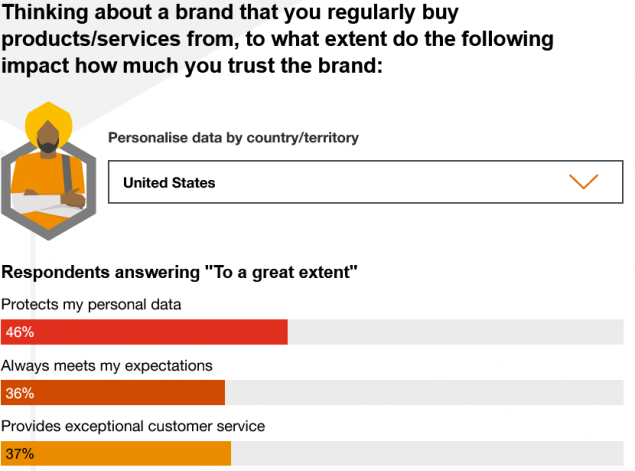 With consumers looking for more digital experiences, brands need to go the extra mile to assure customers that their data is safe when they are signing up for a newsletter, making a purchase, or sharing personal information in order to use a service.
How to Adapt to the New Customer Journey
After 2 years of disruption, the way consumers interact with brands has changed. People want more digital experiences, more convenience, and more peace of mind that immersing in an increasingly digital customer journey is safe.
To keep up with these evolving preferences, there are a few steps businesses can take.
One, build your digital presence to enable and accelerate the buyer journey. The more cohesive, helpful, and on-brand your website, blog posts, social media pages, online videos, ebooks, and other content, the more comfortable your target audience will be interacting with your brand.
Two, look at what you can do to enable your customers to browse, learn, and shop on their terms. The more tools you put at their fingertips – knowledge libraries, apps, online communities – the more they can solve problems, dig deeper, and satisfy their quest for solutions independently.
And third, prioritize trust. You can do this through transparency when it comes to how you handle personal data and by consistently expressing your authentic brand voice in all of your content.
More of the customer journey is digital, but that doesn't mean consumers don't still want a human experience. It just might happen more online.
First Image by McKinsey; Second Image by Gallup; Third Image by PWC; Thanks!