Search Engine Optimization (SEO) is the Holy Grail for today's marketers and website owners. There probably isn't a bigger joy than seeing your website hit the top position in the search engine result pages (SERPs). While content forms the core of SEO, other factors such as link building, engagement, etc. are also involved in the process. 
A few years ago, website owners could get away with black-hat SEO techniques such as keyword stuffing and paid links to increase their search rankings. However, with search engines constantly upgrading their algorithms, this kind of unethical manipulation has become increasingly difficult. For instance, Google introduced the Penguin update to identify such malpractices and penalize the websites. 
So, it has become crucial for you to develop other strategies to drive organic search engine traffic to your website. This is where influencer marketing can be of immense help to you. In very simple terms, influencers are people with a very large, loyal, and engaged social media following. They are usually perceived as experts or authority figures in their niches.
What is Influencer Marketing?
Unlike the elusive celebrities of yesteryears, influencers engage personally with their fans and share a friendly rapport with them. Their followers perceive these influencers as role models and swear by their recommendations.
Today, consumers are often skeptical about choosing brands that blow their own trumpet. They'd rather rely on reviews and recommendations from a trusted expert. According to a study by Collective Bias, 30% of consumers prefer products that are endorsed by non-celebrity bloggers. As opposed to this, only 3% of consumers would rely on celebrity endorsements. 
In addition, when collaborating with influencers, you don't have to go through the excruciating task of identifying your target audience. You just have to collaborate with the right influencer from the right niche. The task of engaging with your target audience is taken care of by these influencers. 
As is evident, influencer marketing offers immense potential in terms of boosting brand visibility and generating leads. In addition, it also has a huge impact on your search engine rankings. This is something marketers often fail to recognize and leverage. Let's take a look at exactly how influencer marketing can improve your SEO.
Also Read: How To Use Influencer Marketing To Promote Your Business
1) Helps You Build a Power-Packed Link Profile
"Google only loves you when everyone else loves you first." – Wendy Piersall 
This quote by the famous artist and designer holds true for all search engines. Search engine bots determine your position in the SERPs based on what others are saying about you. This means the quality of your link profile (backlinks and internal links) is an important factor in deciding your search engine rankings. 
In the absence of other means, website owners often resort to buying backlinks. However, if and when such practices are recognized by the search engines, your website will be penalized. 
Influencer marketing allows you to build a strong link profile with organic and high-quality backlinks. When influencers with their own websites create content that links to you, they generate a high-quality backlink for you. And when an influencer shares your link, it is likely to be further shared by their followers, thus strengthening your link profile further. 
Most influencers also have access to high-authority websites in their niche. With the right kind of content, you can grab the attention of such websites. This, in turn, gives you the chance to earn backlinks from such high-authority domains.
This is exactly how WordStream earned a coveted backlink from The New York Times. The online advertising platform published an article on a trending and controversial topic. They shared the link on Twitter, tagging several influential journalists in the tweet. These journalists retweeted it further, helping the post go viral within a short span of time. 
Eventually, the post reached the editors of the The New York Times, earning WordStream an editorial link on their website. In addition, WordStream also scored an editorial link on Politico. The website earned a total of 236 links, many of which were from high-authority domains. They also experienced a four-fold surge in referral traffic. 
2) Adds Fresh and Unique Content
Even the best marketing professionals find it difficult to churn out new content day in and out. However, to maintain steady search engine rankings, you need to upload unique and high-quality content regularly. You also need to ensure that the content offers some value to the readers or viewers. Only then will it be considered useful by the search engines. 
After all, they earn their livelihood by creating valuable content for their followers. In fact, according to a study, 96% of people prefer content with input from industry thought leaders. 
You can collaborate with influencers to create sponsored posts or content for your website. It can be in the form of guest posts, product reviews, or a complete social media takeover.
For instance, Sony Alpha invited photographers and Instagrammers to take over their Instagram page. All they had to do was upload pictures taken using a Sony Alpha camera. Coming from trusted influencers, such posts also doubled as testimonials from real-life users.
Image via Instagram
In addition, influencers can use their friendly rapport with their followers to urge them to create their own content using your brand's hashtag. This acts as an inexhaustible source of user-generated content, creating further awareness about your brand.
Also Read: These Campaigns Will Teach You a Thing or Two about Successful Influencer Marketing
3) Boosts Content Reach and Engagement
Creating high-quality content is of no use unless it reaches the right people. This is especially difficult when your audience is flooded with content from different channels. Influencers help you cut through this noise and take your content to the right audiences. 
This is especially important when you want to target millennials. In fact, 60% of millennial subscribers rely on recommendations from YouTube influencers over endorsements from traditional celebrities. Such followers have a better chance of engaging with your content, increasing your website traffic, and improving your search engine rankings. 
Owing to their massive following, influencers can increase the reach of your content when they share it on their social media pages. If your content hits the right chord, it might be further shared on social media by their fan community. This will generate buzz about your brand online, which, in turn, will have a positive impact on your search rankings.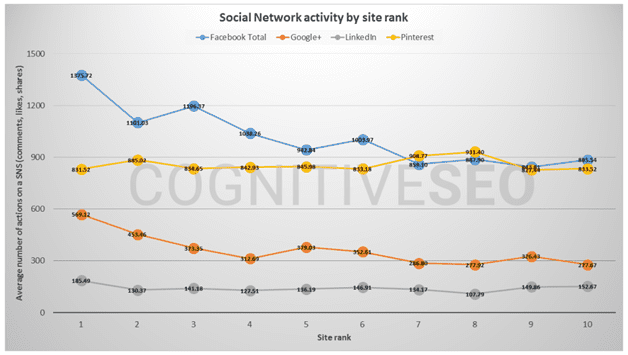 Image via cognitiveseo.com
Final Thoughts
The rules of SEO are ever-changing. Search engines are constantly developing new algorithms to combat unethical practices. In such a competitive scenario, it is imperative that you devise innovative strategies to improve your search engine rankings. 
Partnering with influencers also lets you create unique and engaging content and earn high-quality backlinks. All of these factors have a positive impact on your website's search engine rankings. 
It is high time that marketers get creative and utilize the potential of influencer marketing to improve SEO. What are your thoughts on this? Share them with us in the comments section below.