In 2015, Google rebranded their Webmaster Tools as "Search Console" to cater to a wider audience. 
But the purpose of the toolset remains the same — to help website owners, marketers, SEO companies and professionals, and designers monitor their page performance on Google's search index.
Google Search Console has many marketer-friendly features and tools. 
Like what?
It provides information on crawl data, search index and appearance, and technical status updates. Plus, it can check your site's mobile usability and integrate insights from Google Analytics as well. 
Considering that clickthrough rates (CTR) increase by nearly 30.8% on moving up one spot on the SERPs, it's worthwhile to invest time and energy into researching Google Search Console. 
Let's expand on it, shall we?
5 Reasons Why Marketers Need to Leverage Google Search Console
Google Search Console can provide a wealth of information that marketers can use to finetune their content marketing, SEO, and targeting.  Here are the top reasons why modern marketers need to master this toolset:
Reason #1: It Assesses Your Inbound and Internal Links
Link building is an essential part of online marketing, SEO, and brand building. When high-authority websites link to you, it's like a vote of confidence for users as well as Google.
Not only that, internal linking helps keep visitors glued to your websites, which increases dwell time and engagement. 
Google Search Console provides a detailed Links Report after analyzing your backlinks and internal links. It includes information such as:
Top linking domains (sites that link to you the most)

Your top-linked pages (globally and site-wise)

Your top-linked text

Most linked pages internally
From these insights, you can spot internal linking opportunities to boost visitors' time on site. You can also create more content pointing to your most-linked text and bask in the reflected attention. 
Anything else?
Yes. If you use tools to analyze backlinks, you'll be able to identify and disavow spammy and low-authority links, thus keeping your backlink profile healthy.
Reason #2: It Provides Insights about Your Real-Time Performance
It may sound cliche to you, but customers are indeed the king, especially in the digital world. Everything about modern marketing hinges around user experience. Even if your marketing is on-target, you can't hope to keep visitors on-page if your UX is less than perfect.
That's where Google Search Console can come in handy. 
How so?
The Core Web Vitals Report they produce assesses how your pages perform in real time. Among other things, the report measures your site's load time, which has an impact on your bounce rates. Think With Google research states that bounce rates increase by 32% when load time increases from 1 sec to 3 sec.
If you find your pages on the lower end of the speed spectrum, you can change your web-hosting provider or experiment with different file formats.
Apart from page speed, the report also talks about how your pages perform on mobile devices and desktops. It groups together pages by URL and digs out performance issues related to each URL group. It expands on each issue and provides suggestions for improvement as well.
As a marketer, you can work with your developers and designers to resolve these UX issues. By providing a more painless and seamless experience to your visitors, you can encourage them to revisit and recommend your site.
Reason #3: It Evaluates Your Site's Mobile Usability
In 2015, Google rolled out an update that favored mobile-compatible websites. It was a huge incentive for marketers and webmasters to optimize their digital properties for small screens. 
Building on that premise, Google Search Console offers two ways to evaluate and optimize your site's mobile-friendliness:
Mobile-Friendly Test Tool:

Just type your site's URL into the tool and check whether or not it renders well on mobiles. Check out the results for my website, shanebarker.com: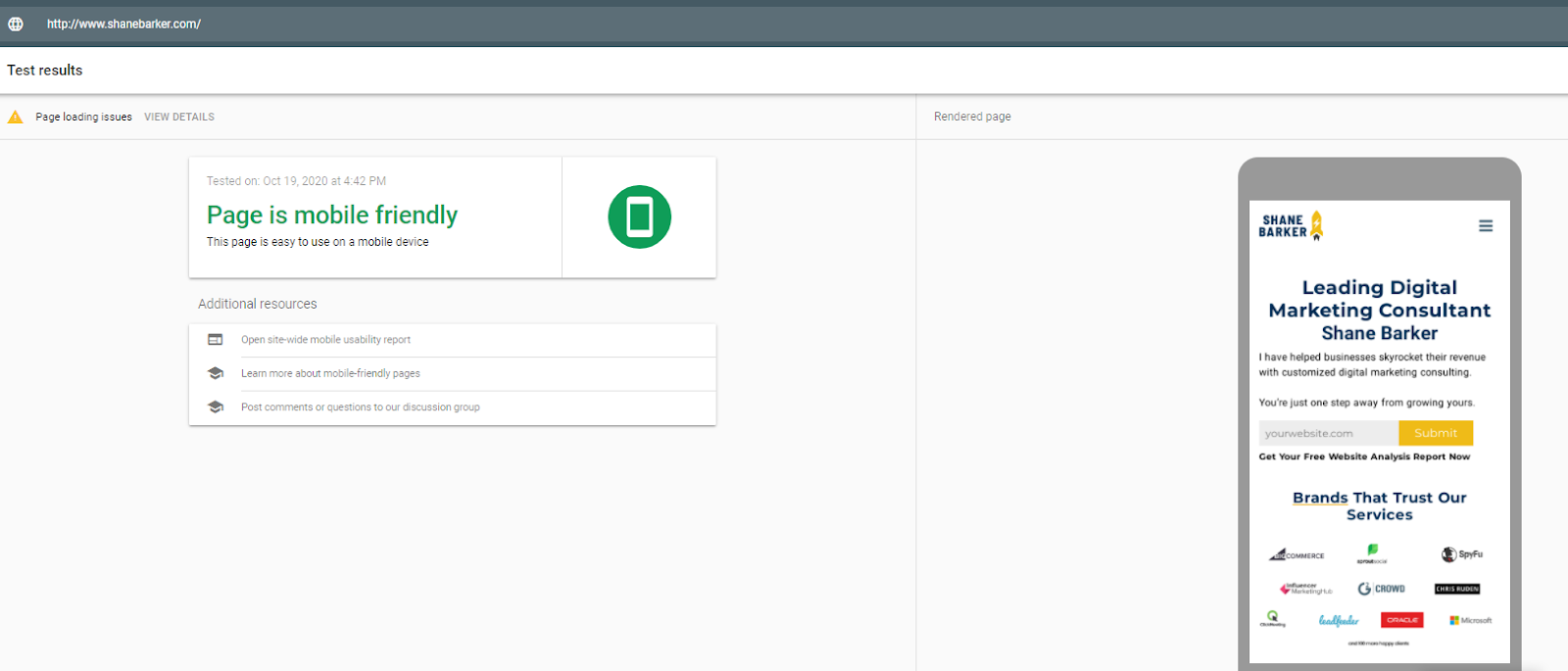 On the right is how my homepage appears on mobile screens. You can see that, on the whole, the site is "mobile friendly" but there are a few loading errors. I can click the "VIEW DETAILS" link to dig into these issues and loop in my developer to iron them out.
To give you some more insights into this report, I repeated the test with another website, and here's what I found out: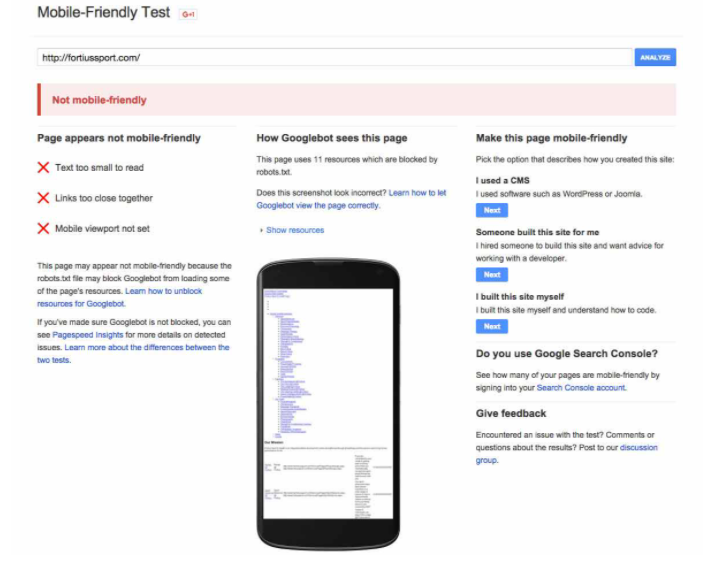 You can see the technical issues listed on the left and improvement suggestions on the right. Even if you use website builders with responsive templates, it's essential to run your pages through this test to ensure they meet Google's standards of mobile compatibility.
Mobile Usability Report
While the Mobile-Friendly Test analyzes the overall mobile-readiness of your site, it doesn't drill down into page-by-page issues. For that, you can use Google Search Console's Mobile Usability Report. It pinpoints issues on each page and also identifies areas for improvement. 
Whenever you make significant changes to your site's look and feel, make it a point to run this check. This way, you don't disrupt your site's mobile experience and marketing funnels.
Reason #4: It Offers Insights about Your Search Performance
Since Google searches are a major source of traffic for most sites, it's essential for marketers to understand how to fare well on them. 
If you sign up for Google Search Console, you can get your hands on their Performance Report for Search that answers questions like: 
What is your average position and CTR in relevant searches?

How often does your site figure in searches?

Does Google draw any rich results (snippets) from your site?

Which queries originate from mobile devices?

Which of your pages are scoring maximum and minimum clicks?
Using the above data, you can improve your mobile targeting, keyword strategies, HTML, and site architecture. 
While all of this might sound too technical to your marketer ears, it's a fact that SEO, design, and marketing need to be perfectly aligned in the digital world. When you align your page content and structure to Google's expectations, your search performance is bound to excel.
Additionally, if you monitor the report periodically, you can spot peaks and troughs in rankings, traffic, clicks, and impressions. Correlating the data with other reports, you can figure out why your rankings dropped and how you can get them up again. 
By keeping pace with Google, you can diagnose rank drops caused by sudden algorithmic changes. 
Is that all?
No way.
Not only Search, but you can also edge your way into Google's Discover as well. Unlike Search which throws up content based on queries, Discover shows content based on the latest news and user behavior trends. Traffic from Discover can supplement your organic search traffic. 
Regarding Discover, Google says this:
"Our automated systems surface content in Discover from sites that have many individual pages that demonstrate expertise, authoritativeness and trustworthiness (E-A-T)."
Google Search Console's Performance Report tracks your Discover content's performance and helps you build brand authority.
Reason #5: It Helps Crawlers Index Your Pages Better
Last, but perhaps the most important application of Google Search Console, is in site crawling. It dictates how Google crawlers find and index your pages, which has a direct bearing on your content's visibility.
From a marketer's perspective, there are many aspects of site crawling that are relevant.
For instance, the Coverage Report and URL Inspection reports show the errors crawlers encountered when they attempted indexing your pages.  Here is a sample report for you: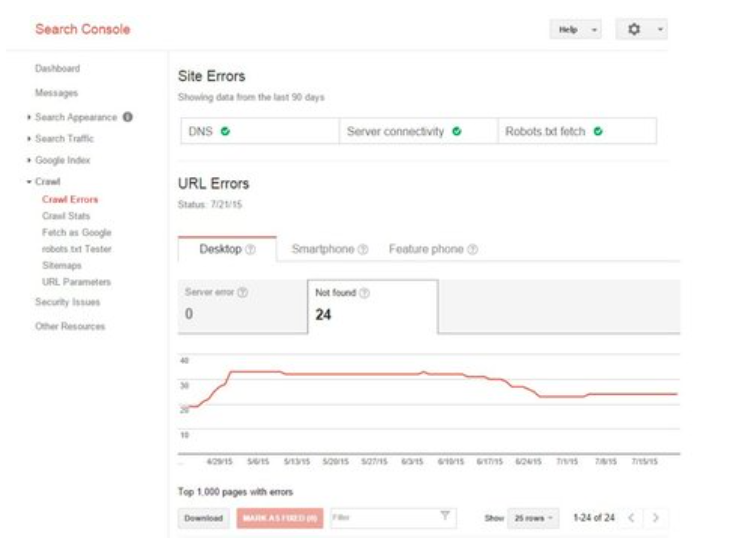 You can check out Crawl Stats to understand which of your pages were indexed by Googlebot in the past 90 days.

Ideally, the number of downloaded pages will be high and the download time will be as low as possible. If that's not the case, you may need to overhaul your site's architecture, content, and/or experience.
Marketers can also utilize the "Fetch as Google" feature to see how Googlebot views their pages vs. how a visitor sees it. At a glance, you can spot discrepancies between both views. 
From the sample report below, you can see that Googlebot couldn't access the banner and panel images. If these images are opaque to crawlers, it means they won't be indexed correctly.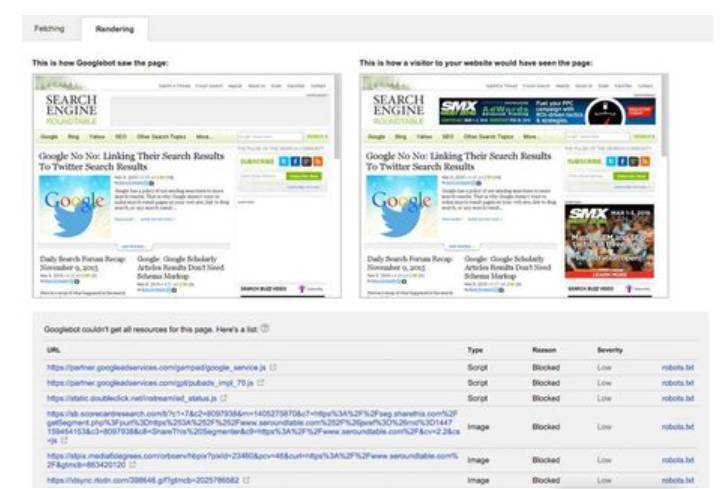 Proactive marketers would plug the gaps so that their site's ROI is not impacted.
Ready to Use Google Search Console?
Google Search Console is a goldmine of data that marketers can use to sharpen their strategies. It's more user-friendly than Webmasters Tools and completely free of charge. By using it as I've explained above, you can ensure maximum visibility of your websites, ads, and content pages. You can also nail your technical SEO game.
Do you have any questions about this article? Please write them in the comments below. I'll be back with the answers as soon as possible.