It doesn't matter whether you're planning to start your own business or have an established brand. Instagram product promotions are for everyone.
As of April 2021, Instagram recorded 1.29 million users worldwide. Users spend more than 53 minutes daily on Instagram, more than Facebook or Twitter. Besides, it has the highest engagement rate among all the other social platforms.
Budding entrepreneurs leveraging profitable online business ideas often begin their product promotion on social platforms. Brands are a little hesitant at the beginning but sooner they also adopt different product promotion strategies to expand brand reach.
Therefore, businesses of all kinds — whether a startup or an established brand — should elevate their Instagram marketing strategy for a powerful brand presence to attract and engage with potential customers.
However, drawing the attention of the majority of users is not a piece of cake, especially when 100 million videos and images are posted every day on Instagram. Businesses need to continually assess and adjust their Instagram strategies to stand out. Listed below are the top hacks to promote your products on Instagram.
1. Adopt Instagram AR Filters
The new in-house AR filters application — Spark AR Studio by Facebook — is a great way to create original augmented reality effects for Instagram Stories.
AR filters work with the user's camera, allowing them to add a layer of imagery in the foreground or background of their image.
Here are some of the things you can do with AR filters to engage audiences on Instagram:
Create filters that users can use on their images to get an experience of how they would look with your product.

Use best-in-class face tracking to create realistic effects.

Allow users to interact with what they see using touch gestures.

Put your content on real-world objects and places or transport people to new places.
When you add a fun element to your Instagram product promotions, people are more likely to engage with your brand.
For instance, NARS cosmetics used AR filters to enable users to virtually try on the lipstick shades of their choice. The idea was excellent and it attracted women of all ages to try a lipstick shade they love.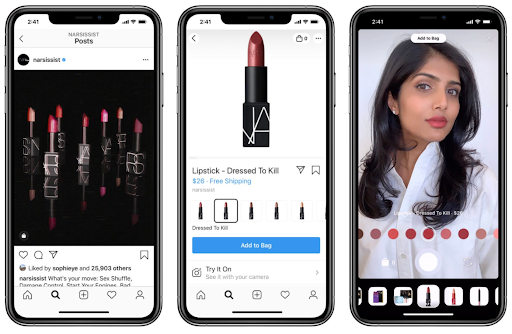 Trying leads to buying. Start using AR filters to encourage users to try your products and you'll acquire more customers. 
2. Embrace Instagram Reels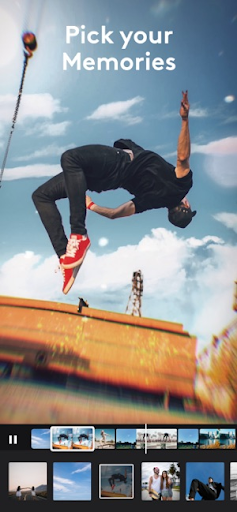 Instagram allows you to upload 30-second multi-clip videos under its new Reels feature, inspired by the highly popular TikTok. It's an amazing way to promote products or raise brand awareness.
You can utilize Instagram's creative editing tools to create short, relevant, and engaging content for your audience.
You can use a video editor such as Beatleap to create short video clips. The app lets you easily pick your content and add music to it effortlessly. You can create incredible videos in just a few taps – the app uses intelligent automation to sync the music to the footage you feed it.
For example, fashion brand H&M shared this Reel to showcase sixteen outfits in thirty seconds to promote their latest collection. The video is relevant and displays the products in a unique manner.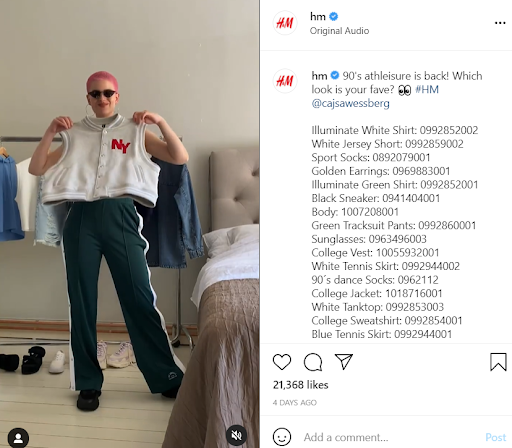 You can also utilize Facebook Creator Studio to create and edit your Reels. Another option is the Instagram camera to create reels on the go.
Make sure you consistently post content from your Instagram business account. Who knows which of your reels might go viral and drives tons of traffic to your Instagram Shop?
3. Use Instagram Video Subtitles and Closed Captions
Approximately 30% of Instagram users view stories without sound. Add subtitles and captions to your videos so that any important marketing message is not left unheard in your Instagram product promotions.
Take a look at this Adidas video posted on Instagram in June 2021. The video is of the Euro 2020 game, showcasing the power of unity and celebrating sport as a connector of people, ideas, and creativity. With captions, the video became more meaningful and easier to understand for viewers even without sound.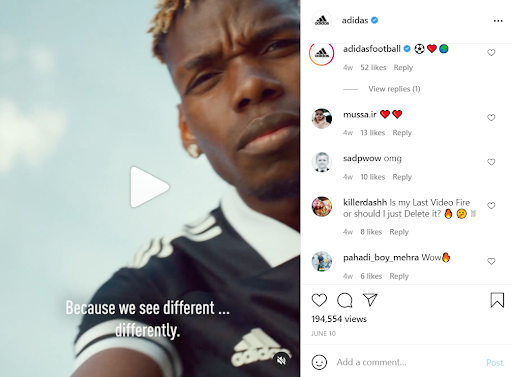 Facebook has the option to create an auto-captioned video while uploading, which you can save and then post on Instagram.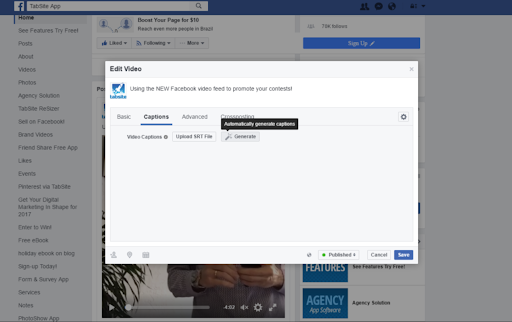 However, you should check the caption for errors. Alternatively, you can also create your own dedicated captioning file.
Make sure to add captions on every video you share on Instagram to expand the reach of your marketing messages.
4. Set Up Your Instagram Shop for Product Promotions
Instagram shopping is a free-to-use feature that enables you to build your own mobile-first custom storefront.
If you are selling products online then you should take a look at the Instagram shopping feature for your business. With the help of this feature, users can shop your products directly via your business profile, stories, or posts.
Users can tap product tags, save items on a wishlist, or buy directly with FacebookPay. Tapping on the product tag reveals details such as name and price. Users can save items on their wishlist while browsing and check out with Facebook Pay for a seamless buying experience.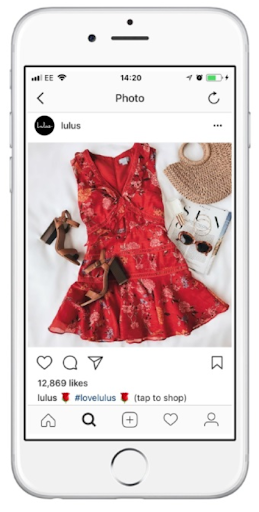 To enable people to buy your products directly from Instagram, create collections in Instagram Shops similar to your eCommerce store. Link to products in a live stream or stories to help users quickly get to the product page and buy.
In the image at right, you can see Lulus has set up its Instagram Shop. When a user taps on the image, they land on the shop from where they can buy the product.
5. Leverage Instagram's Messenger Feature
Instagram Messenger works similar to Facebook Messenger. The two messaging platforms are merged to easily capture conversation threads and stay connected.
Start using this feature to manage customer communication across Facebook and Instagram. Instagram Messenger will help to save your time and be active on both platforms.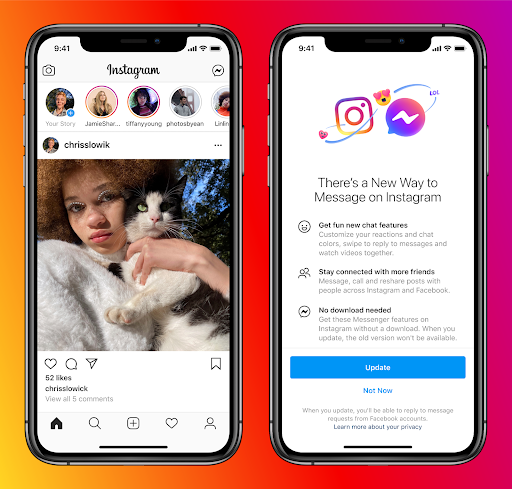 You get several benefits from merging like this. For instance, you can reply to specific messages, send stickers, animated messages, and custom emoji reactions. It also has the vanish mode, using which you can send messages that will disappear after reading the message or closing the chat, hence offering more privacy.
Leverage this feature to stay connected with your audience or fan following more closely. 
6. Mix Professional Photography and User-Generated Content
User-generated content (UGC) has a 4.5% higher conversion rate than non-UGC posts. Start leveraging the power of UGC content to increase your brand reach on Instagram.
The biggest advantage of posting UGC is that customers are able to see themselves with the product on your Insta page, which triggers more sharing and likes.
Encourage your customers to post their images with your product by sponsoring a contest. Thereafter, you can mix these posts with professionally produced images to boost brand reach.
Take Teva for example, which manufactures sports sandals. The brand used both professional photography and user-generated content. It helped the brand convey a straightforward message: "Teva sandals are for everyone."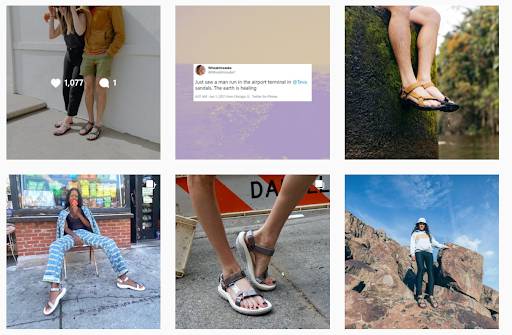 7. Professional Model Images with Styled Product Shots
Many brands use professional model images on their Instagram profile, but you can bring a twist to it by combining it with styled product shots.
Capture the best angle of your products to showcase how stylish they look. Keep posting these images with professional model images to promote both their qualities and looks.
Beardbrand, a line of high-quality grooming products, used Instagram smartly to create and share the sophisticated lifestyle of their target market. They used product shots that not only appealed to their audience but also enhanced the thought of men's grooming in general.
8. Using Real Customers as Models
There is perhaps no better way to be authentic and connect with the audience than posting customer's pictures on social media. When you post customer images, it becomes so easy for the audience to relate themselves to the brand.
Start collecting pictures directly from customers or routinely take pictures of customers using your products or services. The images do not necessarily have to be of professional quality. A random or natural snapshot can do wonders for your strategy. However, never forget to get customer permission before using their photos on your Instagram business account.
Some brands such as Chubbies used this idea and garnered a huge number of followers. The diversity in the following images shares different emotions such as humor, light memories, and experiences. They successfully engage their target audience of 18-40-year-old males, while improving their brand reach.
Some Final Thoughts on Instagram Product Promotions
Instagram has grown immensely in recent years and continues to be a top platform for brands to running marketing campaigns.
The rush to market on this social media channel and regular changes in its algorithm makes it tough for businesses to stay on the top of the Instagram trend.
If your brand is struggling to get audience attention, try out one or more of the above strategies for Instagram product promotion.