The content promotion industry is starting to grow up. It's now being regularly written about by marketers and communications professionals of all stripes. Hell, we even created an entire publication dedicated to the topic. With the buzz bubbling and the posts popping, one thing is clear – there's still a lot of confusion about content promotion channels and the tools used to effectively tap into them.
In an effort to eliminate this confusion, the Venn diagram below defines where each tool resides in the content promotion ecosystem and which channel(s) it impacts. Many tools can impact multiple channels – all of which are defined below.
Note: Email service providers and tools built mostly to create, manage and measure owned media were intentionally not included in the ecosystem, but could be.
An argument for including content curation engines can be made, too, but getting other people to curate or syndicate a brand's content is done using the media relations tools below and establishing real relationships.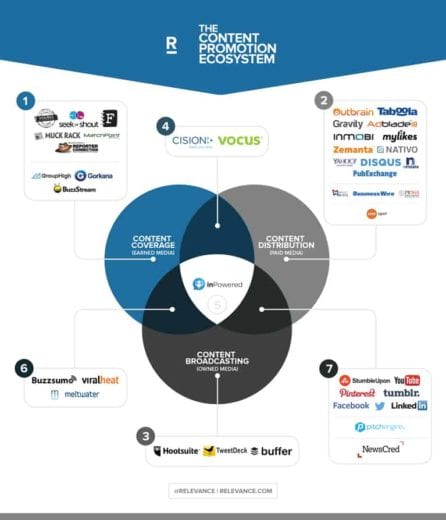 Click for high-resolution version
As shown above, there are a lot of different tools that make up the content promotion ecosystem. Many of them are very different from each other. However, what binds them all is their ability to help promote a brand's content on owned, paid or earned media channels. Many of the tools can influence two or more channels. Let's take a deeper look at the channels and the tools that impact them.
1. Content Coverage
This part of the Venn diagram is composed of two similar – but different – sets of tools that empower brands to earn media coverage. The first set includes:
HARO
Seek or Shout
FlackList
Muck Rack
MatchPoint
Reporter Connection
These tools can be best described as classified ads for the media. Journalists can upload requests to interview subject matter experts on almost any topic. Requests that require experts from a brand's industry can lead to an interview.
An interview is great, but if the interviewee has a blog post, whitepaper, guide, ebook or study that addresses the reporter's questions it should be shared, too. If it's good enough, the brand's content could be cited in the article. Citations of this nature can drive thousands of click-throughs and online conversions in a short amount of time.
The second set of content coverage tools is similar in that they help brands earn media, but how they go about it is slightly different. For example, Gorkana has a large media database that empowers its users to organize and target journalists to pitch. It also includes social media monitoring and analytics reporting.
On the other hand, BuzzStream is a great tool for discovering industry influencers to pitch. This could include journalists but also includes popular social media people and bloggers. In addition, it features a tool that assists SEO professionals in link building.
GroupHigh is a tool that empowers marketers and PR folks to be successful at blogger outreach. Specifically, it helps to identify influential blogs, automate research and measure engagement to make outreach marketing more successful.
2. Content Distribution
The set of tools identified for content distribution below is most commonly associated with native advertising. Generally, they empower publishers with the ability to "recommend" related articles – onsite or offsite – to their readers and do so in a nonintrusive way. Content recommendation solutions have the ability to get branded content in front of millions of eyes in a short amount of time.
Taboola
Outbrain
Gravity
Adblade
InMobi
MyLikes
Zemanta
Nativo
Yahoo Stream Ads
Disqus
Nrelate
PubExchange
Additionally, tools like Marketwired, Business Wire, and PRWeb are generally known as online press release distribution tools. While these tools distribute content differently than the native tools described above, the two groups both represent paid media solutions.
The last tool presented in this section is OneSpot, an enterprise content distribution solution that taps into multiple ad networks at once. It leverages the power of the Facebook Exchange, Microsoft Advertising, DoubleClick Ad Exchange and AppNexus.
3. Content Broadcasting
This is the least represented section of the three major areas of content promotion. It's also the least effective for most brands that don't already have a large or significant social following. In addition, Facebook is slowly turning off the spigot for organic brand reach. Other social platforms are likely not far behind. Because of this, brands should be wary of relying solely on content broadcasting.
Hootsuite
TweetDeck
Buffer
Email service providers would reside in this section, but – as previously mentioned – were intentionally not included in the ecosystem because adoption is mature.
4. Content Coverage & Distribution
Cision and Vocus are fairly similar tools. Both have dove head-first into the content marketing and social media space and are useful to both marketers and PR professionals. Gorkana, described under content coverage above, has many of the same features but lacks connection to existing native ad networks.
While these tools might be best known in the media relations space, they have both made strides to provide massive value to marketing and communications professionals of all kinds, and in many different ways.
5. Content Coverage, Distribution & Broadcasting
Only one tool in the content promotion ecosystem lays claim to impacting all three major channels – owned, paid and earned media. inPowered acts as a search engine to find trusted earned media coverage of brands, products, and services.
Users of this tool can then choose to socially broadcast the earned media coverage and distribute it across multiple paid networks in a turnkey fashion. It also measures the impact the content has on consumers in real time using a simple popup.
6. Content Coverage & Broadcasting
Viralheat, Meltwater, and BuzzSumo users are empowered to identify influential people and content around prudent topics at scale. All three solutions allow users to broadcast the influential content produced by others and can assist with media relations. Both Viralheat and Meltwater offer enterprise solutions for online listening, intelligence and reporting.
7. Content Distribution & Broadcasting
Generally speaking, any social media platform that offers some type of paid native promotion falls into this category. Brands can broadcast their content on these channels and extend their reach using paid distribution.
PitchEngine is a marriage between the press release and social media. It's kind of like its own social network that integrates with more well-known social networks. It also maintains its press release circulation network for easy distribution of content.
NewsCred is a fairly robust tool that allows marketers to plan, execute, manage and measure content marketing. Built directly into the tool is the ability to both socially broadcast and distribute content on native paid channels like Facebook, Twitter, LinkedIn, Taboola, Outbrain, and Google.
Hopefully, this article will help clear up some of the confusion that still exists in the burgeoning field of content promotion. Adoption of content broadcasting – including email and social media – is well established and has been for quite some time. However, native distribution and content coverage through media relations is just beginning to catch up. Since the majority of brands feel their content marketing is ineffective, let's hope the other channels catch up soon before companies begin to question its efficacy.
For more help with earning content coverage and paid distribution download this cheat sheet.