Nearly every native ad (content recommendation) network promotes their ability to monetize your website, drive traffic and increase engagement with effective content recommendations. These recommendation networks can positively influence publishers and media professionals in two ways.
First, it's clear they can assist at scaling content distribution, leading to an increase in impressions, unique visitors and more opportunities overall. Secondly, publishers that implement content recommendation widgets on their sites will reap the benefits of higher quality traffic, longer site visits and increased page views per session.
On the surface, such companies may appear synonymous with one another. So why not just throw all the networks in a hat and pick one? With the power of native advertising continuing to grow, it's important to remember that not all networks are created equal.
This principal is the driving philosophy for Revcontent, a network committed to being the most selective and premium in the world. Below outlines some of the reasons why Revcontent's intentional and distinctive strategy can provide advertisers with up to 50 percent higher ROI than non-premium networks.
Every Site Is Not Created Equal
Everybody wants to be "in" with the cool kids, but no one said it better than Gretchen Wieners: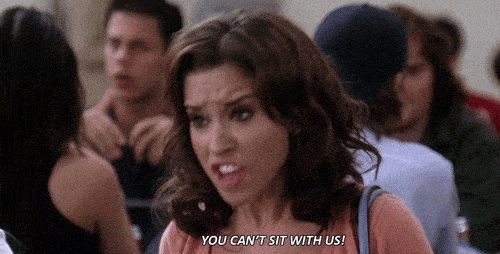 Although it may sound harsh, selectivity has been key for Revcontent's almost unheard of success, growing by nearly 900 percent in the past six months.
Following suit with their goal to be the most premium and selective ad network in the world (Jim Collins would certainly approve), Revcontent denies 98 percent of sites that apply. Instead of offering advertisers 100,000+ sites like most of the others, Revcontent's selectivity and focus on finding outlets that can truly produce premium traffic from highly engaged users, naturally provides better quality traffic and leads. Brands like Newsweek, Forbes, NBC News, and Answers.com are just a few of the premium publishers who chose Revcontent over other top native ad networks.
In an industry that boils down to revenue and impressions, performance is king. Selectivity allows customers to see between two and three times higher RPMs (revenue per thousand impressions) compared to their competition. After entering into Revcontent's elite two percent, Barstool Sports (one of the top independent sports and men's lifestyle publications for the 21-34 year old male demographic) saw an increase in performance on their site from their content recommendation solution.
User Experience
Revcontent believes their customers deserve more than the current cookie cutter offerings of other networks. Whether on mobile, tablet or a traditional desktop, user experience makes or breaks the success of a site.
While some native advertising can interrupt content absorption, Revcontent offers innovative, adaptive and fully customizable widgets on top of seamless integration with their clients' interface. This improved user experience provides more engaged readers while minimizing bounce rates that translate into loyal audiences.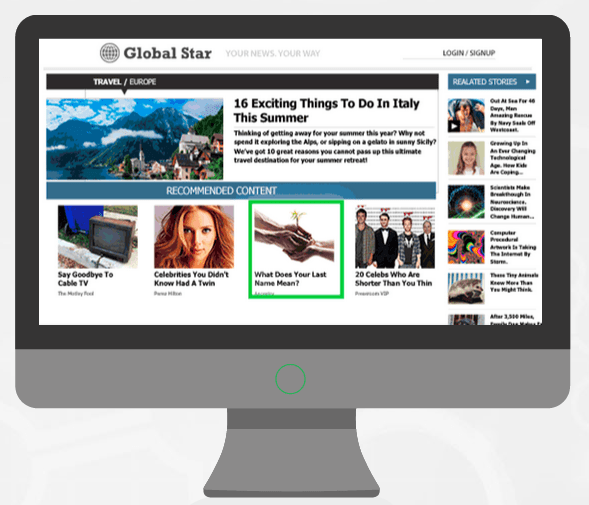 People-Driven Technology
Further supporting the pursuit of a seamless user experience is Revcontent's premium, people-driven technology. Their patent-pending Revcontent Widget Optimizer, powered by social-driven algorithms, can customize recommended content on an individual basis to reduce bounce rates and increase CTR. What the heck is a social-driven algorithm? Simply, it takes into account individuals' behavior while interacting with your site and optimizes content recommendations to match that behavior. With their innovative technology such as Revcontent v2 and this widget optimizer, Revcontent offers better user experiences and even better ROI.
Along with the roll-out of the patent-pending widget optimizer, Revcontent also recently announced the hire of Rick Landsman as their new Chief Technology Officer. Landsman not only brings with him years of experience from co-founding two companies and serving top positions with leading industry companies, but also 15 technology patents that have defined the state of the digital advertising industry. Landsman says he's excited to join Revcontent "because it provides unique opportunities to deliver native advertising that provides a win-win-win for advertisers, publishers, as well as users."
Relationships Are Built on Trust
Trust. Sounds a bit cliché, but Revcontent isn't just preaching open and honest relationships with their customers, they're showing it, too. As a customer, you can expect to get transparent data truly representing the performance of their technology—no funny business here.
Revcontent also provides 24/7 expert support and solutions to maximize revenue potential. They are committed to seeing the success of their clients' campaigns and assist every step of the way. According to the CMO at diply.com "We are obsessive over data and test all day long to maximize every component of our site and our user experience. After testing, we found Revcontent to simply be the best – hands down."
It's clear to see why Revcontent denies 98 percent of their partner requests. They may not have the colossal size of other ad networks, but they certainly provide higher quality. Offering such granular customization and targeting requires the right combination of selectivity, user experience and technology. Do you think you have what it takes to sit at the popular table with the other two percent? Fill out their entry form now to find out.
This article was written as part of the Relevance Approved Sponsored initiative, which brings news, insights and trends to the Relevance community from professionals in the content marketing industry. While Revcontent sponsored the article, I conducted my own review and do not speak on behalf of or represent their brand and strategies.