What's the very first thing you do when you wake up in the morning?
Oh, deep breathing and yoga? Well, aren't you just a ray of sunshine?
We were expecting you to say "look at my phone," which is what most Americans do. We spend a lot of time online. In our fast-paced world, we're always looking for the quickest way to get where we want to go.
For most people, the quickest way to get where they're going online is a search engine. And, well, we wouldn't be marketers if we didn't find a way to influence those online experiences.
Thus, search engine optimization (SEO) marketing was born. Today, marketers use SEO strategy to achieve a variety of goals from increased organic traffic to higher conversion rates. And since 68% of online experiences begin with search it's vital to have a strong strategy.
What is SEO marketing for beginners?
To newer marketers, SEO might seem like a labyrinth of tags, keywords and coding. But search engine marketing is less mysterious than you think, and it can help you achieve your business goals. If you're just starting out, here are a few SEO marketing tips for beginners .
What is SEO in marketing?
SEO refers to improving your website's rank and appearance on the search engine results page (SERP). The benefits of SEO reach far and wide.
From a marketing standpoint, SEO is a cost-effective way to bring more organic traffic to your website. Since the average working-age internet user now spends 6 hours and 37 minutes online each day, you can't afford to skip SEO.
SEO's meaning in business
SEO also has business benefits outside of marketing:
Effective keyword research can help you better understand your customer. This intelligence spans from market shifts at a macro level, down to consumer intent on a micro level.
High-quality content can improve your customer satisfaction, retention, and upsell performance.
Building a positive online brand presence over time can strengthen your reputation and dilute any negative SERP hits that pop up.
You can also use SEO to grow your business. An increase organic traffic to your site can result in more sales and increase your conversion rate by improving the customer experience.
How is SEO used in digital marketing?
These days, most marketers define digital marketing as… well, marketing. We live in a digital world, and your website is often your first impression to potential buyers. For this reason, it's hard to overstate the importance of SEO in digital marketing .
Your marketing plan probably involves many channels, like advertising, social media, email marketing, and public relations. SEO is part of your content marketing strategy , which you must have if you're creating content. After all, you can create the best content in the universe (big ups if you've done this), but if the right people don't see it, it hasn't accomplished anything for your business.
Organic search is the main source of traffic for many websites, so an investment in SEO is a gift to your brand that keeps giving. By spending resources up-front on creating optimized content, you can generate organic search traffic for months and years to come.
What are the 4 types of SEO?
Once you master the basics and start digging deeper into SEO, you'll learn there are four types of SEO : on-page, off-page, technical, and local. The best SEO strategies integrate all four.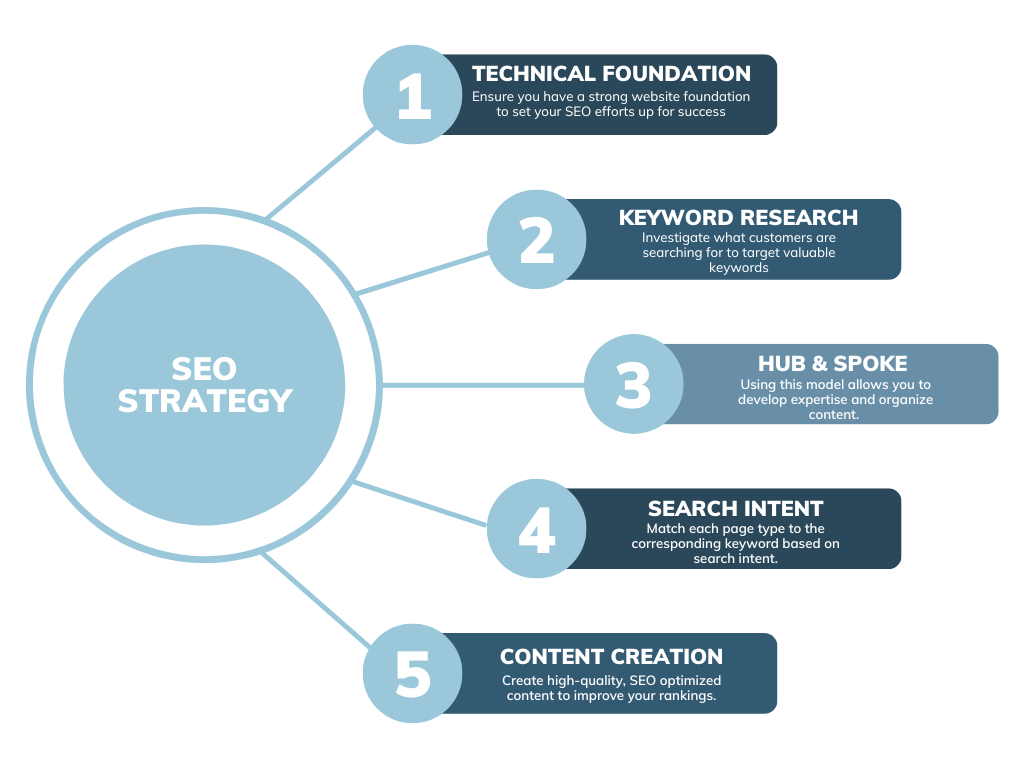 On-page SEO
On-page SEO includes the activities you probably think of first when you hear "SEO." Because search engine algorithms are more sophisticated than ever, today's on-page SEO strategies start with truly valuable content. You can't trick, automate, or keyword-stuff your way to the top of the SERP.
Instead, focus on understanding your audience and the keywords that are relevant to them. If they were looking for your content or product, what types of keywords would they use – informational, navigational, commercial, or transactional?
Once you've done your keyword research, create high-quality content focused on the relevant keywords you've identified. Your content should:
Center on one keyword theme

Educate or entertain your reader

Cite original research and credible sources

Reveal new insights and perspectives
Off-page SEO
Alexander the Great, notorious narcissist, said, "Even when I am gone, I shall remain in people's minds the star of their rights." But it was only after his death that he earned his Great title. If he'd spent his life talking about how great he was rather than doing "great" things, no one would've remembered him despite his self-aggrandizing speeches.
Similarly (but way less dramatic), promoting your own content can only get you so far in the SEO game. Why? Credibility. Of course you think your content is great. What do others think? Search engines look for backlinks as a sign that other users have found your content helpful.
Off-page SEO involves making sure your content is linkable, and then building a strategy to get backlinks. Linkable content has been crafted with backlinks in mind. Some common hooks are data (the more surprising the better), quotes from industry leaders, and engaging media like podcasts and videos.
To get the most out of your linkable content, identify trustworthy, popular sites within your space and track down a contact. Ask them to link to your content. Include a summary and how it benefits their readers.
Technical SEO
For some marketers, the word "technical" might kick your heart rate up a notch. But don't be intimidated by technical SEO. Just like the rest of your SEO strategy, it centers on user experience.
Your first step for technical optimization should be ensuring that you're following web design best practices. Do a website audit with these questions in mind:
Are the topics and audience clear?

Is the site easy to navigate?

Are there extra pages, clicks, or scrolling that could be eliminated?

What's your load speed?

Is your site experience just as good on mobile as it is on desktop?

Do you or your tech colleagues have any security concerns?
If you come up with underwhelming answers for any of these, you've found your starting point for improvement. And remember, as Churchill said, "Perfection is the enemy of progress." Your site doesn't have to be 100% optimized to be an effective business asset.
Make improvements as you go, starting with the simplest work and tackling more complex technical SEO later. Before you know it, the organic traffic will be flowing.
Local SEO
If you offer products or services to a particular geographic region, you don't want to skip local SEO . Generally, any optimizations you do on-page or off-page will boost your local listing. But if local SEO is a priority for your business, there are a few areas you should focus on.
Claim and

optimize your Google Business Profile

.

Include local keywords in your content.

Share content regularly on social media and engage with your audiences.

Design a mobile-first website.
One of the big benefits of local SEO is lower marketing costs, since it helps you focus on targeted geographic areas instead of the antiquated "spray and pray" approach.
What are examples of SEO marketing?
If you've made it this far, SEO might make sense in theory… but what does it look like in practice? Let's look at some examples of SEO marketing .
For these examples, we'll consider an auto shop that also sells car accessories, Amazing Auto Accessories & More.
Step 1: On-page and technical SEO
Let's say AAA&M wants to use on-page SEO to organically capture more traffic looking to buy windshield wipers. They publish a blog post focused on the keyword "new windshield wipers." They include the keyword in the post's title, slug, meta description, headers, and body.

From a technical SEO perspective, AAA&M digs deeper. They:
Decide the URL is a bit long, and shorten it to /blog/new-windshield-wipers

Fix any broken links in the article

Implement a rel="canonical" tag on any duplicate versions of the post
Step 2: Off-page SEO
The post is optimized and gaining organic traction, but AAA&M isn't done yet. They know to get the most out of the article, they need to deploy a backlink strategy for off-page SEO. They regularly share the post on their social channels with engaging calls to action and target external sites publishing content related to vehicle maintenance and ask for backlinks.
Example social post: Ever been caught in a rainstorm on the highway? Driving in a downpour can be tense… and you DON'T need the added stress of limited visibility. If it's time for new windshield wipers, we've got you covered with this guide. Do you have a go-to wiper brand? Let us know in the comments!
Example backlink email: Hi [name], your piece "7 things you didn't know your car needed for routine maintenance" is killer. (Have I ever replaced my brake pads??) Anyway, we just published a guide to buying new windshield wipers, and I think it would be a great addition to your article in the "replace your windshield wipers" section. What do you think?
Step 3: Local SEO
Of course, providing a thorough guide to buying new windshield wipers is great for AAA&M's brand trust and authority. But we'd be lying if we said they don't want to sell new wipers to every single person who Google's the keyword. Windshield wipers are a $4.7 billion industry, after all.
For that reason, they target the "new windshield wipers" keyword with their local SEO strategy by making sure it's included in their Google Business description and product catalog.
How do I SEO my website to Google?
After digesting everything we've discussed, you might be wondering: How do I use all this info to optimize my website for Google and other search engines?
Here's a tip for how to do SEO well: Start where you are. If you're already creating content but have never considered keywords, do some keyword research. Google Trends is a great SEO tool. Check out the keywords your competitors are using.
If you've been optimizing your content to keywords for a while, but have no idea how your website performs technically – start there. Run your site through Google's PageSpeed Insights tool and share your findings with your tech colleagues. Find out what high-impact, quick-win opportunities there are. Google search console is another SEO tool to learn more about your search performance. 
The most important thing is to start making progress. At the end of the day, SEO is about user experience. Anything you can do to better understand users' expectations and improve your content's ability to meet them is a win for SEO.
How much does SEO marketing cost?
The beauty of search engine optimization is that it brings in more organic search traffic – meaning you didn't pay for the traffic with advertising. However, like everything good in life, SEO is not free.
Creating and executing a comprehensive and effective SEO strategy is a big undertaking. Enterprise companies often have a whole team of full-time marketers dedicated to SEO services. That's how valuable it is.
The cost of excellent SEO is in the time it takes to create high-quality content and optimize your website. If you're ready to take your strategy to the next level, there are SEO-specific tools available that can cost as much as $500 per month.
Launch your SEO marketing strategy today
Fortunately, you don't have to spend $500 a month on software to put your SEO marketing plan into place today. There's constant innovation in search engine optimization , and tomorrow you could discover a brand new tactic that's perfect for your business.
But don't get distracted by shiny, new tactics without mastering the basics first. Getting a handle on how the four types of SEO fit into your marketing strategy will put you miles above your competitor who's ignoring SEO.
And when your potential buyers wake up in the morning and grab their phones, your content will be there waiting.