Marketing has evolved into a fast-paced business activity. There are countless tools and techniques that businesses use to promote their brands, products, and services.
This is true for growth marketers as much as anyone else in the marketing world. Let's take a look at some of the nuances that set growth marketing apart from traditional marketing and what tactics growth-oriented marketing strategies use to spark sustainable growth.
What Is Growth Marketing?
Growth marketing differs from other forms of marketing in that it focuses on two important areas above all others: the customer and data.
While most marketing begins with a business and its products and services, growth marketing focuses on the customer experience. It considers pain points and needs and only then considers how a company's offerings can meet them, both for a potential customer and an existing one.
Growth marketing also eliminates the uncertainties of marketing "from your gut." It leans heavily on data and analytics tools (some of which we'll explore further down) to inform you of customer behavior and guide every decision.
The Three Pillars of Growth Marketing
Growth marketing tends to revolve around three areas: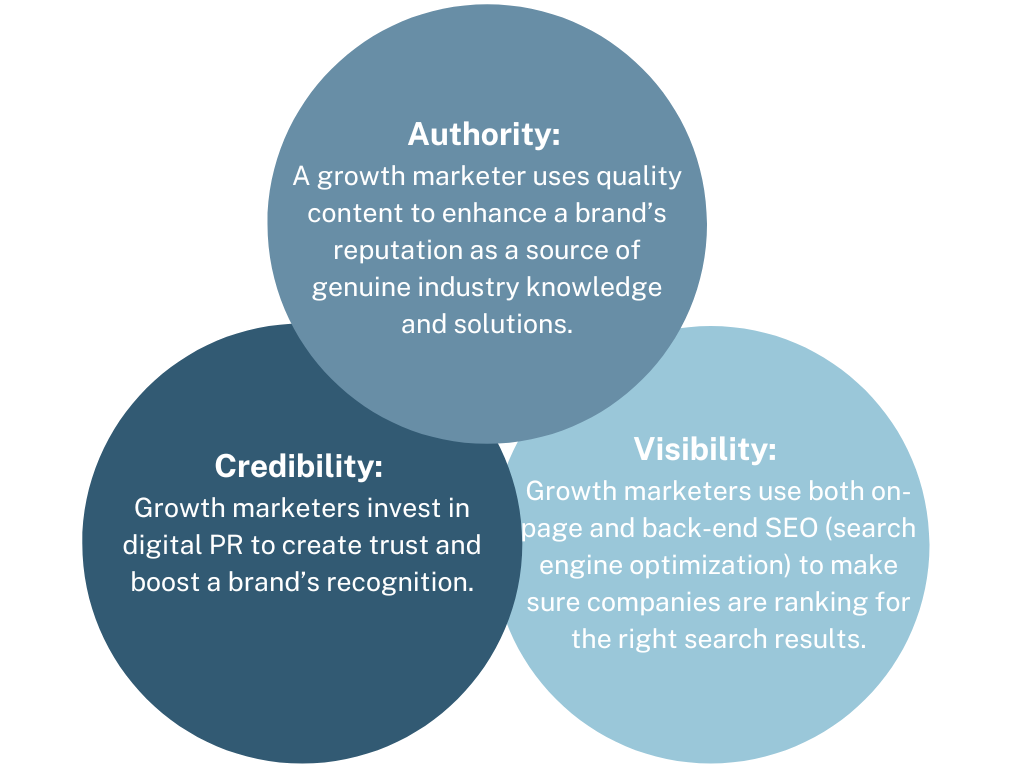 Together, these three elements create a synergistic effect that unlocks growth.
Why Is Growth Marketing Important?
Growth marketing is an effective way to market because it doesn't just focus on the new customer. It also considers existing customers and consumers at any point along the customer journey.
As marketers execute growth marketing strategies, they make adjustments based on feedback and data. This helps them stay on the straight and narrow over time, even as consumer tastes, preferences, and other needs change.
The result of this is not just a boost in revenue or a bigger customer base. This holistic approach to marketing creates long-term, sustainable growth and the consistent momentum required to properly scale an organization.
What Are Common Growth Marketing Techniques?
There are many growth strategies in business. Investing in digital marketing, for instance, can help a brand reach new audiences and expand its online presence. Product marketing can help a brand effectively bring a product to market. Each of these strategies comes with its own tools and techniques to turn plans into actions and generate the desired results.
When it comes to a growth marketing strategy, as we already saw, the emphasis is on two things: the customer and the data. As growth marketers build out growth strategy frameworks, they use various techniques to improve the customer lifecycle. Here are a few of the most common growth marketing techniques.
Content Still Reigns
Creating a content-rich website remains a potent way to build authority for your brand in multiple ways and for various parts of the marketing funnel. Growth marketers can use blog posts for demand generation. Demos, samples, and white papers can nurture leads. Troubleshooting tips and feedback can help with customer retention.
SEO Is Essential
Search engine optimization (or SEO) takes many forms. It includes keywords, linking strategies, and technical SEO. All of this ensures that a brand's onsite content ranks high in search engine results. This boosts visibility and ensures that the right people are finding your content.
Digital PR Gets the Word Out
Public relations are a classic way to build brand awareness with your target audience. Digital forms of PR make this accessible even for smaller brands trying to spark growth. Getting mentioned or linked in major industry publications enhances credibility by signaling that your company has a solution that third-party outlets are willing to talk about and promote.
A/B Testing Helps With Optimization
As growth marketers build and execute each growth strategy, they use data to make sure everything is performing well. A/B testing is a powerful data-driven tool that allows you to compare how different tactics work. This enables you to make both minor and major tweaks depending on the success or failure of each campaign.
Cross Channel Marketing Brings Synergy
A successful growth marketer doesn't focus on a single area. They weave together everything from content marketing to social media, paid search to organic SEO, PR mentions to customer service. This synergistic cross-channel technique brings each of your campaigns to life, optimizing and maximizing the results of each growth marketing activity.
PPC Marketing Drives the Action
Organic SEO is great, but sometimes it needs a boost to get going. PPC or "pay-per-click" marketing is a powerful growth marketing technique that can break the static friction and build some early momentum for your brand.
Social Media Marketing Humanizes Brands
Growth marketing is a long-term game. (Otherwise, it's just short-term growth hacking, which isn't sustainable.) Social media gives a growth marketing campaign a human element. It also is a great place for cross-channel marketing as you create various other forms of content.
Utilizing Techniques for Growth Marketing the Right Way
There are many techniques that you can use to build a solid growth strategy. However, the way that you utilize and combine them makes a difference.
That's why growth marketers, like the marketing team at Relevance, invest plenty of time in keeping up with the latest tips, tools, and trends. For a growth marketing technique to work well, it needs to be just one piece of a larger vision and strategy.
When that happens, you can unlock the full potential of each tactic above and use them to build real, sustainable momentum for your brand.