Converting the Cost of A Super Bowl Ad With Intel iQ Data
Super Bowl 50 signified a shot at the ultimate trophy in pro football for NFL fans and players. For brands, the big game embodied a chance to win over millions with a captivating 30-second television spot. The Super Bowl's giant stage doesn't come cheap. In 2016, a 30-second spot cost a record $5 million—up $500,000 from last year.
What $5 million can get in digital and social media marketing?
Yes, $5 million to run one television ad one time. Let that settle in. Additionally, that amount doesn't include production costs. As a content marketer, I immediately think about how much $5 million can get a brand in digital media. Evidently, I'm not alone. This week, AdWeek and Digiday provided insightful examples using a $5 million valuation across digital advertising such as:
Taking over the New York Times homepage for 16 days
Generating 2.1 million app installs
Driving 500 million Facebook video views
Analyzing the Cost of a Super Bowl Ad vs. Intel iQ Traffic & Email Sign Ups
The theoretical models from AdWeek and Digiday intrigued me to consider what $5 million would generate using actual Intel iQ data and averages. Here's what I discovered using benchmark data for Facebook:
Intel iQ Facebook cost-per-click (CPC) benchmark:$0.06 CPC
The traffic from a $5 million spend on Facebook: 83 million clicks
Wow, that's oodles of traffic. However, clicks are only a small piece of the sales funnel. What about lower funnel metrics such as leads and conversions? Here's what $5 million would generate for iQ using email sign up conversion benchmarks.
Intel benchmark for email sign up conversation rate: 1.8%
iQ email subscribers from a $5 million Facebook spend: 1.5 million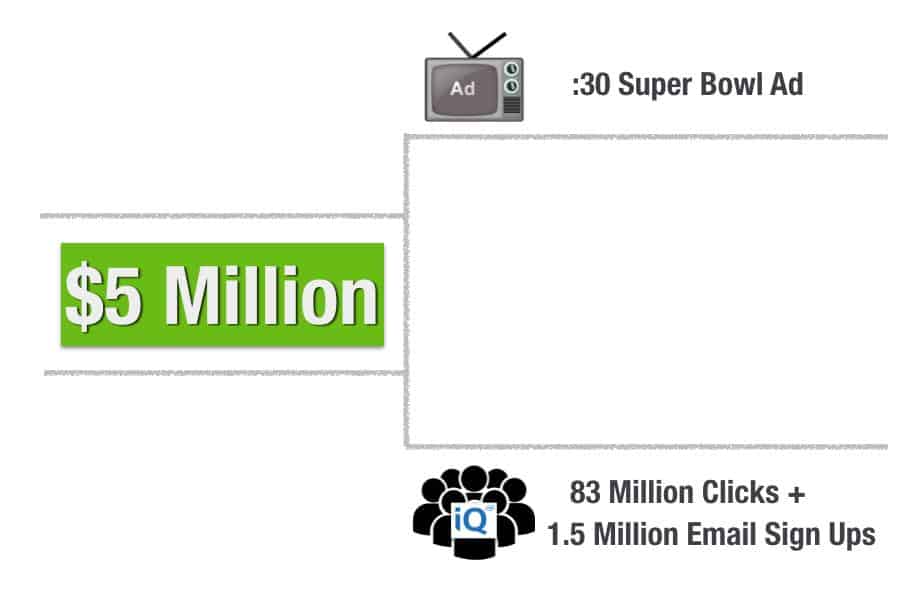 Whereas, clicks can be pinned as a surface level vanity metric, 1.5 million emails have enormous value for brands. Unlike Facebook fans or Twitter followers, where brands effectively rent audiences from platforms, a brand owns their email database. Email subscriptions hold supreme long-term potential and opportunities for reoccurring revenue. Just ask best in class brand publishers such as Kraft and RedBull about the results of owning millions of emails.
The Reach and Time Spent Argument
I can hear the network executive saying, "millions of clicks and emails are well in good, but a Super Bowl ad gets a brand the attention of mass audiences like nothing else." Let's evaluate the aggregate time from audiences that a Super Bowl advertiser is getting with a television ad. In 2015, 114 million viewers tuned in for Super Bowl 49 (graph below).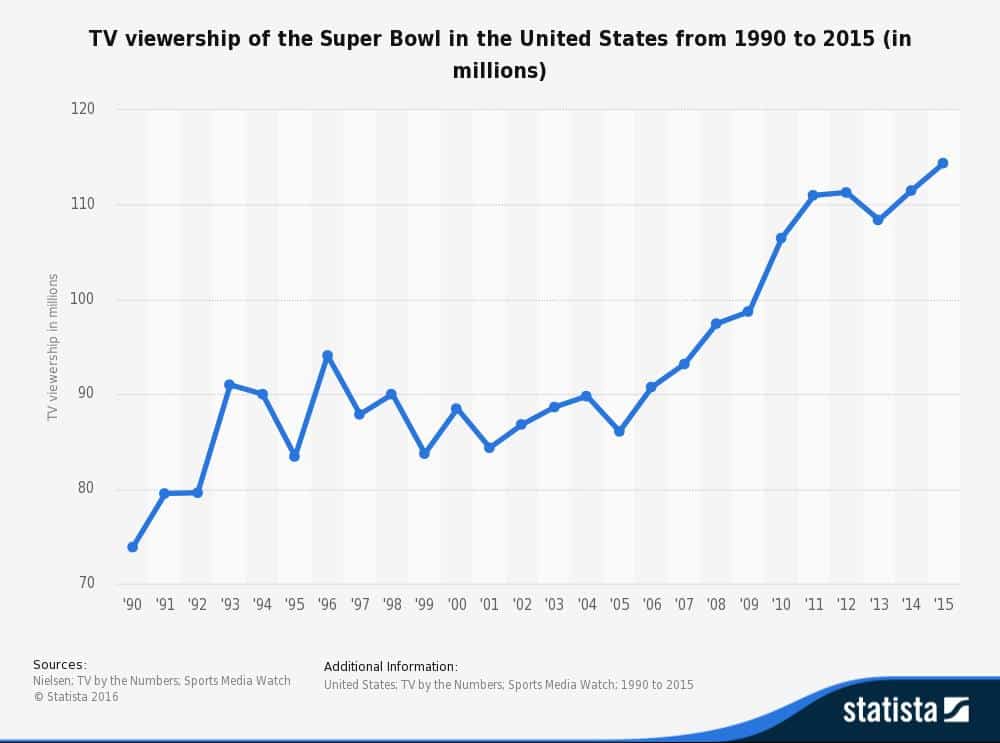 Now, let's assume every one of those 114 million people saw a brand's 30-second spot, which of course is near-impossible. However, let's go with it and calculate the aggregate minutes that the 2015 super bowl audience would spend with a single 30-second ad:

Using the same aggregate time spent methodology, let's use the average time spent of 02:31 minutes on Intel iQ articles and combine it with the estimated 83 million clicks from the above analysis. Here's how many aggregate minutes that would be generated on Intel iQ from a $5 million Facebook spend.

Measuring Audience Attention vs. Viewers and Reach
No doubt 114 million viewers represent a big opportunity for brands to reach mass audiences. Yet, iQ content would generate over 3.5 times more aggregate attention minutes than a Super Bowl ad ever could. We can argue about the value of time spent, but it's difficult to dispute that more of an audience's time with your brand is not valuable. At Intel, we've found a direct correlation between higher time spent with iQ content and the propensity for a user to share iQ content and return to the site.
4 Takeaways For Content Marketers That I've Learned From This Exercise
Most of us can only dream of overseeing a $5 million budget for a Super Bowl ad, but every content marketer can think more strategically about how we manage our investments.
Impact Over Reach
Ze Frank, President of BuzzFeed Motion Pictures said it best, "As an industry, we're over-indexed on measuring reach and we're under-indexed on measuring impact." Don't default to simple reach metrics. Think about how ad dollars can pay off a specific and measurable objective – something besides impressions with zeros.
Play the Long Game
I've learned that content marketing is a marathon, not a sprint. It took iQ nearly three years to hit 2 million monthly visitors. Get rid of the short-term campaign and checkbox attitude. Instead, consider the value of investments two – three years from now. Will there be lasting impact or just another YouTube video with 200 views?
Challenge the Status Quo
While it may be easy to play it safe – don't do it! Take a stand against antiquated marketing and advertising. Innovation requires content marketers to be critical thinkers and change agents.
Think Big!
When pushing innovation, don't be afraid to swing for the fence. For example, using the above $5 million scenario, a brand could buy a major media property (say Re/Code) for the same cost ($15 million) as three Super Bowl ads. While many may see this idea as absurd, it's this kind of thinking that can produce home runs.
Luke Kintigh is a global media and content strategist at Intel. Recognized as a Rising Star in Content Marketing by the Guardian, and member the Top 100 Content Marketing Influencers by Onalytica, Luke speaks at prominent content marketing conferences and regularly contributes to industry publications such as Business2Community, Relevance, and the NativeAdvertising.com.