Take a moment before we begin the article to open your email inbox and go through the following steps to arrive at the same page with me.
Look at all the emails you've received in this week alone.
Open your promotional or social media tabs and look at all the email alerts your email server has sorted out of your inbox for you.
Then hold your breath and open the spam folder (though maybe promotional and the spam filters are merged in your email provider) and look at all the people in the world who have your email address and are using it to send out whatever they feel like.
Okay, now what?
After five years of utilizing a primary email address, you can have outfitters, health food stores, political campaigns, social media platforms, colleagues, loved ones, streaming subscriptions, doctors' offices, insurance companies, and four dozen other entities sending you hundreds of emails a week.
So with that in mind it is obvious people will be very sensitive with their time sifting through emails. So what's the best way of making a real connection with your audience through email?
Behaving like a human being starts a beneficial chain of events that leads to healthy interactions and a healthy relationship between you and your audience; it's all about making sure every link in that chain is handled through best practices.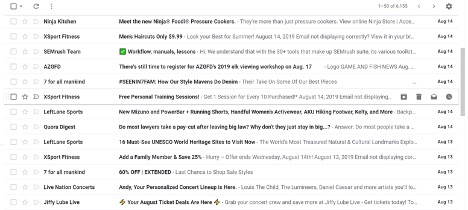 PICTURED: A slice of a typical Gmail account's promotions tab where gyms, concert venues, outfitters, and more fight like vultures for a piece of the pie.
Email acquisition
In the course of acquiring emails, of designing the first action in the email marketer-subscriber relationship, and in encouraging future email growth, it's important to make the lead feel like their information, privacy, time, and opinions are all taken into account (which they should be whether the lead feels it or not) exactly the same way as if the action was being taken in person.
There's nothing more repugnant than the feeling that the person you're dealing with is just trying to get your information and, once having obtained it, immediately turns around and sells it, abuses it, or extorts it for their own gains.
Think of a situation where someone behaved this way in public, for example the old comedic portrayal of the used car salesmen, and you'll realize it's a bad place to find yourself as a marketer.
Aside from the fact that it is legally in your enterprise's best interest to behave in a humane manner, it's also likely to boost your ROI beyond unregulated automations or constant blasts.
Legal compliance laws do matter
For example if you have it in mind to do some marketing overseas, under the European Union General Data Protection Regulations (GDPR), one must "provide recipients requests for consent that are separate from commercial email messaging".
The EU anti-spam and data protection laws are very strict. They involve more stipulations like the one mentioned above and it's worth having any marketing team go over them to be certain you'll not be found guilty of a 20 million euro fine… Essentially the European lead must tell you "I want you to email me".
However, this strikes at a broader point, which is that while American law doesn't require consent to be given, unsolicited emails will still trigger a sort of "righteous indignation," leaving the lead saying "I never signed up for this," or "I didn't agree to receive these," even though laws do not require them to.
This is not how one should start a relationship with one's customers.
The case for consent
It may seem like an unnecessary step to add a confirmation email to your email funnels, but for several reasons, it's a good idea.
For starters, as my colleague from Relevance details in an article he wrote on unsubscribes: "When you measure the wrong things, you produce the wrong results". Adding people to your email list simply because you have their email address – perhaps due to them going through your checkout process, or bringing in a list from a different operation you control – is going to mean your list is filled with unknown unknowns, and known unknowns.
What I mean is you'll never be able to tell if this or that content strategy is accurately reporting because of any number of dead-end, cold email addresses who never agreed to have anything sent to them, never had any interest in your product, or was never expecting any emails.
How can I get around this problem?
Adding a confirmation email to your signup sheet is a splendid way around this. You can make doubly sure that every email address on your list is worth your time and effort, because the lead took two steps to ensure they would hear from you. Some other benefits are:
You avoid sending to spam traps – email addresses that were once owned but have since been converted into a place to capture unsuspecting and uncompliant marketers through their electronic solicitations.
You meet the standard of email marketing compliance for the EU and Canada (stricter than the US) and therefore are free to market there without needing to be concerned about fines.
You can personalize the first links in the chain to make clearer your policies for honoring unsubscribe requests, what your email list will deliver, and how you hope to have a long and prosperous e-friendship with the lead.
Finally your reporting, statistics, and ROI tracking data will be more actionable, as lemons won't be corrupting your data with large amounts of un-opens or bounces.
Is this all really worth my time?
Sufficient to make major publications like eData Source write about them, spam traps are a real concern for the careless, if ethical, marketer.
Pristine trips, they write, are email addresses that have never been used and are spread around by ISPs across blogs and forums in the hopes of catching an online solicitor.
This is critical because, as they continue to warn, "ISPs are now monitoring both your IP level reputation and your domain level reputation and are scoring and controlling your inboxing based on these reputations." This can include, they say, going so far as to stop your emails from ever even reaching the subscriber if your reputation scores rise too high.
Consent not only protects you from all manner of both private and public internet policing, but also ensures that your subscribers feel like they are receiving a meaningful correspondence rather than a coupon sheet. It also gives you great content marketing opportunities.
L'offrande
Now that you have a list full of consenting subscribers, eagerly, or mildly-eagerly awaiting the offer, you can play several marketing cards. Knowing they are interested in your products or services, you can send them emails full of your products, content, and services, but with a nice little personal touch. You could…
Make every email include personal recommendations based on the subscriber's browsing and purchase history.
Include offers for their birthday.
Talk to them about what's going on in your organization, and what cool new specials, product releases, or instore events are coming up.
Change the template and content of every email you send to make sure they understand you're an exciting merchant, etc. who cares about their time and interest.
Write a message concerning what you think about each product, and be honest. Write a message concerning your thoughts on each service. Take a leaf out of the book of not-for-profit content marketers and add in some outside content to beef up scientific claims, quality assurance, etc.
If asking someone to click out of your email to another website is an unsettling thought, then maybe this strategy of real person-to-person marketing isn't for you, which is fine.
You don't have to pursue this course, nor am I stating it is the only course. It's just simply that – a course; an option.
Tell me more about this option
There are benefits, in that you can make a much broader case for your product or service. Consider the following example.
An email turns up in your inbox which you more or less expected that's offering you an anti-aging moisturizer; one that's supposed to turn back time on your skin. It's a bold claim, but it's a product you were considering buying. Which one would you be more likely to buy off the email copy alone?
"Are you waking up every morning with more wrinkles, fine lines, or crow's feet? Don't you wish you could go back in time to your twenties when your skin had that youthful radiant glow? TURN BACK TIME! You can get FAST RESULTS, and look 20, 30, or 40 years younger! Order now for FREE SHIPPING and 35% OFF!"
Or…
"Hi Sharron, at Get Healthy Skin Now, our flagship product is called – x – and we've been selling it steadily for five years. People have told us it really does work to reduce the appearance of wrinkles, and you can check out Amazon to read what they have to say. We have a 60-day money back guarantee because we also understand that everyone's skin is different, and we don't particularly like the idea of selling you something that doesn't work for you".
I can't sit here and tell you which one of these messages is going to be more effective, because they both have their season. However #2 is probably going to appeal far more because of the agreeable, personable tone taken by the marketer.
People are generally leery of internet marketing claims and anything that will settle their nerves increases the chance they'll convert.
At the end of the day, email marketing depends on what is being marketed, but choosing to build and encourage an amicable relationship between marketer and subscriber has a host of benefits and might allow your conscience to rest a little easier.