The eCommerce industry is what they call a big business scope nowadays. Entrepreneurs all around the globe are trying their best to jump right into this market segment to get a share of its high income. One of the most common issues they face is coming up with a business idea.
The thing is, the majority of them don't produce their own goods to sell. At the same time, the dropshipping and reselling segments are crowded with countless similar websites fighting for every single sale. As you may have guessed, it creates an insane rivalry.
But there is a solution for those who still haven't joined the eCommerce race. It's the multi-vendor marketplace. Let's discover its strongest sides and find out why it's an excellent choice for you.
Why Create a Multi-Vendor Store?
A multi-vendor marketplace is an entirely different business concept from the conventional eCommerce store. It works as a relationship infrastructure, providing the place and tools for vendors and consumers to trade.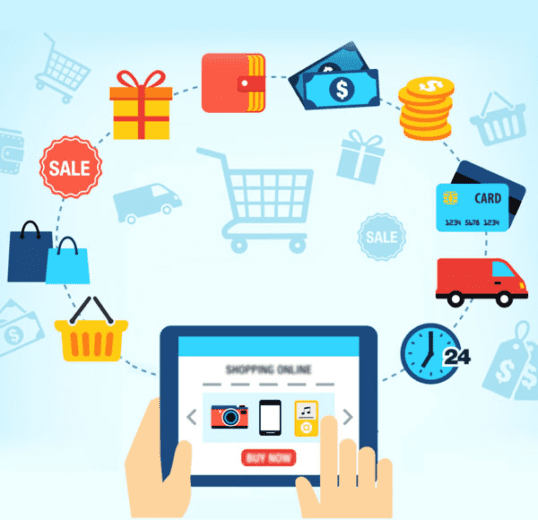 The multi-vendor store model means that you don't create and sell products but rather let the others do it through your web app. And that's the beauty of the eCommerce marketplace: you focus on delivering quality platform services and let the vendors take care of the products.
The Benefits of a Multi-Vendor Marketplace
What really matters is that not only you can benefit from this kind of eCommerce project; the successful model implies that the whole ecosystem is happy. The latter includes the following relationship subjects:
eCommerce marketplace owner (You, in this case)
Vendors or product suppliers
Consumers
With that said, let's find out why multi-vendor marketplaces are the best eCommerce business idea and discover the most significant benefits for all mentioned trading relations subjects.
Business Owner Benefits: The Freedom from Binding to a Product
The most substantial advantage of an eCommerce marketplace over traditional online stores is its flexibility. It removes the obligation to produce goods and lets you focus on the website. While most of the usual web shops mean nothing without a product they promote, a multi-vendor marketplace itself is the actual value you provide.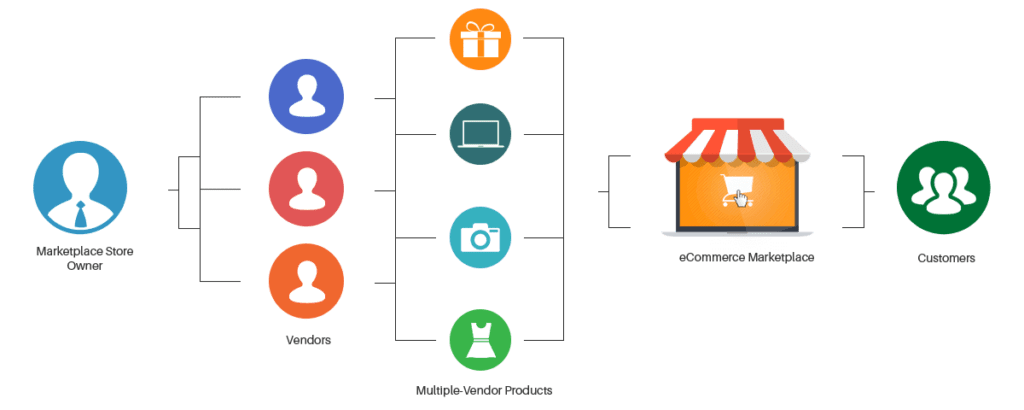 Why is it a benefit – you may ask. Well, this business model doesn't bind you to any particular market segment. Depending on your project rules, vendors can sell anything there: from toilet paper to private jets. It's only a matter of your decision to opt for a new product type on your website.
This unique marketplace feature brings the following edges over the conventional eCommerce ways:
You don't depend on market volatility. Some things become popular, other disappear forever. The place where people buy them stays the same – your website.
You don't limit yourself to a narrow target group. Instead, you cover an enormous audience of all countries, ages, and interests.
Your services are always in demand. The eCommerce marketplace is an integral relations participant. Therefore, one can hardly ever replace it.
Let's move to the multi-vendor marketplace features that product suppliers appreciate the most.
Vendor Benefits: Budget Saving and Auto-Promotion
One of the biggest nightmares for small-sized businesses is the marketing expense. Sometimes it just costs too much money to create, host, and promote the brand's website. Spending their last cent on the eCommerce platform, entrepreneurs start skimping on their production quality and, well, you know how it eventually ends.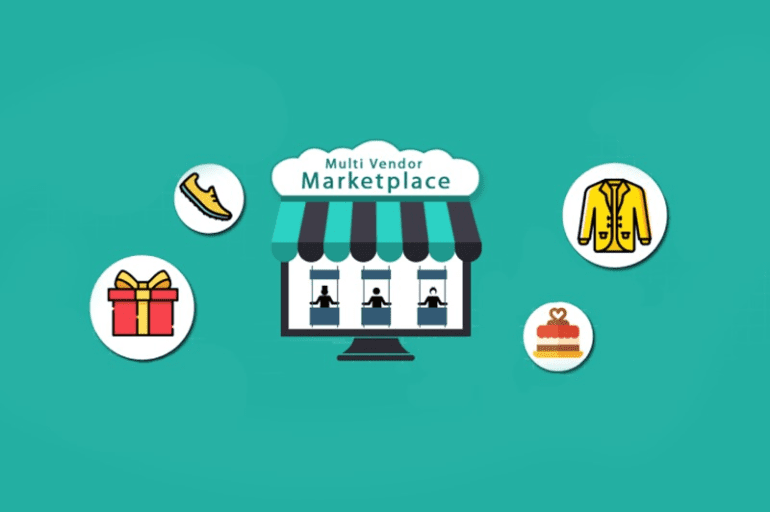 Multi-vendor marketplaces address this issue in all aspects. Providing a convenient platform for selling products, they both save money and promote brands that create listing on them. It creates mutually beneficial conditions for cooperation.
You see, when vendors post product listing on the marketplace – whether Amazon, eBay, or any other – they channel additional traffic to the website. At the same time, additional marketplace traffic means more potential consumers for all the marketplace suppliers. Everyone is happy.
But what about the consumers? Do they find this business concept appealing? Let's find out.
Consumer Benefits: Healthy Market Competition and Convenient Products Gathering
To start with, here are some the most burning problems online shoppers face:
High prices
Lack of alternatives
The inconvenience of option comparison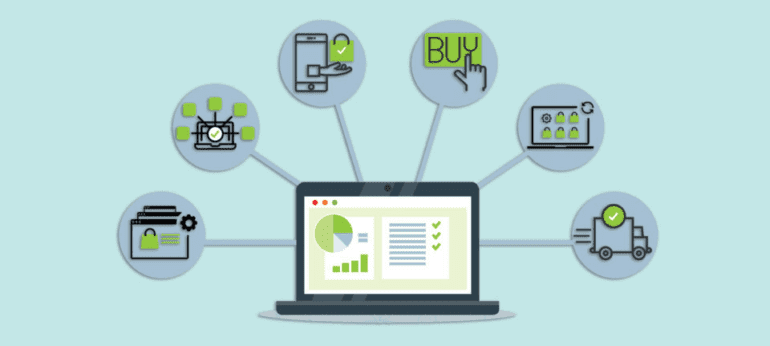 While the usual online stores can't always solve all the issues, eCommerce marketplaces satisfy users by letting them find the most lucrative offers in one place. These websites gather the best deals from all vendors, which means that multi-vendor marketplaces are the only resource consumers need to shop online at.
You have most probably bought something on Amazon or eBay at least once. If so, you know how convenient it is to have all the offers before your eyes. Moreover, you can see for yourself how vendors compete for your order by reducing price one after another.
Isn't it a consumer's paradise?
Requirements of a Standard Multi-Vendor Marketplace
An eCommerce marketplace has to provide a broad range of features for users and vendors to keep up with the market evolution and compete with rivals. Let's figure out what mandatory and recommended functionality your website should offer.
Convenient Vendor Registration and Powerful Product Listings
The selling cycle of any eCommerce marketplace starts with the vendors, and here is the reason: there wouldn't be any products to offer without suppliers. That's why you should be interested in attracting as many vendors as possible. Make it simple to register and conclude a contract with your company.
It is also essential to develop functionality-rich product listings. Flexible size and styling will help sellers to customize their offers the way they want and, therefore, sell more.
Intuitive Product Search and Secure Payment Gateway
As far as consumers are concerned, their needs don't usually extend beyond convenient search with advanced options and secure deals on the website. Make sure your search engine returns relevant results, and your payment gateway ensures the safety of transactions.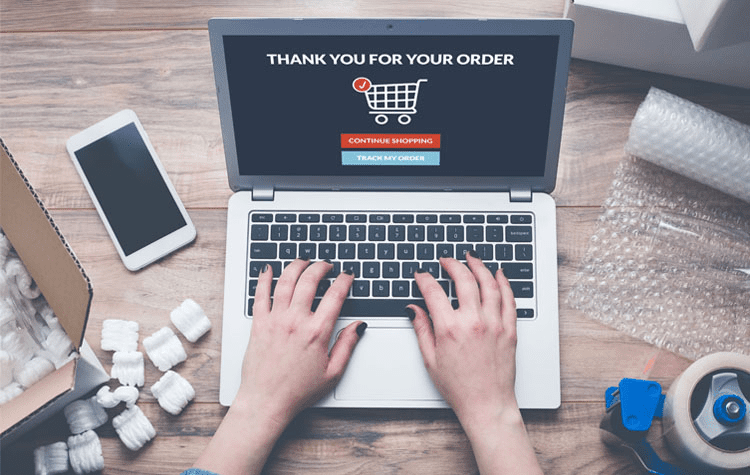 Marketing Hooks: Discounts, Sales, etc.
You can develop a discount system for regular customers or organize seasonal sales to attract even more consumers to your website. Although this feature is optional, always keep in mind that by offering special purchase conditions you increase the chance of people taking the bait.
The Bottom Line
The eCommerce marketplace is a powerful business model that is becoming more and more accepted by the community as the marketing digitalizes. If you need professional development and strategy assistance, make sure to check out the Roobykon portfolio. We create functional applications with a truly immersive user experience. Our extensive expertise will ensure your product's quality.
Be consistent and passionate, and your business success will be a simple matter of time.