With an average of 1.49 billion daily active users, Facebook gets more traffic than most other digital platforms. That's one of the major reasons why writing Facebook ads is increasingly becoming a key digital marketing play for many businesses.
The fact that the platform allows targeting an ad to a specific segment of audience makes it even more popular among marketers.
However, like any other digital platform, grabbing attention and persuading clicks on your ad is not easy on Facebook. What works for one may not work for another. You need to experiment and come up with original and creative ideas to make your ads stand out.
Here's a cheat sheet to help you write a Facebook ad that will improve your engagement and conversion rate.
1. Do Not Skip the Headline
As opposed to other types of advertisements, the headline on a Facebook ad comes below the image making it the last thing people usually see. This makes many people think it is not important to have a headline in a Facebook advertisement, which is wrong.
[bctt tweet="The headline adds clarity to your message." username="relevance"]
It helps the audience better understand your offers. If done right, the headline can also help you gain user attention in case the creative image fails to do so.
Take a look at the following examples to understand the difference a headline can make.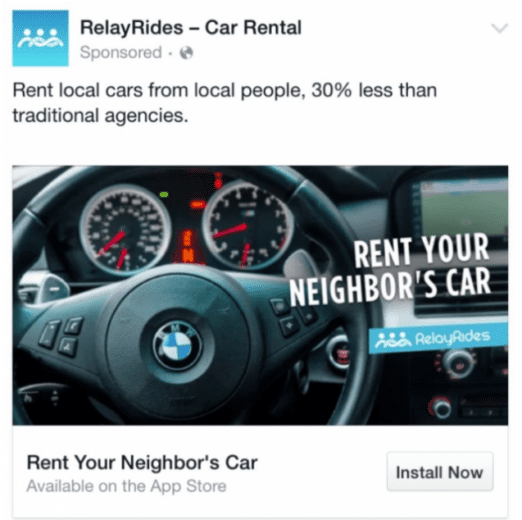 This first ad has a simple headline. It is targeted, addresses the audience, and entices them.
On the other hand, the second ad does not have any headline. The first ad outperformed the second ad by a long shot.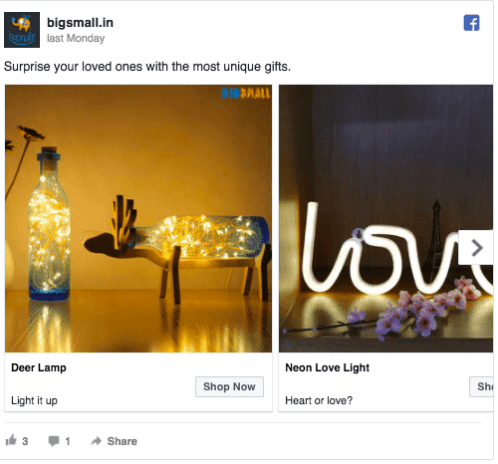 To make your Facebook ads more impactful, make your content writer write a clear, customized, and engaging headline.
Suggested Reading: Facebook Announces Launch of Creative Compass For Detailed Measure of Various Metrics
2. Cut to the Chase – Short and Clear Ad Copy Wins
Remember you are writing an ad, not a novel that people are going to spend hours reading. Cut the fluff. Think about how people generally use social media. No one reads everything that appears on their news feed. People usually scroll through their feed quickly until something catches their attention.
[bctt tweet="You have to keep this in mind while writing the ad text – it has to be short, crisp, and clearly deliver your most important message." username="relevance"]
Provide only the most important information and highlight the greatest benefits. Use language that reflects your brand's personality as well as resonates with your audience. Your ad should clearly tell the audience what you are offering, how your offer benefits them, and what they should do next.
Take a look at the following examples to understand what good Facebook ad copy looks like.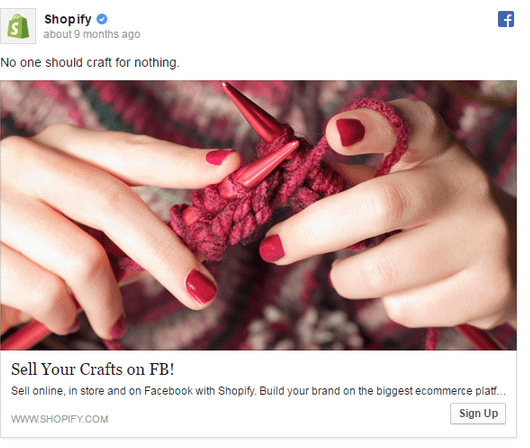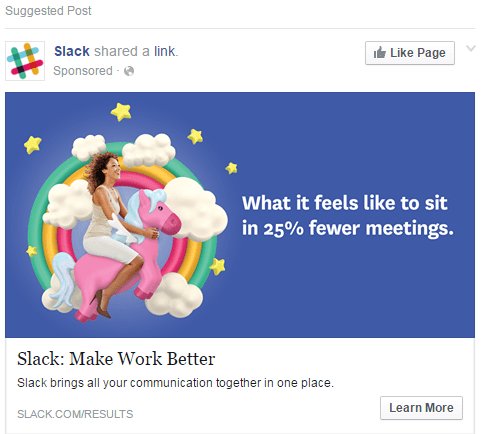 Long, dull, and boring ad copy can be the reason for low engagement and conversion. Make sure you give it your best shot.
3. Strong and Clear Call to Action
Exceptionally well-written copy is not going to serve you any purpose if it's not followed by a strong and clear call-to-action.
Direct them towards the next step with a clear CTA.
Whether you want them to visit your website, buy your product or service, or subscribe to your newsletter, ask for it.
Take a look at the following example – it has a simple, but clear CTA. The company wants people to sign up for the free trial, so it only provides the Sign Up button in the ad, decreasing the likelihood of distractions.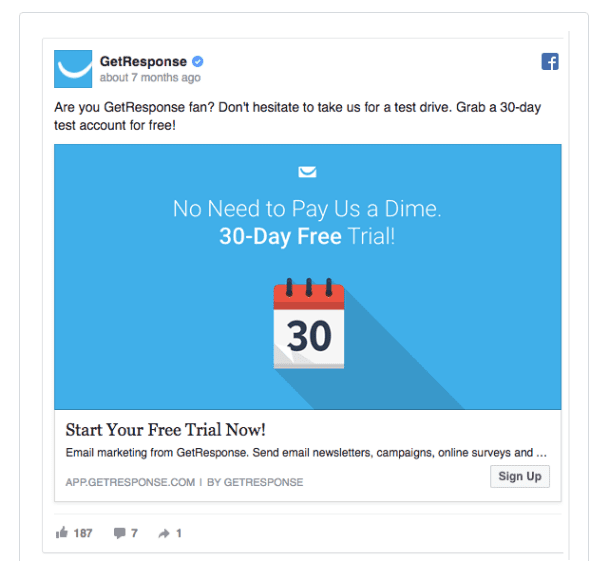 Now take a look at another example.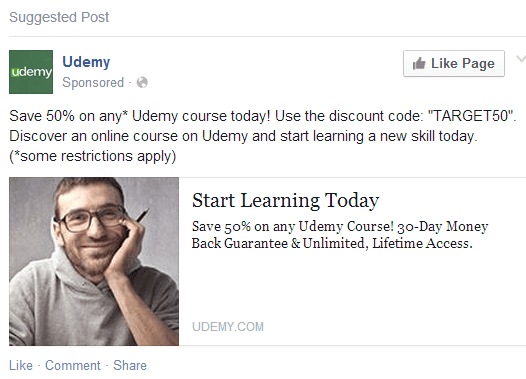 While this ad by Udemy presents a great offer (we all love discounts, don't we?), it loses impact by not including a CTA.
4. Do Not Give Too Many Choices
Do you know that giving too many choices to your prospects can lead to fewer conversions and sales?
While you may want to tell people that you have something for everyone, giving too many choices can lead to what psychologists call choice overload.
The groundbreaking research study conducted by Sheena S. Iyengar and Mark R. Lepper of Columbia and Stanford University respectively, confirms the phenomenon that people are less likely to reach a buying decision when they're given multiple choices.
This, followed by more research studies, made business owners and marketers reach the conclusion that an advertisement that promotes only one product, service, or offer and includes only one CTA is likely to perform better than an ad with multiple options.
Also Read: Facebook Offers More Video Advertising Options to Take On YouTube
5. Add Custom Created Visuals
What's the first thing you see when you come across an advertisement?
In both print and digital ads, the image is the first thing that people see. It can either attract and engage customers or put them off.
One of the most essential qualities of a high-converting Facebook ad is an original and creative image that is customized according to the audience as well as the ad copy.
One of the reasons why many companies choose to get their ads created by a reputable content writing service is because they provide custom created images along with a persuasive ad copy.
[bctt tweet="Do not use stock photos; they are easy to obtain, but they are one of the major reasons for low engagement." username="relevance"]
Check out the following example to understand how a custom created image can enhance the impact of your ad. The following ad by MailChimp helps the audience understand the message in a better way as well as reflects the brand identity.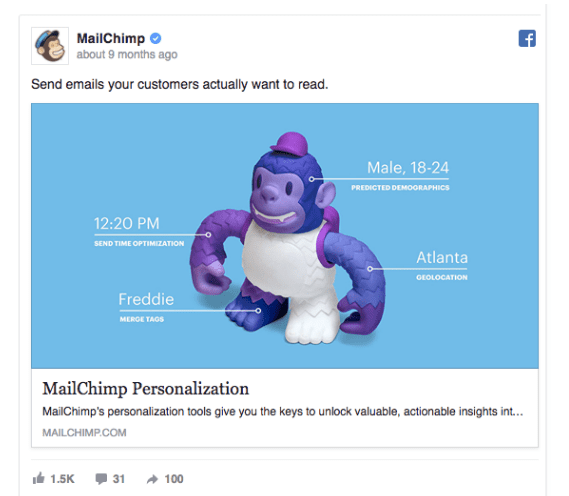 6. Do Not Forget To Target Your Ad to a Custom Audience
The powerful ad targeting tools on Facebook are one of the greatest advantages of the platform. These tools allow you to create targeted ads by selecting your marketing objective and goals. It also allows you to create a custom audience – you can choose who will see your ad on the basis of demographics, age, gender, education, jobs, interests, online behavior, and even income.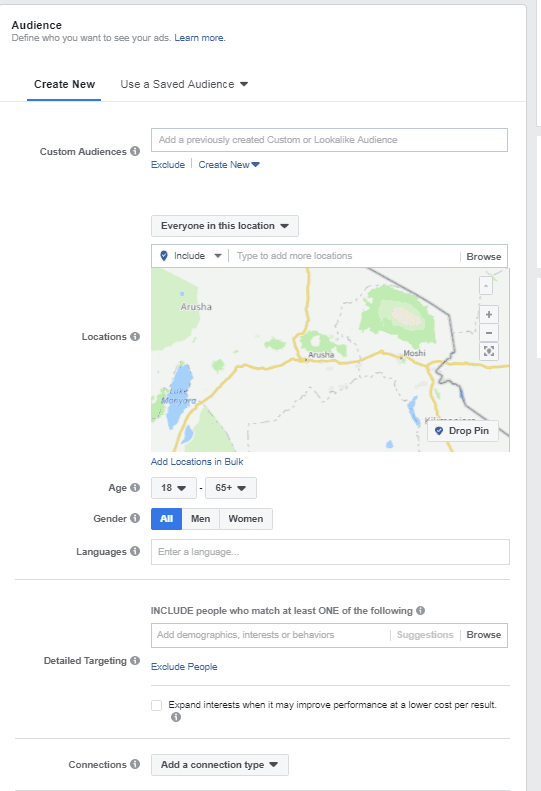 Identify your ideal customer (called buyer persona) for every product or service to be able to target the ad in a better way. If there are multiple ideal customers, create different ads for each of them – do not treat your Facebook advertisements like billboard ads. The more you target your ad, the better results you can expect.
7. Use Testimonials and Recommendations as Social Proof
Trust is one of the key elements in making a purchase decision. The reason why people hesitate to buy from new companies is because they don't trust them. And when it comes to building trust, word-of-mouth, recommendations, and referrals work better than any type of advertisement.
The best thing that you can do to remove the fear and doubt that many people have is to get an industry expert or a renowned celebrity or company endorse and recommend your product or service.
Consider the following example.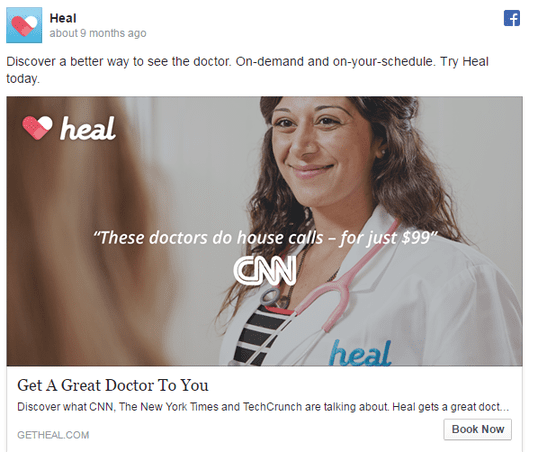 Another way to gain trust and credibility is to include testimonials from your previous or existing customers – they can be your best sales representatives. Check out the following example to learn how you customer testimonials can be used in writing Facebook ads.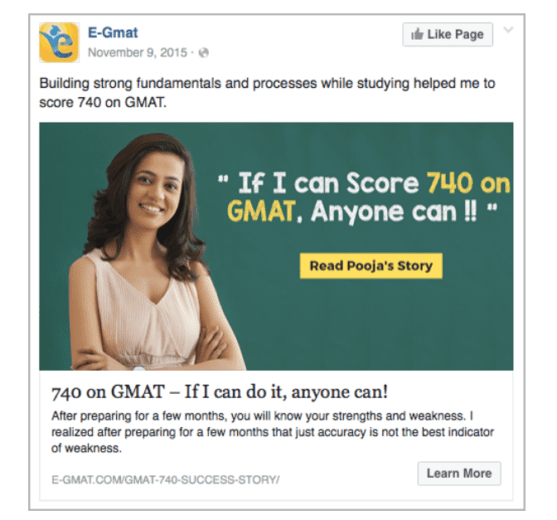 Read More: As Teens Flee Facebook, Marketers Should Turn to Snapchat
8. Create a Customized Landing Page
Has it ever happened that you clicked on ad because you like the product it shows, but you are taken to the homepage of seller's website or to a generic webpage with numerous other products?
We all have had this experience at least once. And needless to say that it made us feel tricked and as a result, agitated.
People click on your ad because they like the offer or the displayed product. To convert these prospects into customers, you need to make sure that they are taken to a customized landing page that reinforces the message or displays the same product as the ad.
If your ad takes the prospects to a generic webpage where they have to search for the advertised offer, you will lose potential customers.
Take a look at the following example…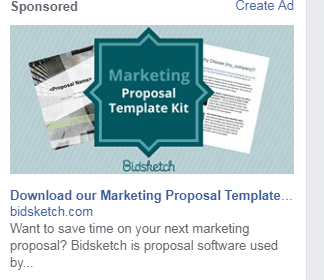 When you click on this sponsored ad, it takes you to the following landing page…
The landing page is customized and tells the user details about the marketing proposal that increases the chance of conversion.
While this seems to be a pretty obvious thing, it surprisingly is one of the most overlooked elements in Facebook ads.
Don't Forget to Test Run Your Ads to Find Out What Works for You
There you have it – a list of essential ingredients to improve the performance of your Facebook ads.
Identifying what works for you may take some trial and error. To get the most out of your advertising efforts, make sure you create at least two different versions of every ad and test them before you go all-in with it. You can try testing with different copy, image, or headline.
Facebook is a great advertising platform for all types and sizes of businesses. Make sure to take maximum advantage of the opportunities it presents to cut through the noise and improve your conversion rate when writing Facebook ads.