There are many different reasons to start a company blog, including the fact that it helps you stand out from the competition. With a blog, you can focus on the topics most important to you and your customers and establish a strong brand identity with loyal followers.
By the year 2020, the number of bloggers is predicted to hit 31.7 million people. Why are there so many people blogging? Because it is an effective form of communication. This is why marketers often cite blogging as one of the key components of their content strategy.
While there are numerous reasons your company should have a blog, below are six of the top reasons:
1. More Indexed Pages
Websites that have a blog, tend to have about 434 percent more pages indexed in search engines. This means more opportunities for potential site visitors to find you when they hunt for any keyword phrase related to your industry. It might also help you rank higher as you establish your site as an authority in the industry.
Search engines have gotten smart, and they now track almost every factor on your site. Keywords are no longer as effective alone as they once were. Google, for example, is going to a more cohesive model that looks at all the data on your site. It compares that data to other sites linked up to you as well as what words are utilized that make sense or don't make sense for the typical Internet consumer.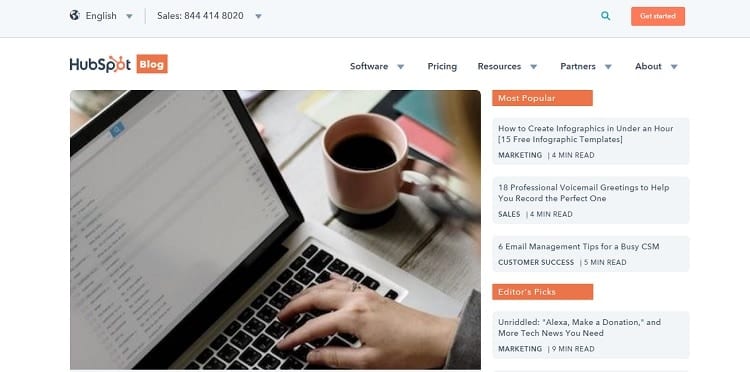 HubSpot turns up quite often in the search engines, and a big reason is their blog. They offer a number of pertinent articles and infographics aimed at the topics surrounding the services they offer. What HubSpot does particularly well is feature popular articles as well as articles hand-picked by their editors for their target audience.
2. Social Media Presence
Blog content gives you something to share on social media and gives social media users something to share with their friends and followers. Your blog essentially serves two purposes. It provides content on your website, and it also gives your social media manager something to share with readers on social media. Both of these efforts help drive traffic to your website.
The best use of blog posts is to hit social media on all levels. Pull out an interesting quote and an image and share just that small fact on social media with a link for more info. Add the ability to share articles on your blog to social media with a simple click. There are many ways to tie social media and your blog together, saving time and effort.
3. Informational
Some industries lend themselves to educating the consumer about various topics. A blog allows you to provide information to your target audience in a fun way. This can save your customer service or sales staff from repeating the same information over and over and can attract the exact type of consumer you'd like to sell to.
The posts on your blog can take many different forms to provide this information, including articles, infographics, slideshows and even video.
Note how Medical Guardian uses their blog to create useful content about health for users. The focus isn't just on giving company news or sharing press releases. Instead, the content appeals to their target audience by providing useful information.
4. Establishes Authority
We touched on this topic for a minute, but establishing authority as a brand is something that should be stressed. If you have competition, and most businesses do, then establishing yourself as an expert in your field allows you to stand out from that competition. It shows the consumer that you know what you're talking about, and you have key facts that others might not have.
How does a blog establish authority? The key is to back up your statements with facts and research, but to also share the unique things you know from being in business and why you know them. This is accomplished with white papers, articles and even personal stories from the people within your company. Don't be afraid to also highlight customers you've helped as a business.
5. Increase Sales
Having a blog can increase your sales. In one study, researchers found that the typical buyer looks at three to five different forms of content before making the decision to purchase and talking to a sales representative. That means the more content you have, the better your chances are of engaging the user.
While the content might not directly increase your sales, it does increase the number of times your brand is in front of the consumer. In turn, this increases the chances the consumer will contact your company and possibly purchase a product.
Taking a trip to any of the Disney parks is not a cheap vacation. It is quite an investment, so understandably, people want to check out what is available before taking the plunge. Disney does a good job of providing a lot of in-depth information about their parks on their Disney Blog. Once a user reads articles on specific rides, features at resorts and insider tips, they are more likely to purchase a vacation package.
6. Gain Trust
Would you be more likely to do business with a brand you saw as trustworthy? Adding a blog to your business website can lend credibility to your overall branding. Eighty-one percent of online shoppers say they trust blogs as a reliable source of information. Most online shoppers do some research before they commit to buy.
If the consumer is comparing your product with another company's product, being seen as trustworthy could make the difference. Even if your product costs slightly more, the consumer may choose the product they feel a company will stand behind and that has a proven track record.
Why You Need a Blog
As you can see, there are many reasons your company needs a blog. The facts prove that companies with a blog tend to get more links, more traffic and gain the trust of their site visitors more easily. Even if you have a small budget, start with a few quality articles a month and grow from there. A good blog will both answer questions and meet the needs of your customers while providing entertainment. You really don't have anything to lose by adding this key element to your website.