I'd make the argument that over the past couple of years, B2B websites have not changed as much as we'd like to accept. We're definitely building more attractive, more user-friendly websites.  We're making them responsive, adding exit intent pop-ups and other interactive call-to-actions, and of course,  adding a blog to help us 'generate an audience. Hubspot has written an article on the 20 years of website design that can take you down marketing memory lane.
However, if you look at a buyer's journey and experience navigating a website, it's been relatively the same. You'll notice static web experiences that are targeting one-to-many customers, and a navigation menu that is catered to generic personas and industries. If we were to compare how our counterpart in the B2C world are doin, it's obvious that their website experiences are ahead of the curve. B2C marketing, messaging, and their entire consumer experience has always been far head of B2B. It could be that they take greater risks, they marry creativity with data, and they really hone in on their end consumer down to the tee.
So I'd like to ask you:
Could you confidently say that your current B2B website is performing the way you need it to?
A few months ago I got to sit down with a CMO of a B2B SaaS company in the Bay Area with a revenue upwards of 10s of millions of dollars. She conducted an analysis of her top fifteen deals (>$150,000) , of which ten were won and five were lost.  She made the observation that on average, thirty-five people visited her website again and again before they closed that deal. Every single one of them visited the website multiple times before eventually talking to sales. 

 I think we already know this if you look at popular statistics that marketers are talking about today: DemandGen research discovered that 71% of B2B buyers claim a company's website is the most influential touchpoint when making a business decision.
I would translate that as "your website is way too important to ignore."
In fact, it's crucial to all of your customer acquisition efforts.
Your website is at the center of all your marketing campaigns because no matter the channel, look at how your funnel functions.
Whether it's a static landing page or a piece of content on your blog, you have made your website the central hub to all of your marketing.
I think it's fair to say here that your website is incredibly critical to your conversions.
So let me ask you that question again  –  is your current website enough to help meet your sales targets❓
According to Econsultancy, 'for every $92 spent acquiring customers, only $1 is spent converting them'
But popular B2C brands have nailed the elements to converting you again and again, even after they've acquired you.
The Missing Element to High-Converting Buyer Experience
Let's start off by looking at what's common among successful consumer brands like  Netflix, Amazon, and Spotify. There are definitely many, but what they all done really well is nailing that one-to-one personalization.
From the moment you login to your Netflix account, everything you see is personalized. They are not meant for people like you, it's actually meant for YOU!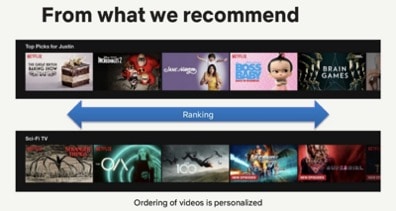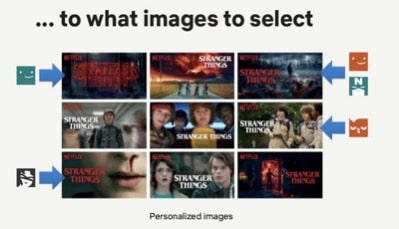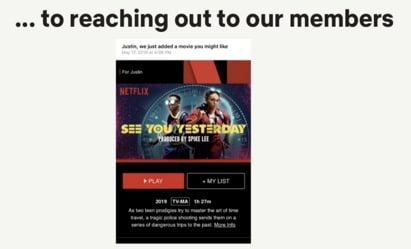 The Results of Personalization Is What You Need
Netflix has proven that personalization on a one-on-one level works. In fact, over 80% of Netflix binging happens via their recommendations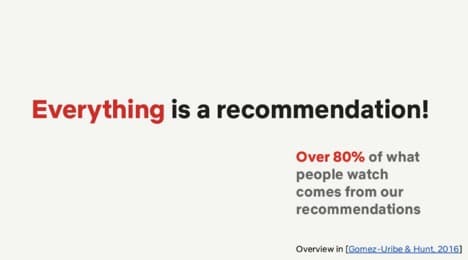 I don't think it's fair to claim that B2B marketers aren't personalizing—because you are.
Once in a while, you come across a website that do go the extra mile to deliver personalization, but it's mostly based on simple segmentations like persona-based and industry-based.
Segmentation is easy. You can target your buyers by company size, industry, job role, department, geography, behavior, and more.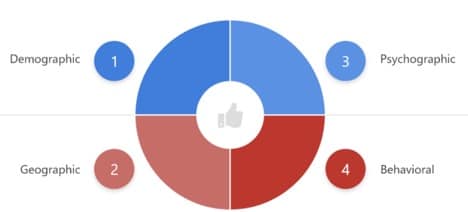 Segmenting by persona: You can break down your target buyers into various representations and personas. Use them to craft your messaging, create your content, and decide how to market.

These segmentations are however still a one-to-many approach. It's better than a one size fits all standard to your marketing, but your buyers are starting to ask for more granularity. Modern consumer experiences are conditioning us to demand better personalization than what our B2B companies are currently delivering.
I personally believe that B2B personalization should be a combination of understanding the person you're selling to,  and knowing the environment and circumstances they're dealing with at the account-level.
Creepy ? Or Personalized ?
I've gotten into these conversations dozens of times.
As marketers begin to get better at personalization, how do you stray away from appearing too creepy?
While this is entirely dependent on how receptive each person is to high levels of personalization on the internet.
But over a period of time, consumers get more and more used to these personalized experiences. We're less daunted by an email about an item we left in a shopping cart on Amazon.
On the B2B end, there are many websites that now address you by your company name once you visit them. Try visiting Demandbase, and you'd probably see your company name up there.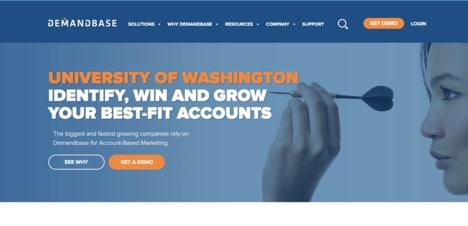 I'm writing this inside the University of Washington and that's why you see their name appear.
What's critical however to acknowledge here is— what are the things you are personalizing? Simply using my name or my company name to address me isn't delivering me any value, nor is it relevant to my current pain points.
That's the difference between being creepy and being personalized.
I'm happy watching Netflix or Youtube because I know that they are taking my content consumption data to continue delivering me content I will like.
So let's use our customers' and prospects' data to deliver them the content they want. Can we show them customer stories of companies they consider peers?
Can we give them a red carpet welcome if they are serious, qualified buyers?
Once we start implementing these, B2B buyers would understand the value of de-anonymizing themselves.
There are already a ton of data that prove customers are demanding more personalized experiences:
According to Infosys, 74% of customers feel frustrated when website content is not personalized.

and

Adobe says that in-house marketers who are personalizing their web experiences and who are able to quantify the improvement see, on average, a 19% uplift in sales.

and

Evergage study claims that more than half of consumers (57%) are okay with providing personal information (on a website) as long as it's for their benefit and being used in responsible ways.
It's incredibly obvious that marketers are beginning to recognize the need for personalization, but why aren't they doing it as much?
I'll tell you why. Because it's very difficult to execute.
Every person/account is unique
Sometimes (more often than we think), they don't know what they are looking for
How do I start? Personalization needs data to start with
What if I go wrong?
I need better tools that help me to achieve what I want
So, how are sophisticated marketers doing it?
This is the first post out of a three-part series to help B2B marketers rethink and enable website personalization. Keep your eyes peeled for the next edition of the series coming out soon.